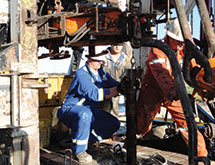 When a new industry or sub-industry comes into play, oftentimes there is a bit of a frenzy surrounding it. When hydraulic fracturing began its dramatic increase across North American shale sites, oil and gas producers jumped quickly at the chance to capitalize on the profitable trend. But with the frenzy always comes a bit of trial and error to identify the best ways to get the job done. Now that we are a few years into the "new normal" of the shale industry, Sean Judge, president of oil and gas completion technology provider Interra Energy, says that producers are taking a step back to think long term.
"In the past, companies offered solutions that were very inefficient and cheap upfront but did not consider the life of the well," Judge says. "Now we see them being more proactive and wanting to maximize the value of their assets, and so even re-stimulation and re-fracking operations are being considered from the start. At the same time, operators want to reduce the fluids being used and reduce their footprints."
Interra Energy was founded in 2010 to address this very trend, says Judge, who has been in the industry since 1995. Interra Energy has created six new lines of completion tools. These oil and gas completion solutions can be used in horizontal, vertical and thermal (SAGD) applications. Within those lines, Interra Energy boasts the capability to customize equipment for each operator with tools capable of handling up to 15,000 psi and temperatures as high as 280 C. Through a collaborative process with its clients, Business Development Manager Will Gardner says the company has installed more than 14,000 tools in 650 wells with a 99 percent-plus success rate. Because it is a full-service firm, it also offers on-site installation and support.
"Where we've been successful is when majors have come to us with product ideas, challenges and needs that were being unfulfilled by major service companies in our industry," Gardner says. "In some cases, these clients had been working with companies for several years to generate solutions. For us, we have been able to meet some of those solution requests in six to eight weeks."
Vice President of Operations Phil Floucault says "rather than forcing clients into a box, it's crucial to ask them the tough questions such as: "What keeps you up at night? What are your challenges and operating parameters? How can we help you improve your return on investment?"
The design details to address those concerns vary from client to client, from reservoir to reservoir and from location to location, but the overall theme changes very little. Clients today want to maximize value while minimizing costs and impact.
"Our technology is focused on creating a much smaller footprint on location during the fracking process," Judge says. "We require less equipment on location, less frac pumpers and many times less water, to reach the same reservoir objectives versus our competition. It's about being efficient and being conscious of the environment. We have to use oil and gas but it's important that we are conscious of what we are doing, and if we have the option to minimize impact, why not?"
The AccuJet was Interra Energy's flagship technology and was designed for efficient fracturing and stimulation of horizontal multi-stage completions. The proprietary technology allows for optimized reservoir access through pinpoint stimulation in a cemented or open-hole well environment. Other leading technologies developed by Interra Energy include:
StrataJet – Allows for assured 360-degree reservoir access in a cemented or open-hole well.
Howitzer-D83 – A proprietary "Toe-Punch" application used for pump down perforating or ball drop applications.
AccuZone – An open-hole or cemented-in-fracturing system designed to provide operators with maximum workover capabilities. It offers the operator complete control of their stimulation and production objectives.
AccuSet – A unique self-energizing open-hole packer design that automatically adjusts to increased pressures encountered during the fracturing process. The tool is ideal where isolation is required.
AccuStim Straddle Packer – Offers a stimulation technique for completing multiple stages in a single trip into the wellbore.
With its capabilities in design, manufacturing, testing and sales, Interra Energy is able to better control the quality of its products and when those products get to market. The Canadian-based company is moving into new markets with plans to open a U.S. office within the next few months. It is also looking toward Australia and the Middle East to establish a wider territory to showcase its various lines of products.
"Our focus is to bring more efficient, reliable and economical solutions to the oil and gas industry. There is still a long way to go in this industry," Judge says."