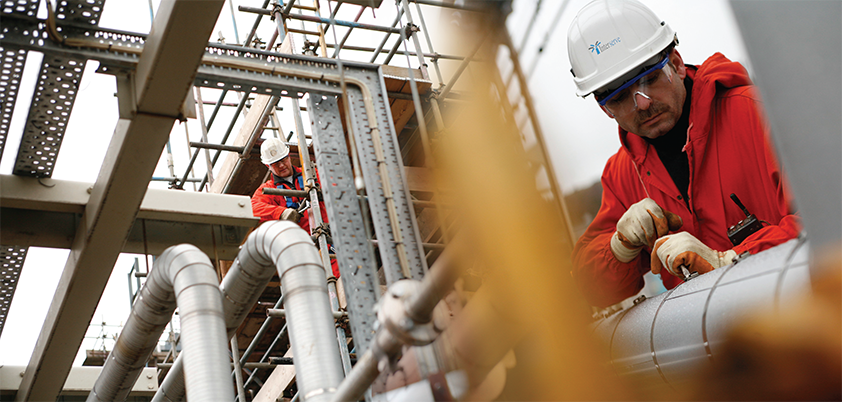 Serving the market
Interserve Industrial is a major industrial services company offering a full range of services that can be delivered individually or seamlessly integrated as multi-discipline packages for new-build, refurbishment, project, outage or maintenance contracts.
Operating both as resident teams on clients' sites and also from its nationwide network of offices, the company co-ordinates its services so that clients can benefit from having a single-point relationship.
Because much of Interserve's work is undertaken in safety-critical environments, its ability to combine continuous improvement and the breadth of its service offering sets the company apart from its competitors. Interserve Industrial is part of Interserve Plc, the international services, maintenance and building Group. Bill Craig, managing director of Interserve Industrial, describes the benefits of being part of a global corporation: "Because we can leverage capability from across the Group, especially from construction, we're able to offer our customers a complete turnkey solution from building sub-structures and superstructures right through to mechanical fabrication, installation and plant maintenance."
With a proven portfolio of high quality, value for money, innovative and sustainable solutions, the company is committed to investing in clients' futures by aligning its expertise andresources to meet their goals. Turning over approximately £170 million annually, the business is divided into two main business streams. The first – power, energy and process – is focused on power generation, gas storage and nuclear markets, which includes mechanical engineering as well as its power transmission and distribution capability.
The other business stream is support services, which provides all of the non-core support services to industrial clients. Typically those noncore services are access – primarily scaffolding access – as well as process pipework, plant insulation and cladding, industrial painting and specialist coatings, and some of the more traditional FM support services, including industrial and amenities cleaning, security, catering, and other administrative support duties. Bill comments: "Those two business streams complement one another in the sense that we have the capability to go in, manufacture process pipework, carry out all site installation, and provide most of the other support services necessary for installation like the scaffolding access, insulation and painting. In addition to that we also have the capability to maintain the plant post commissioning."
Interserve's oil and gas support services encompass all aspects of the facility life cycle; from construction, to maintenance and renewal, including a whole range of facilities and services both front and back of house. Specifically, Interserve provides front-end support, and high quality pipework fabrication at its purpose-built 88,000 sq ft facility near Ellesmere Port, as well as on site plant construction and thermal insulation, in addition to project and asset management, encompassing procurement and supply chain. Additionally, the company will consider equity investment opportunities through the Interserve Developments arm of the Group.
Bill remarks on the company's main strengths: "Our project management skills, and the long-term relationships that we have built up over a period of time are our main selling points. We have particularly strong relationships in the nuclear sector, meaning we have very strong nuclear credentials. The quality processes and procedures in the nuclear industry are of an exceptionally high order and we have got a strong track record in that field, which is of real benefit to us and our customers in this market sector."
In fact, with over 25 years direct experience within the UK nuclear industry, Interserve's knowledge and understanding embraces the construction of new facilities, major outages, term maintenance, support services and decommissioning/clean up activities. Interserve is also committed to the future of the UK nuclear industry. As a versatile organisation, the company has the ability to align its infrastructure to the complex and ever changing needs of this demanding sector.
Bill explains that the company has plenty of opportunities to expand in the current marketplace: "We are looking mainly at the power, energy and process business,
which centres on power generation, nuclear reprocessing and gas storage. All of those areas – some of which are very much interlinked – are rather more recession proof than many other market sectors in this country on the basis that the UK's power generation capability needs to be substantially upgraded in the forthcoming decade just to keep the lights on. Gas storage capacity in the country is relatively low making us highly dependant on pipeline-imported gas from other parts of the globe. There is therefore a national imperative to do something about these energy issues. The government has put its weight behind nuclear new-builds and gas storage programmes, which is a positive step forward.
"Looking to the future, I see us continuing with this philosophy of partnering with customers. Most of our growth will come from the power generation sector because I believe that market is going to be sustainable for a business such as ours for the next decade as a minimum. I also see us pushing our expertise into the overseas business on the power transmission distribution front; perhaps in under developed West African states where there is a considerable push to improve the electrical distribution infrastructure. We have an extremely strong focus on safety and quality in the business, and they will remain key focuses for our company. This is one of the reasons that our partnerships with customers are so solid and the overall raison d'être of our business is to deliver customer satisfaction, generating shareholder value safely and sustainably."
Interserve Industrial
Services: Construction engineering and support services