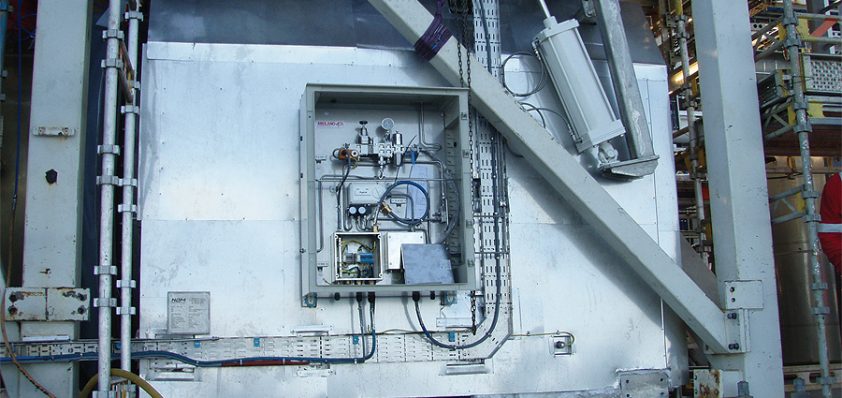 Inventa Power Package Services
Powering ahead
Inventa Power Package Services (IPPS) was established in 1996 as a supplier of services and equipment to gas turbine operators, manufacturers and designers.
Today, it provides services related to improving the availability and performance of gas turbines within the land and offshore industries. IPPS is committed to delivering services and equipment in accordance with the customer's requirements, standards and authoritative regulations. The company aims to maintain a high standard in all its business activities, while remaining profitable and
competitive by emphasising total quality in all the phases of its work.
The company also provides engineering services, including, system engineering, manufacturing, project management, field surveys, studies and reports, and code compliance assurance. IPPS aims to invest in research and development to develop products for use on gas turbine auxiliaries. The product engineering and design will be based on best practice and the latest technology, including a design basis, being in compliance with real operating loads and operating conditions for its intended use.
Knuth Jahr, managing director of IPPS, describes what he believes sets the company apart from its competitors in the industry: "Our main strengths lie in our knowledge of the gas turbine's design and packaging. The Norwegian market is limited, and there are few companies in the market that operate in the way we do. All of our products are being patented, which is to our advantage in a niche market. We have the ability to suit our knowledge exactly to the customer's needs and to the gas turbines market."
As gas turbines are increasingly used in industrial applications in the onshore and offshore industries, various problems are faced. A frequent setback in the installation is plant downtime, which often leads to significant economic consequences, causing high demands for availability and reliability to be required from the turbine.
A common operational problem experienced with offshore installed units is exhaust duct flange leakages and damage to the exhaust system. A typical cause of duct flange leakages is that a duct flange bolt connection features a bolt with clamping length equal to the thickness of the flange being bolted. This means that when the duct temperature rises during the turbine start sequence, the flange will expand, causing the bolt to stretch. This may cause plastic deformations in the bolt material and when the duct system is at stable operating temperature, the bolt is permanently elongated, while the deformation results in reduced gasket compression. To combat these frequent problems, IPPS has introduced the Thermobolt and the Thermopack, a flangebolt and gasket for gas turbine exhausts, which is a more slender bolt connection with an increased clamping length, maintaining prestress, and eradicating plastic deformations, therefore eliminating some common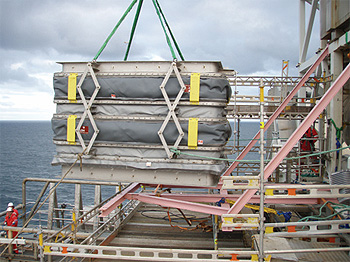 problems.
The company has recently developed equipment that increases the engine performance and reduces emissions produced by gas turbine exhaust systems. Knuth elaborates: "The reduction of emissions is very important in our industry. By applying our concept, one can reduce swirls in the exhaust gas path, and related gas back pressure, resulting in increased power and improved fuel efficiency."
Related to oil mist emissions to open air, "We understand that a potential future EU regulation will require a maximum pollution in the range of 15 to 20 parts per million of oil in the air. Our patented oil mist separator for the gas turbine lube oil sump ventilation discharge has achieved two parts per million, so it has been a very successful product. We are also currently in the process of offering an oil company a special system for cooling of gas turbine inlet air. This is unusual for offshore installed gas turbines, but we were pleased to take up the challenge. The system will offer enhanced power and improved fuel efficiency to the customer. All three products that I have mentioned are new to the offshore market and support our aim to provide products that improve a client's operations. Our customers are also making more money thanks to the increased production that our systems bring."
He goes on to describe the conditions of the industry at present: "I think the market currently looks very stable, as it has not been affected too badly by the current financial crisis. Gas turbine operators may make more money by installing our products and so we expect there to be a high demand for our products and services moving forward. However, there are challenges as well. The cost of developing these products is substantial and as we are a self-financing company, this will always be an issue for us. We aim to spend our profits on continuous research and development."
IPPS doubled its turnover from 2007 into 2008, and plans to increase by a further 30-40 per cent in 2009. Knuth outlines the company's plans for expansion and future development beyond 2009: "Over the course of the next three to five years we hope to double our turnover and increase our number of staff. We also want to learn more about gas turbine operational problems, and develop new products to serve these demands and the market."
Inventa Power Package Services
Services Engineering and gas turbine systems