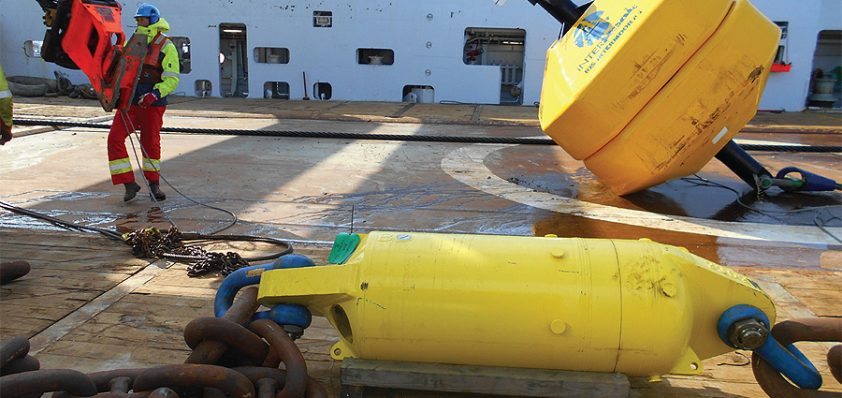 Sustainable success
Established in 1986, IOS InterMoor, an Acteon company, is the leading mooring, foundations and subsea services provider delivering innovative solutions for rig moves, mooring services and offshore installation projects. InterMoor supports operators and contractors worldwide with its engineering, fabrication, shore base and survey and positioning services to truly provide customised solutions.
In 2016, IOS Intermoor will celebrate the milestone of its 30 year anniversary. This is a proud achievement and will be used as an opportunity to look back at past successes and how it will achieve more in the future. Managing Director David Smith at InterMoor elaborated on the plans for the 30 years celebrations: "First of all we will do something for our own staff and personnel, as they are the backbone of the business. Some of them have been with us for very long periods, and having that level of staff retention is really rewarding." With such a strong sense of unity within the company, it is no surprise that it has enjoyed three decades of increasing success, and there is every reason to expect this to continue.
Another part of the celebrations will focus more externally, which David elaborated on: "We have also planned some special events throughout the week at the end of August, which traditionally draws a large contingent of local and international businesses. Marking this anniversary is an opportunity to connect with clients and celebrate our hard work so far."
The situation the oil market was in when InterMoor was founded compared with contemporary times carry parallels, as it began through a period of instability in the sector, which is similar to the situation that was faced by the industry in recent times. This strength of the company is something David highlights as significant: "When we began it was one of those periods in the history of the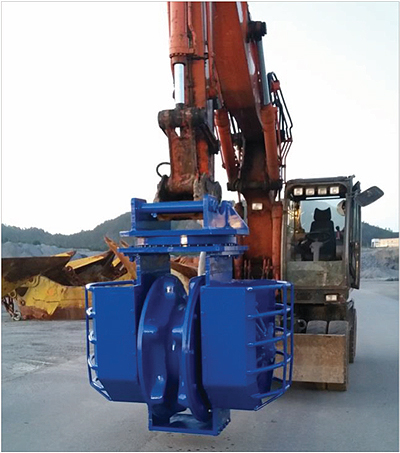 oil sector, where there is a dramatic drop in oil price. I think the company over the past 30 years has experienced the ups and downs of the industry. Due to this origin we know not to overstretch ourselves, but to instead realise that these periods of fluctuations are not new and actually to be expected, and therefore we can prepare for them."
The approach by InterMoor of steady, sustainable, growth makes it reliable, without becoming stagnant. David presented how it is able to do this and why it is so crucial to do so: "You need to find a balance, a way to navigate the upturns and downturns, so you are in a comfortable position for either outcome. We had our most economically successful periods in 2013 to 2015, with very high levels of activity, and we were conscious of this, so we managed it. We even said no to some business, because we were concerned about overextending ourselves and committing to something we couldn't 100 per cent deliver. This is an area where companies get caught out, they think they can do it all, but it catches up with them. In this business you are only as good as your last job, you let someone down and they will remember that, forgetting the successes. Our focus is responding to customer needs, not getting ahead of ourselves, and ensuring we only commit to what we know we can fulfill."
Having already touched on InterMoor's pride in its staff quality and retention, as well as its equipment, and ability to always complete a project, what resonates across all aspects of its work is that of high standards. As well as these, David wished to emphasise another key characteristic of the company: "One of our specialties is problem solving, many times customers come into situations where they are stuck and cannot see any way out, which is where we can come in. We have talented personnel in engineering that are out in the field, because sometimes you need to be able to solve a problem that happens during an operation. You can put together the plan, the equipment, but then you come offshore and something unexpected can come up. That is why we place such importance on the ability of our people, who are able to think on their feet and resolve such issues, and on numerous occasions this has been indispensable."
InterMoor has also benefitted from the partnerships that have been developed as a part of the Acteon Group. David spoke highly of how this has added to its success and sustainability: "We have a very good global position, we have developed our regional markets, but also integrate globally, and communicate regularly. For example we share best practice experience from our operations. It has helped develop the presence of our products, equipment, and the quality we offer, in these region's markets, and as a result has contributed to our global footprint. The other side of this, is that we have also been able to do the same in regards to our sister companies, taking the opportunity to implement technology, products, and methods from them."
Despite InterMoor finding a proven method of success, it is not resting on its laurels, and is continually finding new avenues for the business to go down. Diversification is something that it is keen to expand, as it ensures that the company is more adept to confront the challenges of the changing oil industry. For example, InterMoor performed a service for a cruise ship calling in at a Bergen port, which is not a regular project it does, and yet took advantage of an opportunity when it appeared. The willingness to look beyond just working on mooring offshore rigs is a promising skill of the business. David went into further detail about some of the other sectors the company is considering: "There will be other markets in the future which give us other opportunities, offshore wind farms are one example, offshore fish farms are another. They are looking at building larger complexes, and then moving them offshore, this will require additional types of mooring requirements." One of the resounding points from David was that: "We are not sitting still, we are looking at other opportunities, both in Norway and internationally."
Another aspect of InterMoor's diversification is that it focuses on cost effective solutions, to a wide mix of problems facing the offshore
industry. That is one way it is building for the future, by continually improving the service it provides. It has achieved this by providing a product range that aims to remove longstanding problems, such as improvements in anchor technology to counter the mooring problems that can still occur despite the weight. David expanded on InterMoor's broad product selection: "If you already have the equipment that the client needs then you are going to be the chosen supplier. One of the areas we looked at was in regards to environmental concerns, such as hurricanes in the Gulf of Mexico, or the threat of ice bergs that can cause problems for rigs off the coast of Canada. To deal with the latter, we recently introduced rapid release components that mean a rig has the ability to move away from the danger without having to wait for an anchor handling vessel to retrieve the mooring lines. It all comes down to effectiveness, having this option means that the anchor handling vessels can be used for ice defence and allow the rig to continue to drill." These innovative products help protect people, and finances, from such environmental threats.
With the recent move of premises by InterMoor, as part of a cost reduction plan, it has been able to more efficiently provide its services. This involved an expense to achieve, but the outcome is a more effective base of operations that now better suit the needs of the business. The positive nature of this move was something David shed light on: "We saw an opportunity to make a change in our most active facility, an investment to prepare us for the future, and put us in a better place to be more cost efficient than we have been. It is the right type of facility moving forward, a lot of capacity for the right vessels, storage capacity, the right equipment for handling moorings, everything is coming into place there."
With the oil industry in a difficult period there are few other companies that can boast such success during the harder times for the industry. InterMoor has repeatedly come out more versatile, more effective, and more successful. It is a steady ship in what can be rough waters, and it never appears to be complacent, always with one eye to the past to learn from, and one eye to the future to prepare for. With a tradition of steady and sustainable success of now 30 years, it is likely to reach many more milestones in the years to come.
IOS InterMoor
Services: Mooring services, subsea foundations, rig moves, subsea engineering service, offshore engineering services, fabrication & procurement, shore base services, offshore survey & positioning