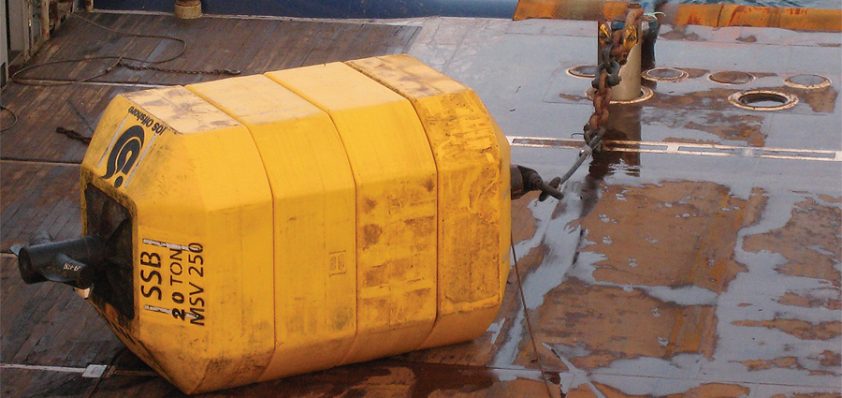 A mooring success
IOS Offshore is a leading distributor of mooring equipment and related services within the oil and gas industry on the Norwegian continental shelf.
The business is focused around three main areas – the rental, sale and maintenance of mooring and heavy duty lifting equipment. Based in Stavanger, Norway, the company is strategically positioned to serve the offshore oil industry in Norway and it operates stocking locations along the Norwegian coast. Managing director, David Smith elaborates on the main areas of the business: "Our core focus is the hiring of mooring equipment and we also buy and sell from major European companies who manufacture these types of products to the Norwegian sector. For the most part, however, we buy equipment for stock and then prepare it for hire. We are also seeing a trend at the moment for equipment to support the pre-laying of mooring systems, which saves time and is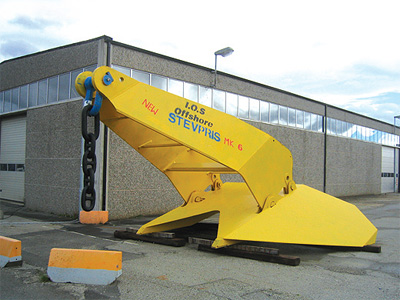 also a safer method of installing rig moorings than trying to move a rig with all its equipment in one go."
As Norway's leading distributor of equipment for the offshore industry, IOS Offshore provides complete mooring solutions, which can be adapted to the customer's needs. David describes the key strengths of the business: "IOS is a reliable partner, as we provide top quality products to our customers – all the equipment we've bought in the last few years has been from major suppliers across Europe. We deliver on time and we maintain extremely good records on the equipment with regards to its history and certification, so clients who have dealt with us for some years know that they will get exactly what they've asked for, when they want it and in good condition."
The company's extensive range of products includes top quality mooring equipment available from stock for hire, such as anchors, chain, wire, buoys, chasers and shackles. Available to buy is leading brand mooring equipment, such as Vicinay, Scanrope, Vryhof and Van Beest, which is used for towing, anchoring and lifting operations. In addition, the company has a division for the maintenance and repair of mooring and lifting equipment, as well as installation supervision, engineering and mooring analysis and logistics support.
This vast array of products and services has attracted some of the leading manufacturers in the oil and gas industry. David elaborates: "The standard clients for us here in Norway have been major oil companies such as StatoilHydro, ENI, ExxonMobil, ConocoPhillips and rig owners such as Transocean, Diamond Offshore and Dolphin. We are looking to expand our clientele, through the fact that more clients are developing in Norway; there are more oil companies here now, than previously and there are also several new companies that have begun operations on the Norwegian continental shelf and that will open up new customers for us as well."
In terms of its area of business, IOS Offshore is looking to expand into new sectors, following current market trends. David explains the types of projects the company is looking at: "The industry is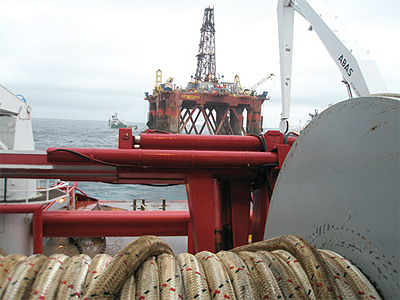 moving towards prelaid mooring systems at the moment. The most notable system we've delivered to date was for StatoilHydro, the project name was Snefrid, and this particular location was at depths of 1264m – we usually work at 350 to 400m depths, so this was a very deep well. We actually designed the complete system including eight anchors and anchor chains, fibre rope and marker buoys. All the equipment for that location was hired from us; it was taken out on a single anchor-handling vessel and installed on location over the course of a few days. It was a good job and this concept is one that is definitely being looked upon as a sort of model for future operations in Norway."
He goes on to discuss how IOS Offshore will keep up to date with new technology to provide this service: "It requires a considerable investment into technology to offer this service, which we have already done and we are prepared to invest even more if necessary. We currently have enough equipment to run two prelaid systems simultaneously; the system can be tailor-made to suit a client's logistical specifications. Every location is different and factors such as the water depth, seabed and the presence of pipelines are all issues that must be considered. Once all this has been assessed, the concept of pre-laying the equipment before the rig comes on location is definitely one that looks advantageous to the operators."
The oil and gas industry is currently seeing a large number of new operators beginning to work on the Norwegian continental shelf. David explains how this is beneficial to IOS Offshore: "The oil industry in Norway is very vibrant and strong at the moment because of this influx of new companies. There is a plan in place for a number of wells to be drilled in the future, they will be both exploration and production type wells. The number of rigs coming into the Norwegian sector is also increasing; in the next two years there will be an additional eight new rigs working in Norway."
The company has a strategic plan for growth in the coming years: "Currently we are considered to be one of the most knowledgeable suppliers of this type of equipment in the Norwegian sector. We want to maintain our position in the marketplace but we are also looking to expand by adding extra product lines, doing pre-engineering work and we're also looking to do more work in anchor mooring analysis in the future. In 2009 we will be looking to expand our operations externally; we've already taken a market survey internationally, looking at where in the world would be the best place to deliver our products and services. Over the course of this autumn we will be narrowing the search down and hopefully in 2009 we'll be able to focus on a specific location to set up international operations."
IOS Offshore AS
Services Mooring equipment