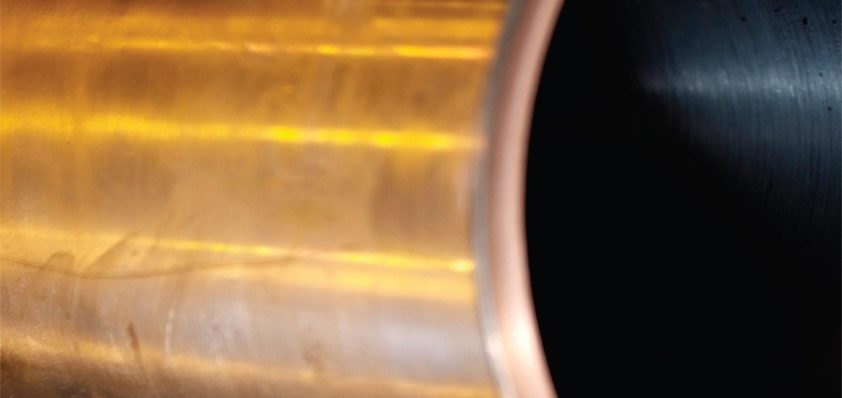 Thread of the class
IOS Tubular Management (ITM) AS was formed in 1994 based on a contract for tubular management services with BP Norge.
In 2000, it decided to acquire a division owned by NorSea, giving it the skills and capacity for the production of threads on casing, tubing and drillpipe, as well as the production of special OCTG (Oil Country Tubular Goods) products.
This acquisition has increased ITM's workshops to four main bases in Norway: the NorSea base in Tananger, the CCB base at Ågotnes, Florø with Fjordbase and Kristiansund with Vestbase. Today ITM is one of the leading suppliers of machining services on casing, tubing and drillpipe as well as pup joints and x-overs from bar material. Providing workshop services, the company's speciality also lies in the fact that it holds most of the licences for threads that are used on the Norwegian Continental Shelf. The machining, threading and fabrication of special products related to pipes are carried out in all of its workshops. Qualified according to ISO 9001:2000 and approved by Achilles, ITM has also been involved in machining parts and equipment for export to other countries like
Algeria and Egypt.
In November 2007 Aarbakke Group decided to acquire ITM. "This acquisition will enable ITM to provide a wide range of machining services to our existing customers as well as access to new customers," states Frode Breivik, the marketing manager of ITM.
"Not only threads will be machined in our workshops in the future, we also aim to be a leading supplier of repair and maintenance services for sub-sea and down hole equipment. Today we have major customers that include the oil companies as well as service companies. In the future we will also have the system-suppliers as customers," he continues.
Equipped with state-of-the-art machinery, ITM has machines that are able to take dimensions from 2-3/8" to 22" outside diameter (OD), up to 14 metres in length. However, in order to keep up with ongoing demands of the industry, there is always a need to upgrade the equipment and inject investments into a company.
Frode continues: "It is very difficult for a company to constantly invest in its business but being a part of a larger group also has financial benefits. Currently there is a huge investment programme, which will involve all of our workshops being equipped with new machineries by the middle of next year. We will also upgrade our workshops and are currently looking to either expand on the current facilities or add on a whole new building to our four sites in Tananger, Bergen, Florø and Kristiansund."
ITM's core values and HSE (Health, Safety and Environment) policies are based on a zero philosophy, implying that it believes that all accident and critical non-conformances can be avoided. In order to achieve this, there is a focus on the individual's responsibility and continuous improvements with respect to risk assessment of critical operations. In addition, focus in the organisation is placed on corrective active and learning processes as a result of active investigation of non-conformances. ITM has also developed an intranet based HSE system – the foundation for a good working environment and ensuring compliance to the system, in order to obtain its goals and objectives.
Focused on its clients, ITM will always be the preferred supplier of its product range based on the levels of high quality and delivery. Through a systematic learning process and its determination to improve on internal processes, the company ensures optimal lead-time for products and quality.
Looking to the future, Frode highlights the company's aim to focus its operations on the Norwegian market: "The investment programmes on the Norwegian Continental Shelf look good for the next four years and so the opportunities are extremely good for us. Together with Aarbakke Group, we are looking to establish ourselves in the international market, though our main focus until 2011 is the Norwegian market. We are currently looking on expanding our operations in Norway by establishing more sites especially further north. We are also aiming to triple our current revenue of approx. NOK 100 million by 2011 and looking to grow our staff by 200 per cent. This is the plan and we believe it is very achievable for us."
IOS. Tubular Management AS
Products Threads for casing, tubing and drillpipe as well as OCTG products