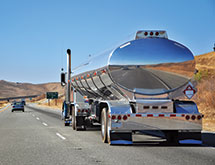 For a company that has only existed for less than three years, Iron Fox Trucking has come a long way. From its humble beginnings in 2012, the crude oil logistics company has grown to a fleet of more than 70 trucks with operations in six states. Founder and COO Randy Kurek says the company has achieved a lot in a short time thanks to the experience of its management team, its dedication to over-delivering to its customers and the strength of its services.
Based in Texas, Iron Fox Trucking also serves some of the most active oilfield regions of North Dakota, Oklahoma, Utah, California and Colorado. The company is focused on providing logistics services for crude oil companies in these regions. "The typical customers we have are some of your major marketing or midstream partners," Kurek says.
Although the competition in these markets is fierce, Kurek says Iron Fox Trucking chooses not to concern itself with what its competitors are doing, choosing instead to concentrate on delivering the best possible service to its customers and letting that do all the talking. "I like to focus on what we bring to the table, rather than what the competition is doing," Kurek says.
What Iron Fox Trucking brings to the table is a technological edge over the competition and an intense concentration on having the best and safest drivers in the industry. As long as the company continues to maintain these advantages, Kurek says, Iron Fox Trucking expects to continue gaining ground in some of the most competitive areas in the industry.
Never Satisfied
Kurek says one of the key pillars that makes up the company's strategy is its pledge to under-promise and over-deliver for every customer. He says that means the company is never satisfied with giving its customers just enough and is always willing to go the extra mile to ensure that customers' crude oil is delivered where it needs to go before it needs to be there.
Iron Fox Trucking counts on technology to help it provide the exact level of service its customers need immediately. Kurek says the company's proprietary software system tracks every well site serviced by Iron Fox Trucking. With this system in place, the company's drivers can get an accurate measure of the amount of oil at each site so that the proper amount of equipment can be dispatched to the site right away.
The company also uses technology to its advantage when it comes to ensuring safety. Kurek says the company requires all of its drivers to check off a list of safety items every day, and these are all stored in one database so Iron Fox Trucking can track each driver's safety performance individually. Fleet tracking software also makes it possible for the company to know where every truck is at any given moment and monitor it for safe driving practices. The company also provides its drivers with online safety training, and each driver must complete several modules each month, which they are tested on later.
Finding Drivers
Iron Fox Trucking takes pride in the quality of its drivers, Kurek says, and that is one of the primary reasons for its early success. That's also why Kurek says a lack of qualified drivers in the labor pool is one of the company's biggest concerns at the moment. With so few young people joining the oil transportation industry and the existing drivers continuing to age out of the industry, Kurek says Iron Fox Trucking is putting a lot of emphasis on aggressively recruiting the best and the brightest of those who are available.
Kurek says his background in Internet marketing is helping Iron Fox Trucking use the Internet to find and recruit drivers from outside of the company's typical geographic areas. Fortunately for the company, the lack of qualified drivers has not affected it as much as some of its competitors because Iron Fox Trucking's compensation packages and dedication to its employees gives it a turnover rate of less than 6 percent a year, according to Kurek.
Still Growing
Even though the financial industry has been somewhat skittish about the oil industry recently, making it difficult to receive financing for new equipment, Kurek says Iron Fox Trucking is working to follow the advice of Warren Buffett and invest in capital when the market is low. This way, he says, the company will be in good shape to benefit when the market rebounds.
Despite the low state of the oil market, however, Kurek says the qualities that have made Iron Fox Trucking an overnight success should continue to keep it at the forefront of the industry. "We hope to double in size again this year," he says.