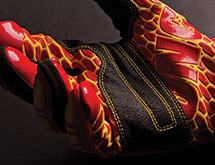 No matter how advanced technology becomes, there will always be a need for people who work with their hands, and those hands will always need protection from the day-to-day rigors of the job. The first manufacturer to introduce performance work gloves to the market, Ironclad, for more than 17 years, has been at the forefront of developing products that provide optimum protection for workers' hands and improve their performance in their jobs.
When Ironclad opened its doors in 1998, the work glove was a static product. Although the needs of workers in the oil and gas, manufacturing, construction and other industries were and remain unique and diverse, the work gloves used by all of them were virtually the same. The one-size-fits-most leather gloves offered protection for workers' hands, but they were cumbersome and didn't provide workers with much dexterity for finer work.
Ironclad's innovation was to take a page from the world of sportswear and develop work gloves that fit – appropriately – like a glove. Its products are made of lightweight, durable materials that also are breathable. For the first time, work gloves not only provided full protection for workers' hands, but were far more comfortable and customizable for various specific tasks."If there's a guy framing a house, he needs a specific glove, and that's a different glove than a guy who's working with hand tools or power equipment," Vice President of Marketing Shawn Norfolk says.
Today, Ironclad produces gloves for users around the globe that are cut-resistant, waterproof, heat-resistant, impact resistant and abrasion-resistant, in addition to gloves that can survive numerous other conditions on the job site. This provides workers with protection from injuries caused by external factors like burns, cuts, vibration and scrapes. The company's focus on the fit of its gloves also prevents further injuries. Because they are made with appropriately fit, stretchable materials, Ironclad gloves give workers virtually the same range of movement with their hands and fingers as they would have without gloves, and the fit gives them the dexterity necessary to pick up small objects or use smaller tools without the clumsy feel of old leather work gloves. Many hand injuries occur when workers' hands are fatigued, and giving them greater dexterity with their work gloves means they can work longer without getting tired, which usually leads to a decreased amount of incidents on the job.
Norfolk says Ironclad's products are designed to address the four vital characteristics of a work glove: fit, function, dexterity and durability. Although traditional work gloves concentrated almost exclusively on the durability aspect, Ironclad's focus on the performance of its products in terms of fit and dexterity does more to prevent hand injuries and give workers greater ability to do their jobs with greater effectiveness and efficiency, all the while being better protected.
Ironclad's forward-thinking products created a revolution in industrial hand protection. Today, there are hundreds of competitors all trying to copy and improve upon the formula that has made Ironclad successful.
Increased Awareness Drives Growth in Global Market
"This is an exciting and critical time for hand safety in the industrial world, because the need for a better form of hand protection has never been greater," says Eric Jaeger, vice president of research & development. According to Jaeger, hand injuries account for nearly 70 percent of all work injuries today. While hard hats and steel-toed boots have become ubiquitous on all job sites, there has been no mandate for hand protection. According to Jaeger, most work sites you go to today do not even allow you on the site without steel-toed boots, hard hats and protective glasses.
"Now, the HSE professionals in the industry have realized the importance of hand safety," Norfolk says. "That realization has sparked an expansion in safety and performance gloves around the globe."
Meeting the Challenge
There's no doubt that hand safety has become a much greater focus for many industries, and in the midst of this booming awareness, Norfolk says Ironclad's challenge is to keep up with the many opportunities out there in the marketplace. "Being able to solve problems, lower hand-related recordables, and keeping workers safe gets us out of bed every day," he says.
To take advantage of as many of these opportunities as it can, Ironclad stays close to its customer base. "We get in the trenches with them," Norfolk says. "We go to the worksite and see the conditions they're working in and see what they're trying to achieve."
Growth and Innovation
Today, just like the industry it competes in, Ironclad is taking a new leadership role. Over the past 12 months the company has gone through significant change. Relocating from California to Texas, building a world-class supply chain, and energizing its product development, sales and customer service teams, Ironclad is now positioned to better service its customers.
"We joined Ironclad recognizing its reputation for technology leadership," President and CEO Jeff Cordes explains. "We have invested to create a business platform that will drive further innovation and exceptional service for our customers. Since Cordes joined the company in February 2014, overhauling Ironclad's supply chain operations has been a high priority. "Under Senior Vice President of Supply Chain Tom Felton's direction, our supply chain has been transformed into a weapon," Norfolk says.
Today, a globally based team drives more than 14 plants improving speed to market, costs and bringing new innovation. With these capabilities, Cordes says, "Ironclad has become better suited to help its customers find the hand-protection solutions that are right for them, and get these solutions in their hands faster."
"It's great to be able to lead a development process that thinks in weeks, not months!" Norfolk adds.
At this critical time, Ironclad now brings an unparalleled level of innovation to the marketplace. Norfolk says the brand has become known for having the most advanced intellectual property in the industry. "Technology rules our world every day, and we are maniacal about seeking every source possible to create better solutions for our customers," Jaeger adds.
Better and Stronger
Whether it focuses on fit, function, dexterity, durability or all four, Ironclad's leadership position in the marketplace is thanks in large part to the company's dedication to developing or acquiring the right materials to help it improve its products. "I think that's a big differentiation point between us and a lot of our competitors," Norfolk says.
Earlier this year, for example, Ironclad announced a partnership with Vibram®, the Italian manufacturer of sole technology used in work boots and other footwear products. Norfolk says Ironclad is adapting Vibram's polymer sole technology for the palms of its work gloves, which will be marketed under the tagline "Work Boots For Your Hands."
The polymer-based product will replace the synthetic leather used on the palms of selected models of Ironclad's gloves.
Jaeger says the partnership with Vibram creates an opportunity to make a quantum leap in glove grip and durability. Industrial customers can wear-out high performance work gloves in the span of two to four weeks through severe wear and tear on the job. However, thanks to Vibram's technology, Jaeger says, Ironclad will offer gloves that will endure the same use for up to 10 times longer. The technology will be introduced at the National Safety Conference event in Atlanta. "What Eric and his team have done with Vibram technology literally changes everything in the hand-protection world," Cordes says. "The amount of grip and abrasion resistance that this material has was never before available in gloves."