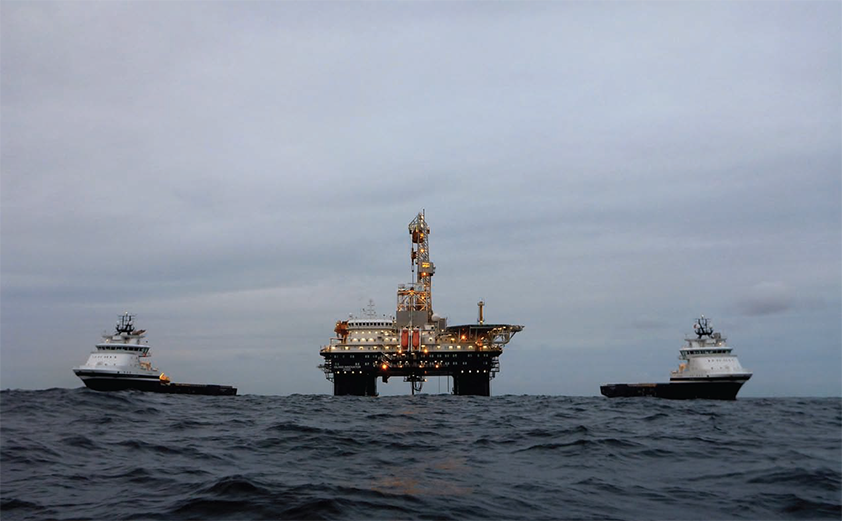 Going in for the drill
Founded in 2006 by industry veterans and Island Offshore, a leading provider of superior solutions for the offshore oil industry based on its fleet of ultra-modern, high quality service and subsea service vessels, Island Drilling Company ASA was established with the sole purpose of constructing and owning niche semi-submersible rigs for challenging well intervention projects.
Originally known as Marine Accurate Well ASA (MARACC) due to its initial focus on the well intervention market, the company changed tack in 2008 and instead focused on the development of a MODU (mobile offshore drilling unit).
This change in philosophy and design led to the delivery and classification of the GM4000 rig, Island Innovator, in 2012 and the company changing its name from MARACC to Island Drilling Company ASA in June 2014. "The owners decided to change the name of the company to something more related to our major owner, Island Offshore, because it is a better name for marketing with and is more linked to our core business of drilling rigs. Our old name was originally linked to marine accommodation services, then marine accurate well services, and finally, because the Island Innovator ended up as a drilling rig, we decided to change our name. So really it has been a process," explains CEO Roger Simmenes. The company is now OTC-listed in Oslo under the ticker ISDRILL.
Constructed under a turnkey construction contract at China's Cosco Zhoushan Shipyard, the purpose built heavy well intervention unit is the first of its kind. The complete hull and deck were constructed by Cosco Shipyard Group China, while its power comes from Siemens Oil and Gas, Norway; engines and thrusters were developed by Wärtsilä, Finland, the topside by National Oilwell Varco, Norway and the topside module by Nymo AS, Norway. Furthermore, the mud module was manufactured by Wison Heavy Industry, China, and the accommodation by Markhus, Norway.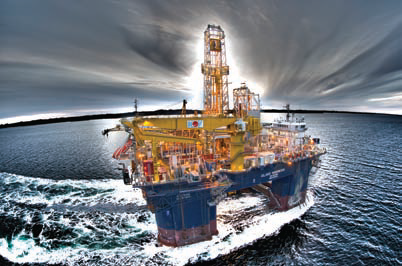 At an overall length of 104.5 m and overall width of 65 m, the rig has ample space for its onboard drilling equipment such as a derrick with 590 metric tonnes lifting capacity, a motion compensator with 7.5 m stroke, a five tonne deck pipe-handling crane, high pressure mud pumps and a mud mix system for handling water and oil based mud. Moreover, the rig also has well control equipment for subsea operations; this includes a Cameron 18-3/4 inch-15K, five cavity BOP, 300 TONNE BOP carrier, a techdrill capacity 5,44 MMSCFD mud gas separator, a 4×6.5 tonne, 600 m, AC guide wire winches, 2×5 tonne, 2000 m AC pod wire winches ad 1-off OBS ROV, 1-off W/C ROV system. Designed for operations in the North Sea, the GM4000 can operate in winds of up to 28 m/s, eight m Hs and temperatures as low as minus 20 degrees, thus rendering it capable of handling all well intervention needs in the most challenging of conditions.
Fully automated with an integrated system for DP machinery controls, power management, alarm systems, ballast control and drilling, the GM4000 also has radars, RDF, echo sounders, clinometres, a speed log, four point draught indications system, driller's communication system, crane communication system and PA system covering all rig areas to ensure the best possible navigation and communication equipment is available for staff onboard. The rig also has a helicopter platform, with helideck arranged for Sikorsky S92, and accommodation for 120 persons; all staff have their own single bed cabins, while congregational areas include eight offices with 18 workstations, one collaboration room with eight workstations, a conference room with 22 seats, a gymnasium and a hospital/treatment room should accidents occur. Lifesaving equipment onboard includes four free fall lifeboats of enclosed type, each of which has the capacity for 60 persons, two rescue boats, inflatable life rafts and other equipment in accordance with MODU regulations.
Together with Odfjell Drilling AS as manager, Island Drilling is responsible for the marketing and operation of the state-of-the-art GM4000 rig, in addition to providing project management and supervision throughout the preparation for the rig's operations with Lundin Norway ASA. Discussing the building of the Island Innovator and its core operations, Roger highlights: "The rig has been built according to supervision of DNV as class society as well as the requirements of NORSOK standards operations on the Norwegian Continental shelf. The rig achieved class certification in September 2012 and has sailed from China to Norway for the preparation phase of the rig to operate on the Norwegian Continental Shelf for Lundin Norway AS. The rig was finished and all approvals in place, including AoC, during September 2013, and it was on contract with Lundin as of 25th September 2013."
He continues: "The Island Innovator started drilling its first well 16/2-20S&A and spud on 30th September 2013; the well was drilled according to the planned programme and included four run with coring and logging. Island Innovator completed its first well operation on 19th February 2014 and sailed to location 16/1-8U for the drilling of a pilot hole down to approximately 600 metres to verify shale gas in the area. The rig has completed drilling on well number two, 16/1-18 (Edvard Grieg), and also well number three, 7120/1-4S Gotha in the Barents Sea." In August 2014 the average technical and economical effectiveness of the rig was 86.01 per cent and 90.48 per cent, respectively.
Following the success of these projects, Island Drilling anticipates further growth and opportunities in the market, as Roger concludes: "We have plans until May 2016 and see a great deal of opportunities ahead; over the next three to five years we aim to increase our fleet and presence in the market."
Island Drilling
Services: Builds and owns special purpose semi-submersible rigs