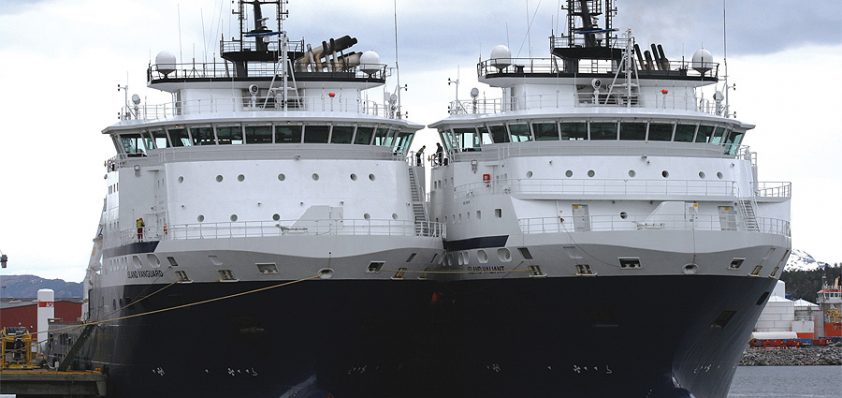 Premier ships
Island Offshore provides high quality solutions for the offshore oil industry through its fleet of advanced service construction and riserless, light well intervention vessels.
It maintains and operates its comprehensive fleet in accordance with national and international laws and regulations, paying particular attention to HSE issues.
The Island Offshore Group comprises ship-owning companies where Island Offshore Shipholding LP holds the majority shareholding. Technical and marine operations for all vessels are handled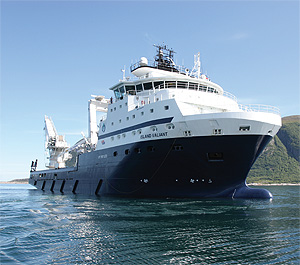 by Island Offshore Management AS in Ulsteinvik, Norway, whilst IOR and subsea operations are handled by Island Offshore Subsea AS in Stavanger, also in Norway.
Introducing the leading services provider, Island Offshore Management's chartering manager, Hallgeir Reitan, says: "We're a privately owned company, founded in 2004 and growing rapidly. When our new building program is finished Island Offshore will have nine platform supply vessels in its fleet as well as two anchor handlers, three subsea vessels, three well intervention vessels (with one more on the way), and one semi-submersible drilling unit, which is actually under construction in China right now. As per today, the total operational fleet is currently numbered at 15."
The Ulstein family's reputation as designers and builders of such offshore service vessels is renowned, and the family also has a 30-year history as owners of advanced service vessels.
Island Offshore Management AS has developed management systems in compliance with the guidelines from Det Norske Veritas and is certified by the Norwegian Maritime Directorate according to the ISM-code. Island Offshore Shipholding LP is jointly owned with Edison Chouest Offshore, the leading operator in the US for advanced and high quality service vessels. ECO owns and operates a fleet of about 150 offshore vessels worldwide, with the majority in the US, Mexico, Brazil and West Africa.
In August 2005, Island Offshore Subsea was established. The company is specialised in developing and implementing customised engineering solutions for light well intervention and other sub sea well operations.
Considering Island Offshore Management's current standing, Hallgeir says: "Island Offshore is a frontrunner and offers services of high quality on an international basis. Our fleet is less than two years old and we're certified according to ISO standards 14001 and 9001. The North Sea is our main market but we also have vessels in Brazil and the US Gulf, and we expect to expand even more internationally in the future."
Within just a few years, Island Offshore has become a leader in advanced marine operations and is active throughout the world. The company has a strong focus on building quality and advanced vessels, in order to give its customers 'added value' together with extremely high standards of comfort for the crew on board. The business believes that this is the key factor for its success, a factor
that helps to attract the best crews to the offshore environment, and motivated employees onshore to follow up the vessels.
Elaborating on Island Offshore's progress, Hallgeir comments: "We have grown from a small company into a very complex organisation; we have been involved in a lot of advanced project work in the North Sea, including plug and abandonment work, prepaying of moorings in very deep waters, riserless light well intervention, subsea construction, deep water anchor handling, and intervention work. We're a young, dynamic organisation that is privately owned, which is also hugely beneficial in shortening decision making time and allowing us to give quick feedback to our clients when they have questions or requirements."
All of the company's vessels have been more or less been built on spec, and it has approximately 90 per cent contract coverage for all of its fleet. Indeed, the company prides itself on the quality of its advanced services vessels and its fleet's youth, and sees no reason to increase its numbers in the near future. "Our current strategy is to hold fire," Hallgeir reveals. "This credit crunch developed quickly, therefore plans
could easily change again quickly. However, we don't have any new buildings planned. For the time being, expanding our fleet is on hold. We should weather the financial crisis as we have good contract coverage as well as new, advanced vessels. I think we have a strong outlook and I believe the economic challenges will affect other companies more than us."
Whilst there are no plans to add to its group of high quality service vessels in the nearest future, it will maintain its efforts to ensure the fleet is flexible, as any organisation in the offshore sector needs to be able to respond quickly if it aspires to carve out a prominent position.
As Island Offshore's management policy is based on a combination of experience and traditional shipping management practices, combined with modern technology, it will maintain and secure its standing in the marketplace. Reflecting on how he would like to see the company develop in the coming years, Hallgeir concludes: "In five years time, I would imagine that we would have grown further, although it is hard to say as we do not have many concrete plans in mind at the moment. I think this intermediate time will be good for us to solidify our position, and wait for our next growth spurt."
Island Offshore
Products / services Offshore services