ITC Hydraulics Services Ltd
Exceptional results
Founded in 1999, ITC Hydraulics Services Ltd (ITC) was established to provide onsite hydraulic services to the offshore, subsea, agricultural, mobile and industrial sectors.
ITC has grown steadily since its inception, rapidly moving into a new workshop facility near Oldmeldrum, Aberdeenshire in 2002. By 2012 its continued growth meant that the company had outgrown the premises, therefore ITC further expanded its workshop and office so that today the business is contained with a 6000 sq ft, purpose built facility that allows the business to re-enforce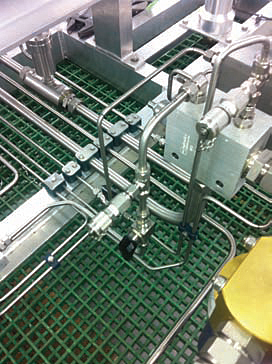 its established reputation as a leading supplier of high quality hydraulic solutions.
"The new ITC facility has enabled us to grow significantly over the past two years, increasing our turnover from £750,000 to £1.5 million within the space of a year, with expected turnover in excess of £2 million projected for the next financial year," reveals managing director, Ian Clark. "This has also allowed us to increase staff levels. Increased workshop space and overhead crane facilities have made our process much more efficient and allowed ITC to take on larger projects, which we could not accommodate in the past, as well as resulting in a much more efficient and safer workflow."
Today ITC continues to specialise in the design, manufacture and supply of all types of hydraulic equipment, components and accessories to a diverse cross section of industries. Within the oil and gas industry the company is a leading name in the manufacture of bespoke equipment for various offshore applications including pipe-handling equipment, blowout preventer (BOP) control systems, rig skidding and BOP equipment. Further to its manufacturing capability ITC maintains a proven track record in the refurbishment of equipment such as drilling equipment, ROV handling equipment, winches and deck cranes. This broad base of manufacturing and refurbishment expertise has enabled ITC to ensure full order books throughout 2014 and into 2015, as Ian elaborates: "ITC has recently been awarded a number of refurbishment contracts from a number of market leading offshore service companies, which will take the company well into 2015. We also have a number of new build manufacturing jobs, due to begin in the New Year."
Indeed throughout 2014 ITC won several contracts at a significant combined value, demonstrating the company's trusted market reputation. "With the award of in excess of £1 million in contracts earlier this year we have been able to highlight the confidence that major players within the oil and gas sector place in ITC," Ian says. "The awarded contracts were from three different clients and included the refurbishment and commission of equipment offshore and the building of 14 offshore hydraulic power units for safe area use. We are proud of the repeat business that we receive from our clients as word of mouth goes a long way."
As the company continues to win new contracts, so too does it win new customers within the UK and further afield. While the majority of its current projects are located within Aberdeen and the North Sea region, increasingly the company is seeing demand for its products around the world. "The offshore market has been extremely busy this year and 2015 looks to be no different," Ian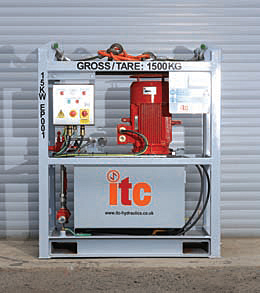 observes. "We have seen an increase in our involvement in projects overseas and predict a further increase over the next few years. We are delighted that our customers come back to us time and time again as this demonstrates our strong relationship with our clients old and new and their trust in ITC."
A further advantage for ITC, with benefits for both itself and its clients, is its position as a distributor of Amca products as Ian explains: "ITC is proud to be the sole Scottish distributor of Amca products including proportional, high pressure/high flow direction valves that are ideal for harsh marine environments as they include no aluminium components. Our customers are very satisfied with the product and we aim to build, test and deliver standard spec valves from stock with a quick turnaround. These can also be supplied with ATEX compliant electrical control.
"In fact, as our client needs change we have constantly added to our products and services, including investing heavily in new rental equipment," Ian says. "This includes ATEX zone 2 flushing units with pulse flow, capable of providing up to 600 litres per minute, and safe area and zoned electric driven hydraulic power units from 7.5kw to 75kw. We have an ongoing build programme for the manufacture of new rental equipment with a range of other products to be ready for the start of 2015. We've also started our own electric department enabling us to design and build our own electrical control panels in house,"
With a broad base of loyal clients and strong order books to take it into 2015, ITC is in a strong position to capitalise on its current momentum and continue to increase its turnover for the coming financial year, continuing its tradition of high quality performance, as Ian concludes: "The company's success is demonstrated throughout the business – from impressive turnover figures and glowing customer feedback through to continuous repeat business and orders as well as its high level of staff retention. ITC has performed exceptionally well financially, having achieved year-on-year increases since it was first established. Over the course of the next three years the company is targeting around 300 per cent growth in turnover."
ITC Hydraulics Services Ltd
Services: Hydraulic engineering services