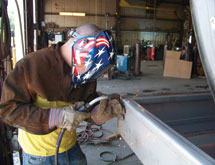 ITI Trailers & Truck Bodies
For ITI Trailers & Truck Bodies, it is critical to stay ahead of the curve and proactive, President Lenny Lottig says. "We're [often] looking at how we can make our products a little bit better, and not just sitting in the sidelines and watching issues come to the surface," Lottig states.
The Meyersdale, Pa.-based firm designs and manufactures oilfield and over-the-road trailers and truck bodies. A longtime veteran of the industry, Lottig spent 10 years as a production manager at ITI before purchasing it in 2007.
At that time, the company was suffering from the downturn in the transportation and construction markets. But ITI experienced a boost when it began serving clients in the oil and gas sector. "We happened to lie right at the outskirts of the Marcellus Shale when it started to develop," Lottig says, adding that ITI soon began soliciting clients in that market.
Its first client in the sector, he notes, was a local hauler who needed oilfield lowboys. "We started to build trailers to fit his needs," Lottig says, adding that this allowed ITI to springboard into serving other clients with tractors and lowboy trailers.
Additionally, in 2008, many of ITI's clients asked it to build water trucks. "We were so busy that I wasn't quite sure about jumping into that adventure," Lottig admits. "I was really reluctant to keep expanding."
After receiving many more requests, Lottig ultimately decided it was worth pursuing. "That part of the business ramped up," he recalls, adding that ITI now builds 250 to 350 units annually.
ITI also serves clients from a wide range of locations. "We have customers from Alaska down through the Western States," he says, noting that the firm serves many within its local area. "I've been very fortunate to have a loyal customer base."
In addition to manufacturing, ITI offers service work and builds prototypes for clients. "They may take it to another company that is going to mass produce it," he says.
Being Better
One method ITI uses to consistently improve its products is to listen closely to its clients and solve any issues they have. For instance, when the company learned that clients were having corrosion problems with its aluminum vacuum tanks, it immediately switched to using stainless steel.
"It's much more corrosion resistant than the aluminum," Lottig says. "We came up with a unique design to keep the sediments from the flowback water remaining in the tank when off loading."
Today, 99 percent of the company's products are made with stainless steel. "That part of the business just kept growing," Lottig says, adding that the firm also has added ASME code tanks to it product lines. The firm's Heavy duty lowboy trailers have the industry's lowest deck heights remote controlled rear steering at its clients' request.
"We've got to have a better product and better service," Lottig asserts. "Any truck is going to go up and down a road, [but] ours is going to do it better."
A challenge for ITI is keeping up with regulations. "There's so many differences in what the different states require [in order] to keep all of our units legal, whether they're changing the weight laws, the bridge lengths [or the] rules for all the different gas companies," he states.
For now, ITI is concentrating on giving its employees more room to work. Lottig explains that the company is adding additional space to its facility in Meyersdale.
"When we have that all done, we'll be at 80,000 square feet," he says, noting that this will allow the company to serve more clients. "We're hoping to have it done in [approximately] 18 months." EMI