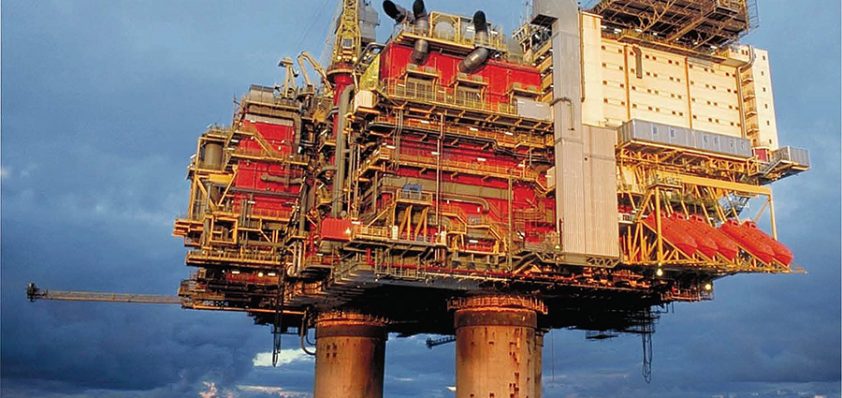 The heavier the better
IWS was established in 2005 by a group of former offshore subsea and electronic engineers. Located in Åkrehamn, Karmøy, on the west coast of Norway between Stavanger and Bergen, the company provides a newly developed, cost effective and environmentally friendly method for weighing and lifting large and heavy structures.
Lorents Vikra, managing director of IWS describes the origins of the business: "The idea of using this method of making a weighing system had been discussed within the group of founders ever since the early 1990s. But the decommissioning industry really triggered the formation of IWS because there was a demand for a special method of carrying out weighing at the Frigg field. We were
contacted by the main decommissioning contractor Aker Offshore Partner with a weighing challenge, asking for assistance with the weighing of a 8-9000 tonne main support frame on the Frigg TCP2 platform. IWS was then founded and the weighing system was further developed and tailor made for the specific project in co-operation with Aker. We then realised that there really would be a niche for this kind of service in the coming decommissioning market."
The company's unique weighing system uses a patent protected power jack, which allows access for weighing and lifting in confined spaces. The system uses a number of power jacks (sensors) depending on, and adapted to, the structure weight, size and access. All power jacks are then connected to a central control unit and pressurised by using fresh water only. With custom made software that controls the operation, the system continuously calculates and presents the weight and centre of gravity (COG) on the PC screen.
Lorents elaborates: "Our weighing system uses a simple method comprising of steel plates, which are welded together and pressurised. One single power jack 500 x 600mm square, and weighing seven kilogrammes, is capable of lifting/weighing more than 500 tonnes. Furthermore, by adding a number of power jacks the capacity is almost 'unlimited'.
"It's a fairly simple process; all portable equipment can be operated manually, so this is an easy way of mobilising and using the system. This is especially important during decommissioning work, which takes place on a dead platform with no cranage or other similar equipment to help us. One of our main goals is to keep the system as simple and light as possible, so that transporting and operating it is as straightforward as possible. There is also no danger of any pollution as fresh water is the only fluid used. We do see a potential for utilising the method for various tasks as the power jacks and their control system are very flexible, and can be tailor made for each specific project. We hope that we can be a contributor to the coming demand
of technology as the decommissioning activity develops."
In addition to its main weighing solutions, IWS also provides a number of related services to the offshore sector. Lorents comments: "Weighing is our main business, but there aren't many platforms that need weighing each week. To ensure that we have sufficient work and also in the interests of offering a better service to our customers, we have expanded our range to include services within engineering and offshore subsea operations that we provide on a day-to-day basis."
IWS is also currently working on improving and further developing the system: "At the moment our system is designed for very heavy objects, so we are in the process of developing the system so it can effectively weigh lighter items," says Lorents. "We are now looking into performing calibration tests on various types and dimensions of power jacks; it will be the same basic system but with different sensors. So, it will be a further development rather than merely the optimisation of our existing systems. The new system will enable us to get into the market on a more daily basis in the area of fabrication and create new ways for our system to precisely weigh lighter objects. Our main goal at present is to further develop our existing weighing system and look into further possibilities for its application. We believe that the offshore decommissioning industry will be a huge market for us."
In terms of the current market conditions, Lorents is certain that there are still plenty of business opportunities to take IWS into the future, despite the difficult economic climate: "Although the financial crisis is having an impact on the industry, there are still a great number of offshore platforms waiting to be decommissioned. The Frigg field was the first major field complex to be removed, but many are yet to come so the future looks bright. From now on and beyond 2020 the decommissioning market will increase. We are presently doing engineering and assiting SeaMetric International, which is building its multi purpose heavy lifting system 'Twin Marine Lifter'."
Lorents goes on to explain the company's plans for the future: "We see every project as a fresh challenge, because each one is different. The challenge lies in adapting and tailoring our services for each job. It's important to come into contact with major decommissioning contractors at an early stage in the project in order to optimize the solution. There is potential use for the general weighing of heavy structures such as offshore modules to consider also. The main challenge will be getting access to, and bringing the new technology into market to replace more traditional weighing methods."
He concludes: "Our main goal is to become the number one and chosen partner in the field of heavy weighing services within the offshore and decommissioning sector. We will achieve this through further development of our system and by extending our service portfolio to provide a broader range to our customers. We also want to increase cost effectiveness and improve the ease of operation of the weighing system. In this way we expect to take the company into the future."
IWS A/S
Services Industrial weighing