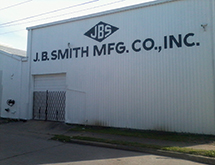 In its 48 years as a component supplier for oil and gas producers, J.B. Smith Mfg. Co. has never seen the industry quite like it is today. The Houston-based company manufactures tubular fittings, swages and bull plugs that are used as connectors and fitters in upstream, midstream and downstream oil and gas operations.
Production Manager Eddie Gomez explains that the emergence of hydraulic fracturing hasn't necessarily led to changes in the types of products J.B. Smith manufactures but it has changed the frequency.
"Where it really fluctuates is the type of fittings and the demand," Gomez explains. "Because of the hydraulic fracturing process, we've seen some products come into higher demand while others have decreased."
For instance, when it comes to swages, Gomez explains that the two- six- and 10-inch types have grown in popularity while demand for four-inch swages has waned.
Although little has changed regarding the products themselves, J.B. Smith – which is a subsidiary of Anvil Corp. – has made internal improvements to increase the quality of its products. One of its most significant changes has been in its safety culture. Leaders such as Gomez and Operations Manager Bobby Garza have been influential in shifting the company's safety culture.
Safety Switch
In 2005, J.B. Smith implemented a program called Focus 5 – an effort that presupposes that if 95 percent of safety incidents are due to direct action or lack of action, then 95 percent of all safety incidents can be avoided. Employees were divided into teams with a yearly rotation of peer leaders who take the helm in reducing safety hazards by enforcing appropriate preventive or corrective actions, such as wearing safety glasses. Once every employee met a particular safety requirement, the team would focus on a new measure.
"Small injuries – cut fingers and bruising – were an acceptable part of the culture, but that started to change over the years as we got smarter," Gomez says. "A year after this program was initiated, our total recordable incidents dropped from 14.2 to 5.7, and in 2009 and 2010 we went without a single recordable incident. We are still using the same initiative today and the real success is we were able to change our safety culture."
In addition to its safety culture, J.B. Smith has also improved its manufacturing process. It recently identified a bottleneck in its system.
"Sawing is where 90 percent of our product starts from and it's at one end of the property," Gomez says. "The shot blast, which is a surface preparation process that removes varnish coatings from the pipe, is at the other end of property. It was one of those situations where when the equipment came in we put it where it would fit."
Once J.B. Smith identified the bottleneck, it invested in a second production saw and stationed it next to the immediately following process.
"The travel was pretty far – about a football field-and-a-half," Gomez says. "By placing the saw closer to where the next process would be, we've reduced our distance traveled by 60 percent."