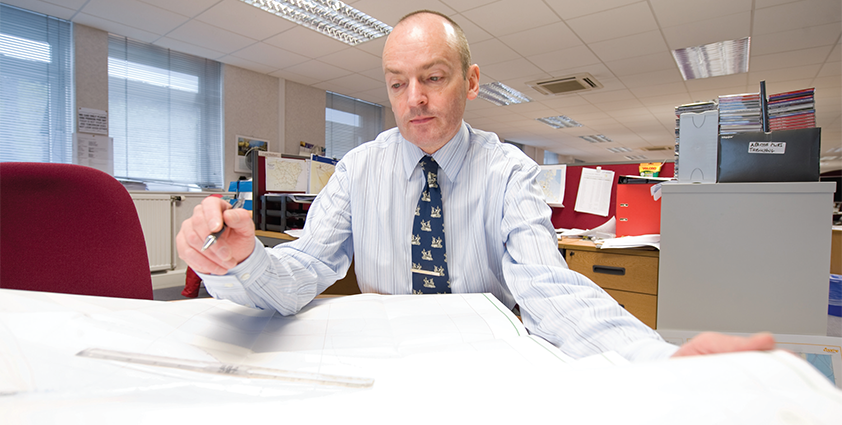 Seamlessly integrated
Having established a strong heritage in its own right as one of the world's largest independent and most innovative pipeline and subsea engineering and project management companies, today J P Kenny operates as part of the Wood Group Kenny organisation, a Wood Group company.
Alongside J P Kenny, this Group includes flow assurance and process optimisation specialist MSi Kenny; world leader in compliant riser design MCS Kenny; Wood Group Integrity Management (WGIM), which provides integrity management, through-life solutions and materials engineering; and leading independent engineering consultancy SgurrEnergy, which specialises in worldwide renewable energy projects.
"The concept behind Wood Group Kenny is that we can market ourselves as a seamless organisation with a wide range of complimentary and supportive capabilities," explains Simon Hounsome, business manager – operations support for JP Kenny in Aberdeen. "Apart from SgurrEnergy, we are all co-located within the same building in Aberdeen, which enables us to deliver this closely integrated portfolio.
"We support established operators such as Nexen, Maersk, BP and TAQA Bratani, as well as smaller oil companies within the North Sea. Our focus with the smaller companies is to help them develop the smaller resources within the North Sea, which aren't economical for larger operators."
With over 25 years of industry experience behind it, J P Kenny has one of the most proven track records in pipeline and subsea system activities of any global company. However, like many long-term industry operators it is also turning its attention to the emerging decommissioning market: "This is an area where we are able to offer a wide range of services, starting with decommissioning liability studies, where we advise oil companies on the costs of this process. We have also been supporting the due diligence process for companies that are looking at acquiring assets from other organisations on the potential decommissioning costs and taking these into account when negotiating price.
"Once clients have identified that they have a decommissioning need, we can undertake studies to identify the best methods for progressing this work. As part of this, J P Kenny is able to support clients with environmental applications and presentation of decommissioning cases to the Department of Environment and Climate Change. In terms of the deconstruct phase itself, we help clients procure contractors, and then engage with these throughout the work reviewing procedures, supervising work offshore, and assisting in final presentation back to the industry. So it is very much adding value through a full spread of project management and support activities to companies undertaking decommissioning works," elaborates Simon.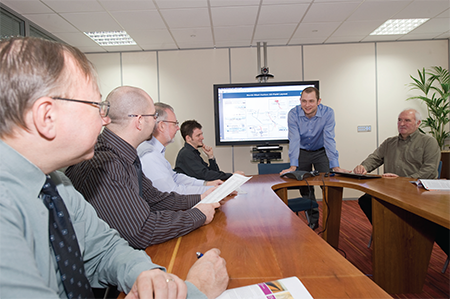 Although the mature nature of the North Sea market means that decommissioning is going to have a greater presence over the coming years, Simon is keen to emphasise how effective later life asset management can delay these activities: "By supporting clients on more mature assets through integrity management, inspection and renewal of pipelines, and engineering studies to determine efficient ways of recovering the small amounts of oil remaining, the operational life of the field can be extended.
"Additionally as these assets get older it may not always be possible to continue to maintain and repair the control system, so we work with clients to look at ways to manage those processes on a field that may still have five to ten years of operation left but has an obsolete control system. Eventually these assets will reach a point where they are no longer economical to operate, and this is where decommissioning is increasingly coming into play in the North Sea. We are engaged with more and more customers in this area, with some of the projects we're currently looking at scheduled for 20 years time, so it's certainly a growing market."
In terms of the wider offshore market, there are also a number of projects beginning to come online, as the sector recovers from the drop in oil price two years ago. Whilst announcements in the last UK budget regarding an offshore tax increase have caused some concerns within the industry, for J P Kenny this has had very little impact on its workload at present. In fact, one of the primary challenges facing the business is the recruitment of personnel to accommodate its volume of work: "In my opinion there is a demographic gap in the resources that we have," notes Simon. "So we have a lot of individuals within the company who have been involved in the oil business for 25 to 30 years, and a reasonable amount of young graduates, but a definite gap of people in the middle.
"In this respect we are looking at a number of different solutions including skills transfer, and our own internal training scheme to support those that are new to the industry. Cross-recruiting from outside the industry is also another area we are investigating, however it is difficult to supplement 20 years worth of experience in the oil industry with 20 years of experience elsewhere. The armed services is an area of interest, particularly in terms of management skills, so it is about looking at how we can incorporate subsea engineering knowledge into this to make them immediately marketable to our organisation."
Activities such as these are vital to an organisation that distinguishes itself through the breadth and width of experience and expertise it possesses. This means that for almost any project issue J P Kenny has an individual somewhere in its global network capable of dealing with the problem. As an organisation, the company is continuing to look at opportunities to expand into parts of the world such as West Africa, Brazil and the Caspian Sea, are also being considered. "There are also areas outside of the oil and gas market such as carbon capture, which we are looking into," concludes Simon. "J P Kenny is currently involved in the design and maintenance of subsea facilities for the extraction of hydrocarbons, so this is looking at the application of our existing skills in a different way."
J P Kenny
Services: Subsea engineering and management services