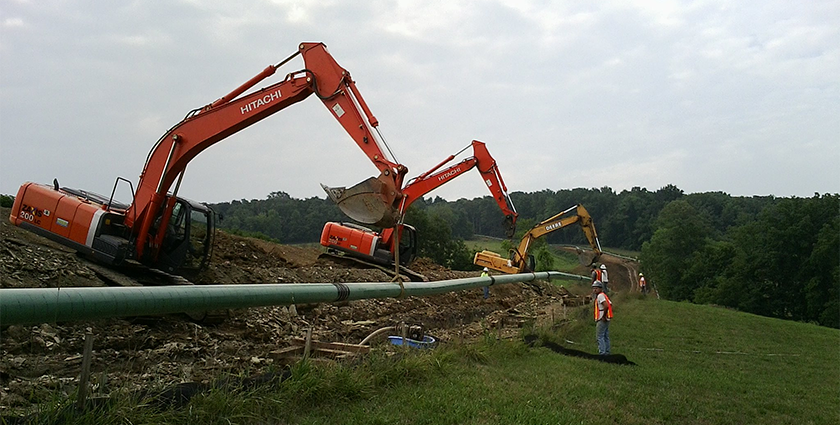 J-Wood Contracting provides exemplary and safe pipeline servicesthroughout the Marcellus and Utica shales.
Since its founding in 2005, J-Wood Contracting Inc. has become known throughout the Marcellus and Utica shale regions for its expertise and impeccable safety record.
Based in Elkview, W.V., J-Wood is a leading oil and gas pipeline services company that can take on large-scale projects. The company owns roughly $8 million worth of equipment assets and has a working capital line of credit of $12.5 million. "We are well-positioned in high-growth shale plays, which is driving tremendous earnings growth," the company says.
The company has installed hundreds of miles of pipeline ranging from 2-inch plastic to 30-inch-plus steel for energy companies in West Virginia, Pennsylvania, Ohio and Kentucky. "We have extensive experience as a pipeline contractor, laying pipe several years before the U.S. shale boom," the company says. "We have been active in the development of supportive infrastructure in the region since the growth of shale production."
During its time in business, J-Wood has signed master service agreements with or completed work for more than 20 companies, completing more than 150 projects.
J-Wood's clients include Antero Midstream, for which it has constructed more than 60 miles of steel pipeline for projects valued at more than $150 million. Other notable clients include Eureka Hunter, MarkWest Energy, Access Midstream, Blue Racer Midstream, Columbia Gas Transmission, Caiman Energy, EQT, Chesapeake Energy and Stone Energy.
"We play an integral role in the production and marketing of oil and gas products by constructing upstream pipelines that allow companies to move products to the broader market," the company says.
The company credits the experience of its senior staff and employees with its success. "Our principals have extensive experience in the pipeline industry with prominent energy companies like Chesapeake Energy, ST Pipeline, Inc., Welded Construction L.P., Otis Eastern Service Inc., Associated Pipe Line Contractors Inc. and Carl Smith Pipeline," J-Wood says. "Our principals and key managers' combined pipeline experience spans more than 100 years."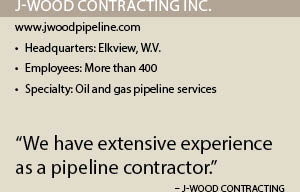 Committed to Safety
J-Wood's job types range depending on its customers' needs, but typically involve laying 12-, 20- and 24-inch diameter steel pipe. The company also is capable of performing an array of services including reconnecting well heads, fabricating drips, preparing hydraulic horizontal drill sites, performing valve settings and meter runs, and installing anode beds.
The company is committed to ensuring the safety of its employees on every job it performs. Eric Jackson, J-Wood's founder and president, formerly served as environmental safety coordinator for another contractor and has established safety as a main attribute of the company.
"J-Wood has a proven record of uncompromised commitment to safety," the company says, noting it holds top safety marks from its key customers as identified by third-party auditors including ISNetworld. "We are committed to best safety practices and going above and beyond mandatory regulations."
The company's use of union workers gives it a solid base of safety practices that it expands on internally. "We train our workforce to employ best safety practices well beyond the stringent union qualifications," the company says. "For instance, we have an in-house certified trainer in operator qualification."
J-Wood assigns a safety director and safety point man to each of its job sites, and constantly monitors safety conditions and practices. Employees who display outstanding safety practices are given bonuses, the company notes.
In addition, the company maintains a strict drug-free workplace policy that includes pre-employment testing as well as post-employment random testing. Testing is also performed after an accident or if there is a reasonable suspicion of impairment. "Pipeline construction is serious business and we hold our supervisors and employees to the highest standards of performance," the company says.
Community Connections
J-Wood Contracting donates a percentage of the cost of its projects to charitable organizations in its communities. These include youth sports teams, 4-H and Lions clubs, Future Farmers of America organizations, elementary school programs and law enforcement agencies.
The company also supports the outreach efforts of the gas companies it performs work for and has professional relationships with local vendors, it notes.