Fighting fire
Whilst the ocean is perhaps not the first place you think of when it comes to fire, recent global events have highlighted just how devastating these incidents can be, particularly with regards to hazardous infrastructure such as oil platforms, rigs, and vessels.
Founded in 1898, Jason Engineering has been producing marine fire fighting systems and components for these types of situations since 1974.
In 2007, the business acquired the Aker Kvaerner Subsea FiFi (Firefighting) Department, bringing in-house the ability to design and manufacture all key elements of ship sets in compliance with class notations – fire monitors, pumps, transmissions, electric and hydraulic controls, and telescopic masts. Maintaining a significant proportion of the global marine fire fighting market, Jason's position as a world leading single source supplier of complete FiFi I, II, and III classification marine fire fighting solutions makes it a preferred supplier to ship and platform constructors worldwide.
"We are a key supplier," says Svein Østreng, sales manager at Jason. "This means that when you buy a package from Jason you get everything – the product, the engineering, and support. Our focus on engineering also enables us to tailor make equipment for customers if necessary, which is one of our key strengths."
Chief operating officer, Anette Berger continues: "Due to the worldwide financial situation this year has not been one of typical volumes, but instead has been more about producing to order, which is more specific to the needs of the customer. Due to our long history, and high level of engineering competence, we have been able to accommodate this shift by delivering very special transmissions for example, which has made 2011 a very good year for the business."
Although Jason operates within the oil and gas sector, particularly in its native Norway, interestingly, the oil companies are the ultimate end-user of the products, its direct customers are the owners of supply vessels carrying fire rescue and oil recovery equipment on board. As such, Jason is in close communication with both elements of this decision making chain with the ship owners looking to secure equipment in line with oil company specifications, and external regulations.
Crucially, the specifications for vessels equipped with large fire fighting systems come from various classifications such as Lloyds, DNV and ABS. Yet, as Anette highlights there are concerns that these do not always go far enough when it comes to external marine solutions: "The requirements are not always good enough because although FiFi I may be acceptable from a classification perspective, when it comes to a platform fire it is simply not powerful enough compared to the FiFi II, which delivers three times more/higher capacity. Equally, in the case of a platform fire one of the primary focuses in using fire fighting equipment is not necessarily to extinguish the fire, but to actually cool down the structure so that it won't collapse.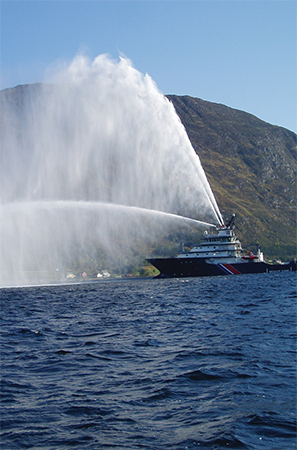 "Another challenge is that this sort of equipment is only used in the case of an emergency, which hopefully is a rare occurrence, and therefore it is vital that crews are well trained in how to operate it effectively. Therefore we also maintain a training division, which travels all over the world training personnel in how to use and maintain the equipment."
Recent major disasters have refocused attention on safety in offshore operations, and having effective recovery systems in place to respond to worst-case scenarios. Such discussions are welcomed by Jason as for many years the company has used open communication with its customers to inform new developments in order to ensure it remains at the forefront of marine fire fighting and oil spill technology.
"There is very little focus on external fire fighting systems, in terms of how they should be used, or what is the actual need of the oil companies," describes Svein. "As long as it meets the classification requirements, little attention is paid as to whether it is actually suitable for the intended purpose. In the North Sea, FiFi II has long been used as standard due to the high and large nature of the platforms, as in the event of a fire a smaller system like FiFi I would not be able to reach such targets. However, in the shallow waters of the Gulf of Mexico or Persian Gulf where there are satellite pumping stations for small scale drilling, a FiFi I system is more suitable.
"Today though, activity in the Gulf of Mexico continues to move into deeper waters, and therefore we have began to see companies in Mexico and the US coming to us to upgrade from a FiFi I solution to a FiFi II for these larger platforms. Equally Brazil is looking to Norway for equipment, with many Norwegian vessels complete with FiFi II systems being hired in these waters as they cannot build new vessels fast enough," he adds.
As with many different industries, in recent years the focus on marine fire fighting equipment has shifted from quality to pricing. In turn, this has led some shipyards to purely follow the basic requirements. "The ship owner is the one that is going to be using and maintaining the equipment, while the yard is building it for them, and they are more focused on features, quality and low maintenance," explains Anette. "Therefore we believe it is important to have discussions on a higher level with the ship owners and their customers – the oil companies and the ones catering to them – to specify the correct requirements. In turn, if they can see demand for it the ship owner may look to invest in better equipment such as FiFi II to ensure they can lease the vessel more easily."
In addition to Jason's wide fire fighting portfolio, the company has also diversified into a second business line of dispersant solutions for oil spills. The dispersant chemical development that it delivers has reached an acceptable quality for the environmental organisations, having as minimal effect as a light dishwashing soap for example.
The products operate by neat chemicals being sprayed onto the oil slick to loosen the particles, which then drop to the bottom of the sea and are consumed by small animals. "Based upon its decades of activity in the oil business, Norway is the only country in the world at present where the government have set out rules to the oil companies regarding dispersant solutions. As such, in light of the Deepwater Horizon oil spill in the Gulf of Mexico the rest of the world is now turning to Norway for support and expertise in these matters, and therefore we believe it won't be long until we see such regulations appearing in other countries," comments Anette.
In the case of new developments such as dispersant systems and fire fighting equipment, Jason is often one of the first to bring these to the market. Several years ago the company launched a combined gear and pump system that saved a lot of space within the machinery, which has subsequently be copied by others on the market. This year the company has also delivered a number of tailor-made gears.
"Developments in the area of dispersant and fire fighting solutions are constantly ongoing," says Anette. "One concept we're currently working on is finding a convenient dispersant solution in relation to the move towards the new X-bow vessel designs. Our dispersant solutions must be placed at the front of the ship so that we can spray the chemicals onto flat water and then use the natural friction of the bow wave to disperse it into the oil. However, with the X-bow design there is no deck at the front for crew to walk upon, and therefore we are working on delivering a new integrated solution for this type of vessel early next year."
Svein continues: "We also see a trend in the market for diesel electric vessels, so in preparation for that we are supplying a lot of electric motor packages."
If Jason sounds positive about the future, it has good reason to be as its adaptive and flexible organisation is ideal for today's diverse market, where the importance of protecting assets and life is never underestimated: "Ultimately we would like to become the world's largest supplier of marine fire fighting systems, but equally we want to be considered the best in the market in delivering these solutions. Although we see new growth in suppliers and competitors, none of these companies are able to supply the three core competences that we have – design, manufacture and service, at the best price," concludes Anett.
Jason Engineering
Products: External marine fire fighting and dispersant systems