Building for the future
Originally founded in 1974, the JBS Group (Scotland) Ltd is again looking to expand its growth within Peterhead and the North East of Scotland as a leading service company to the oil and gas industry.
Scott Buchan, managing director highlights: "year on year we have managed to grow the business to such an extent that we need to expand the business premises again."
European Oil and Gas Magazine recently spoke to Scott following an agreement to purchase additional land: "Our main facility sits on a 1.75 acre site for storage, handling, fabrication and engineering. We have planned a new building that will strengthen our position as a leading fabrication company in the North East, facilitating the building of larger offshore structures and accommodation modules." The new facility, part funded by an RSA grant will house all 70 staff and dispose of the need for extra rented facilities currently in use. As a modern, efficient and forward-thinking company its key aim is to understand and exceed customer's needs and expectations whilst offering value for money.
The business has developed five separate limited companies, creating versatility that meets demand with each operating independently. Offering fabrication, engineering, commercial, marine and heat exchanger services, JBS can accommodate both onshore and offshore work scopes when and where required. "We have a strong workforce of over 50 personnel able to cover all aspects of work. We are still a family owned business and know how important it is to keep our clients happy and meet deadlines so we are very much focused on continuing this support and close working relationships with our customers," says Scott.
The group takes pride in its reputation and growth stems from the belief that by developing the business model it can encapsulate key support services for clients providing a onestop- shop. "The benefit is the quick turnaround assisting much larger scale projects. For clients, it is beneficial to have all work constructed under one roof and is a huge advantage when it comes to trial assembly," Scott explains. Throughout 2013, the group grew to become the chosen contractor with a number of key clients within the service industry, as Iain Buchan, business development manager continues:
"Our client base is still oil and gas based. Over the last year we have worked hard to get onto the Approved Vendors Lists of some of the larger oil and gas companies in the North East. Our existing client base has now grown to include new customers such as Taqa, Technip, Woodgroup PSN, Stork Technical Services, ISS Harkland, Weatherford and Helix Well Ops."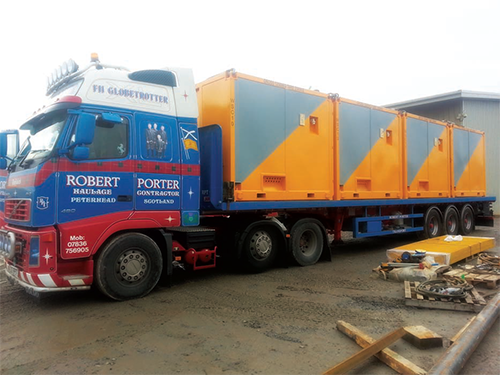 Providing an overview on the projects nearing completion, Iain says: "The chemical bath tank for Stork Technical Services is a complete new build for the offshore Zone II environment. The double skinned tank will be used to clean the client's hydro cyclones, saving time and costs by not having to transport the items back to shore. We are close to completing our first Donut Station for Woodgroup Taqa to be fitted onto the Cormorant Alpha Platform. With a total weight of just under 11 tonnes, the station consists of an 11 metre walkway, grating and handrails an features an embarkation rail support frame and safety gate." The whole structure was manufactured, galvanised and painted within eight weeks, highlighting the fast turnaround speeds JBS has become renowned for.
Recent work with Proserv included the construction of four workshop containers each fitted out internally with electrics ready to take on their next project. The company is continually sending offshore welders and fabricators to assist Halliburton on the NTVL and Galaxy III where it is fitting a number of fabrications, including Walkways and grillages produced in-house.
Another recent work-scope completed was the delivery of 4 x Hose Reel Systems for Weatherford. These were completely built and tested in-house, which shows the wide variety of services that the JBS group can provide.
To help meet the demand of the ever-increasing workload the JBS Group appointed Gordon Ingram as general manager in May 2013. Gordon brings with him 30 years of experience in the oil and gas Industry with 20 years of that in management. His past experiences include manufacturing, asset repair and maintenance, wireline, operating offshore, BOP assembly and high pressure testing (onshore and offshore), subsea and overseas experience. Gordon's experience will enable the JBS Group to enhance productivity and continue the development of the group.
Focusing on the increase in demand for its services Gordon adds: "We have seen more demand for our offshore capabilities, where we can supply 6G coded welders and qualified fabricators to assist with the installing of structures built in-house. We now have a core of 12 offshore personnel that can quickly be available to go offshore. Additionally there has been a steady increase each year in the mobilisation and demobilisation of kit for offshore vessels that our clients work on. We can supply up to 30 people on a 24 hour mobilisation basis to various ports up and down the breadth of the country."
Currently the group has eight apprentices that attend Aberdeenshire college and are working towards a NVQ level three in welding, fabrication and machine operation. "We recognise the Apprenticeship scheme as a valuable asset to the company. The team of apprentices have a great opportunity to learn various skills throughout the company and we were very proud to have one young apprentice win Apprentice of the Year 2013, which has set a president of achievement for the future," explains Gordon.
Looking towards the future the requirement for JBS' services is set to continue rising, and with over 30 years experience in the oil and gas industry the business moves forward with a solid reputation and support of a dynamic and hard working team.
JBS Group (Scotland) Ltd
Services: Specialist engineering and fabrication