In safe hands
With 40 years of experience in specialist engineering and fabrication, JBS Group (Scotland) Ltd has earned a trusted reputation as a reliable partner within the oil and gas industry.
The company has consistently grown and expanded throughout its history and today operates five divisions that each target specific areas within the business. Its fabrication, engineering, marine, commercial and heat exchange divisions allow JBS group to deliver bespoke design and high-quality fabrication in a range of applications.
"Our client base is still majorly oil and gas related," says business development manager, Iain Buchan. "During 2014 JBS Group (Scotland) Ltd has had its most successful year to date and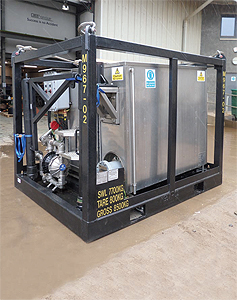 continued to grow the business for the sixth consecutive year. The group has only seen positive signs for demand from the local market through repeat business from the majority of our key clients. That is why we are expanding the business again to continually meet the requirements of our customers. Some of the company's new clients include Taqa, Technip, Woodgroup PSN, Stork Technical Services, ISS Harkand and Well Ops."
As the business has continued to grow, JBS has changed location and moved into larger premises several times throughout its history. During 2009 construction began on a bespoke building located at the Dales Industrial Estate in Peterhead, Scotland, and by 2013 new business and a significant increase in turnover increased requirements for larger structures. "We have recently been awarded an RSA grant, which will help us to achieve our long-term goal of building a new and larger fabrication building next to our existing site," Iain explains. "Ground works on the new facility will be commencing in November this year for the new fabrication facility to be complete by spring of 2015. The new building will have 20 tonne and ten tonne cranes, 720 sq m floor space and large end door (10m high x 8m wide) for easy access for loading/offloading inside the workshop with trailers."
The JBS facility sits on a 1.75-acre site and has an indoor fabrication area of 36 metres by 20 metres with a 15 tonne overhead crane, while the engineering division machine shop has a 24 metre by 22 metre floor space with a five tonne overhead crane, various lathes, milling machines as well as vertical and horizontal borers. It also houses the JBS commercial division, which has numerous wood working machines, tooling and stock items as well as a one-acre site for storage and handling. As well as its main Dales Industrial Estate location, JBS maintains a second site some seven miles away that undertakes fabrication work in an area sized at 548 square metres, with a further 614 square metres of outdoor space. The expanding JBS main facility provides a one-stop-shop solution for clients' design and fabrication projects, while its small site is able to take on smaller projects or lend support to ongoing projects at the larger site.
"The main benefit to our clients of a one-stop-shop is the rapid turnaround on small items required that might be holding up a much larger-scale project," Iain says. "If there is an item that needs to be machined we can work overnight or over the weekend to make sure the wait is kept to a minimum. While other companies might have delays in this process, we can instantly get onto the job and cut out all of the hassle of waiting for transport companies and quotes that add time and additional cost to the work.
"Also, with its growing reputation and continued investment in larger facilities, JBS is enjoying increased demand for its vessel mobilisation and de-mobilisation capabilities, including the fabrication of grillages and frames built in-house ready for the vessel's arrival in port. As such, the company currently has a good core of reliable, experienced welders/fabricators/joiners that are available 24
hours per day when required to assist with any vessel project."
With its growing reputation and continued investment in larger facilities, JBS is enjoying increased demand for its offshore capabilities including the installation of structures built in-house. As such, the company currently has a good core of offshore personnel that are quickly available to go offshore to a client's facilities. Furthermore, JBS has a strong record of completed projects and is currently close to completing a HoldBack Structure with Technip for the Greater Stella Project, as Iain explains: " This project is currently being completed over the next two weeks. This has been our first major scope of work for Technip in the subsea market and is exactly why we are building the new larger fabrication facility to accommodate the demand of larger subsea structures." With this projects and host of others, JBS has identified itself as a first-class design and fabrication solution to clients within the oil and gas market.
As the company continues to grow it will look to its new general manager Gordon Ingram to guide the business moving forward. Gordon brings with him over 30 years of experience within the oil and gas sector, 15 of which have been spent in management positions. Furthermore Allan Buchan, who started the company in 1974 with his father John, is stepping down and handing over his managing director role to his son Scott, who has been working for the business for the last 12 years. These changes mean that JBS will continue to be in safe hands for years to come.
JBS Group (Scotland) Ltd
Services: Specialist engineering and fabrication