Providing the vital connection
More than three years have passed since we last caught up with JDR Cable Systems. Since then JDR has been acquired by TFKable Group, a leading producer of wires and cables, with major production facilities in Europe and global sales offices. Both companies have a long history of collaboration, with TFKable being JDR's important business partner providing power copper cores for its cable and umbilical systems. JDR also compliments TFKable as its highly technical subsea systems allow its customers to power and control their offshore operations, and enhance the range of cable solutions TFKable can provide to its customers.
Back then, the market-leading provider of subsea technologies and services connecting the global offshore energy industry expressed its satisfaction with the growing number of renewable projects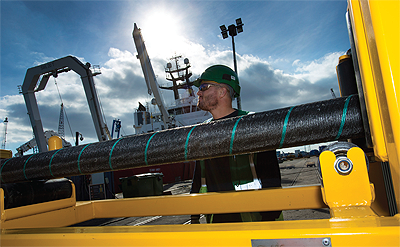 it had secured. Halfway through 2019, this trend is stronger than ever, with the company's renewable activities now amounting to 70 per cent of the business.
A specialist in designing, engineering, and manufacturing subsea power cables, production umbilicals, intervention workover control systems (IWOCS), and end terminations and accessories, JDR has led the development of inter-array cable design and manufacture, creating comprehensive product systems for some of the world's largest offshore renewable energy projects. Significant examples of these would be the work it has delivered on the Greater Gabbard and London Array wind farms in the UK, the Meerwind wind farm in Germany, Aberdeen Bay (European Offshore Wind Deployment Centre) and Beatrice in Scotland but some of its recent and current contracts have also seen JDR expand into other geographic areas.
International contracts
In December 2018, the company signed a contract with Vattenfall for the Danish Kriegers Flak offshore wind farm that will see JDR manufacture more than 170 kilometres of aluminium core interarray cables and a range of termination accessories. The wind farm is located 15 kilometres east of the Danish coast in the southern part of the Baltic Sea and will be Denmark's largest offshore wind farm, incorporating 72 turbines of 8.4 MW with an installed capacity of 605 MW. The interarray cables connecting the turbines will carry the clean generated electricity to an offshore substation for transmission to shore.
Within the space of just over six months between 2018 and 2019, JDR made significant strides into the Taiwanese market, too. In June of last year, the company was selected by Jan De Nul Group to manufacture and supply inter-array, export, and land cables for the country's first commercial-scale offshore wind farm – Formosa 1.
Impressed with JDR's work on this project, Jan De Nul selected the British supplier once again in January 2019 to design and manufacture subsea power cables and accessories for the Taiwan Power Company Offshore Wind Farm Phase One. Situated off the coast of Fangyuan in Changhua County in Central Western Taiwan, the project's first stage will see the installation and commissioning of 21 5.2 MW offshore wind turbines giving a total capacity of approximately 110 MW.
As part of its commitment, JDR will design and manufacture 65 kilometres of array and export cable to transmit power from the wind turbines to the shore. The 33kV cables will be manufactured at JDR's state-of-the-art facility in Hartlepool with additional support from the Polish facility of its parent organisation TFKable Group. After that, the cables will be shipped to Taiwan for installation by Jan De Nul.
Discussing this particular project and the future opportunities for JDR in this part of the world, CEO, Jaroslaw Romanowski said: "The region has exciting prospects with the growth of its offshore market and as Taiwan becomes an increasingly popular choice for investors and developers. We are delighted to be a part of the local success story and to bring not just our technology, but our experience to the developers and supply chain in the region. Therefore, this project really aligns with our growth strategy and localisation in Taiwan, where our aim is to work alongside local partners to share knowledge, skills, and expertise."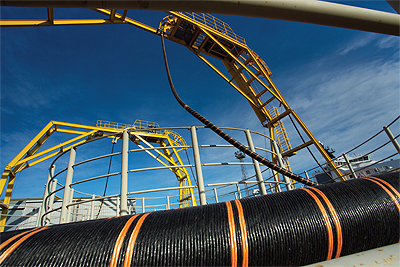 Focus on innovation
Back home, in the summer of 2018, JDR secured a multimillion contract for the second phase of the construction the world's biggest offshore wind farm – Hornsea. The contract, awarded by Ørsted, includes the supply of 100 kilometres of interarray cables and termination work. Mr Romanowski commented: "Hornsea Project Two is a 1.4 GW offshore wind project that will be built at the lowest ever price seen in the UK. This incredible achievement is being enabled by organisations like JDR and Ørsted working collaboratively to push the technical boundaries of offshore wind projects – making them more economic than ever before and leading the way for future developments."
Certainly, this focus on innovation and redefining the concept of the possible is one of the characteristics exhibited by JDR that keeps the company ahead of the curve. Capable of combining its expertise in both the renewable and oil and gas sectors, this is best reflected in the delivery of the industry's first application of dynamic cables operating at 66kV for the Windfloat Atlantic 25 MW floating wind farm based off the coast of Viana de Castelo in Northern Portugal. The company was selected by WindPlus in June 2017 to design and manufacture array cables to suit V164 floating turbines. To support the project, JDR designed a unique and easy to install dynamic cable breakaway system, which protects the floating platform in the unlikely event of a mooring line failure. Furthermore, the supplier's proposition also included HV termination and testing.
And JDR's successes keep coming, with news announced in June 2019 that it has won a contract for Belgium's largest offshore wind farm – the SeaMade project. JDR will design, manufacture and deliver 78.1 kilometres of aluminium core inter-array cables and a range of cable accessories, including repair joints and connectors. The inter-array cables connecting the 58 Siemens 8.4MW turbines, will carry clean generated electricity to an offshore substation for transmission to the offshore grid. The offshore wind power generated is transmitted by a 33kV cable system with hang-offs and connector terminations for 128 cable ends. The project, operated by SeaMade, which is a consortium of DEME Offshore is expected to be operational by 2020.
Entry to rental business
Notwithstanding the fact that renewable energy projects make up more than twothird of JDR's business, the company maintains its strong positions in the oil and gas market, too. Last summer, it won a five-year long-term service agreement with Houston's Wild Well Control for the design, manufacture, and assembly of IWOCS to be deployed in conjunction with the client's 7Series subsea intervention systems. The partnership promises to broaden JDR's presence in deep water markets such as the Gulf of Mexico and West Africa, as the area remains of strategic importance for the company in its long-term considerations.
The continuous flow of new business coming JDR's way renders the future bright and the organisation is now hoping to develop a new element of its offering. Since this year, JDR has branched into the rental business, thus opening up a new service for its customers. Following the oil price downturn that began in 2014, the US IWOCS market truly embraced the leasing model, with operators extremely keen on cutting their expenses. Back in the day, buying using capex investment was a standard procurement practice, but since that market shock, companies have started to reassess their aggressive spending.
Due to the fact that most wells requiring intervention (around 80 per cent globally) are in water less than 7000-8000 feet with pressures below 15,000 PSI, JDR advances the proposition that these wells can be serviced by ready-configured standard IWOCS. In this case, rather than having to buy a system and move it from well to well one after another, operators can easily rent as many as required, whenever required. Given the favourable market response to a solution of this kind and JDR's unrivalled expertise and experience in the creation of these systems, the company can be assured of the success of its undertaking.
JDR Cable Systems
Services: Design, manufacture, and installation of subsea production umbilicals, power cabling, and IWOCS