Well connected
Boasting an accomplished track record, JDR Cable Systems provides custom-designed and manufactured subsea power cables, umbilical systems and marine cables for a wide scope of applications.
Its subsea wellhead production and workover umbilicals are used around the globe and its activities in the offshore renewable industry have grown considerably.
"We're active in many parts of the world," managing director Patrick Phelan confirms. "In South East Asia we provide subsea production umbilicals to the oil and gas industry, particularly since we developed our quayside facility in Thailand four years ago. That market has been fairly quiet following the reduction in oil price brought about by the financial crisis but we're starting to see conditions pick up, and we expect that region to be more active in 2010. We're also very active in the Gulf of Mexico, providing our IWOC (intervention & workover control) systems, complete with our powered reeler packages. We undertake this from our sales and service centre in Houston, the US."
The company also focuses a lot of its attention closer to home, having recently opened a new deepwater quayside manufacturing facility at Hartlepool dock. This major investment in the company's growth complements JDR's world-renowned – and UK-based – design, engineering and manufacturing hub in Littleport, Cambridgeshire. It also expands the business' offering to the offshore market.
Discussing this new development, Patrick reveals: "We invested just under £20 million in our new quayside facility in Hartlepool, which has been in operation since last July. It has state-of-the-art equipment to provide subsea production umbilicals and subsea power cables for oil and gas, as well as power cables for offshore wind and wave energy. This is partly due to our growing focus on renewable energy as a complementary market to traditional oil and gas."
Elaborating on the thinking behind the site, Patrick adds: "We had been searching for a suitable quayside facility in the UK for the last five or six years and were determined to find somewhere that was deepwater, with excellent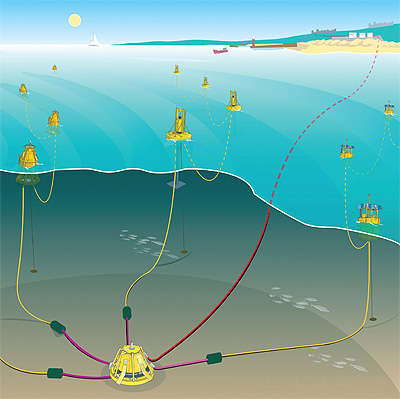 access for deepwater installation vessels. While many ports are available, they tend to be shallow water and the strategically positioned deepwater ports are usually full. We were able to negotiate a long-term lease with the port at Hartlepool and since then we've used our expertise garnered from building previous umbilical and cable plants to successfully deliver projects on time and to budget."
The new purpose-built 100,000 sq ft facility is the only site in the UK designed specifically to manufacture subsea power cables for the rapidly evolving offshore renewable energy market and the increasingly complex oil and gas sector. As a result, the response from the market has been extremely positive, evidenced by booked orders and an advanced stage of tendering for many other projects.
Indeed, the company has had several reasons to celebrate in recent months, in terms of its current deals, as Patrick outlines: "We've been awarded a contract for the supply of subsea power cables for the UK's groundbreaking Wave Hub project by the South West RDA (Regional Development Agency), which is a prestigious wave energy venture. We're supplying 25 km of export cable, which will weigh 1500 tonnes in one piece when finished and provide the essential link between the Wave Hub and onshore control room.
"The development is an offshore connection facility whereby different wave energy devices can be trialled at a location off Cornwall, which is very suitable for that power generation device. It's the sort of project that we could not have supplied if we hadn't built our quayside facility, and the contract involves us providing the complete system, including the Wave Hub itself."
Similarly, the London Array Offshore Wind Farm project has proved to be extremely significant for JDR and the company is providing subsea power cables, which it will produce in 2010 and 2011. "It's the world's largest offshore wind farm and we have been successful in winning the contract to supply all the array cables, which will provide vital links between all the wind turbines and offshore substations," Patrick reports.
"Prime Minister Gordon Brown has recently announced the next round of major wind farms, known as Round Three, and these will be even larger, so it's going to be a huge investment for the country of about £100 billion. Everything needs to be installed by 2020 to meet the country's renewable energy obligations. Of London Array's £2 billion worth of contracts, JDR was the only British company to win any significant part of the work. We feel it's been very important that we've set ourselves up for this market in terms of the technology and the facilities ahead of the huge Round Three coming on-stream."
Part of the reason JDR has attracted the attention of key industry forces is the organisation's commitment to R&D investment. By consistently ploughing a great deal of money into this area, JDR can boast dedicated teams of engineers, both in oil and gas umbilicals and renewable energy cables. "R&D is paramount and keeps us ahead of our competition," Patrick notes. "Our continued investment in R&D means that, with oil and gas umbilicals, we have higher pressure and higher temperature rated hydraulic hoses than our competition.
"Furthermore, we have developed special termination systems for renewable energy cables, which means that when multiple cables are being installed on a wind farm with more than 100 wind turbines, we are able to minimise offshore installation vessel time. That's very important for our customers."
With regards to JDR's client base, the organisation supplies most of the major oil and gas companies around the world, such as Total, BP, Statoil and Chevron, often via the major control systems companies, including Aker Solutions, Cameron and FMC. On the renewable energy supply side, JDR works with companies such as Fluor for the Greater Gabbard project, and the aforementioned contract for London Array involves a consortium of DONG Energy, E.ON and Masdar.
Clearly, JDR has been canny enough to progress with relative consistency throughout the economic downturn, however the past year has not been without challenges. "The oil and gas market is definitely still down, compared to where it was two years ago, and I think the biggest impact has been the fact that worldwide demand for oil has reduced over the past 12 months for the first time in three decades," Patrick explains. "This means that many planned offshore projects were postponed and we don't see the market picking up in that sense in any big way yet. From our own company's point of view, we have been able to bridge the gap in projects with our huge launch into renewable energy."
It is this proficiency in spreading its expertise throughout its various industry interests that has enabled JDR to successfully continue its growth, as Patrick asserts: "It's all about achieving a balance between different products and markets. We possess expertise in oil and gas umbilicals and power cables, and as that market inevitably increases thanks to the world's ongoing need for oil and gas, it becomes a case of balancing that with the huge demands from renewable energy."
Concluding, Patrick considers the business' noteworthy strengths, adding: "A lot of our success can be credited to our obsession with product quality and long-term reliability. Apart from being an attribute that is valued by clients, that obsession puts us in good stead for the future."
JDR Cable Systems Ltd.
Products: Subsea power cables, umbilical systems and marine cables