Willing and cable
JDR Marine Cables, is part of JDR Cable Systems, a company that was formed approximately fourteen years ago with the combination of two of the industry's most respected names, Jacques Cable Systems, in the United Kingdom and De Regt Special Cables, in the Netherlands.
The company's extensive product range boasts cables for virtually every need and comprises of multi-functional electro-hydraulic umbilicals; electrical, optical, and electro-mechanical cables; mechanical, electrical and optical terminations and handling systems. Cable System's expertise, manufacturing experience and capabilities allows it to specialise in areas other companies often do not approach, such as middle-sized umbilicals. This positioning in the umbilical market provides its customers with a high level of attention during the design and manufacturing process that out performs competitors in the industry.
Peter Brussee, marketing and business development manager at JDR Marine Cables, comments on the business: "We profile ourselves in the subsea and oil and gas industries, focusing on seismic, defence and other specialty cables." Based in Rotterdam, the Netherlands, with another division in Tianjin, China, Marine Cables' facilities specialise in towed and ocean-bottom cable arrays with engineered terminations, custom naval arrays, submarine rescue umbilicals, electrical and fibre optic umbilicals, tethers up to 19,000 ft water depths and ultra-technical scientific applications. With extensive growth in markets within both the Southeast Asia region and Europe, it is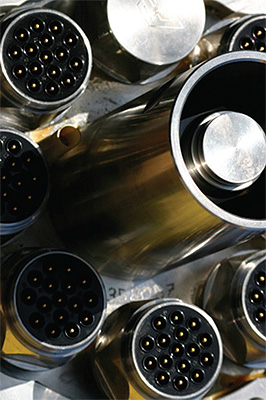 imperative that the company has facilities that meet the demands of its customers.
Discussing the company's current projects, Peter continues: "The recently awarded contract by the Polarcus Group, based in Dubai, the United Arab Emirates, is for the supply of 35km of airgun umbilical systems and 65km of lead-in cable systems for its entire fleet of newly built, forward-thinking 3D seismic vessels. It is one of the biggest orders in JDR Marine Cables' history and is the deal we are really concentrating on at the moment." JDR's collaboration with Polarcus further demonstrates the company's commitment to providing the most highly engineered purpose-built cable systems accessible in the industry at present. Furthermore, the company's extensive track record and commitment to pushing the boundaries of research and design has proved to be particularly suitable for this type of project. Completion of the six-vessel fleet is expected over the next two years, with the first 12-streamer vessel to be operational towards the end of 2009 and all six vessels operational by 2010.
The cable systems will be supplied from JDR's new quayside facility situated at Krimpen, neighbouring the port of Rotterdam. Marine Cables moved to this new location at the beginning of 2008 and it now provides the company with state-of-the-art manufacturing, coupled with industry leading research and design. The facility is a new, purpose-built factory with more than double the previous production capacity. Furthermore, investments have been made in new production machinery along with extensive upgrades to existing equipment, providing further improvements to quality, efficiency and delivery times. The site enables efficient cable production, termination assembly and global services, along with sales, engineering and administration of the Dutch BV.
Peter comments on plans for further expansion: "In addition to the Rotterdam facility, an existing warehouse is being converted into a state-of-the-art cable manufacturing facility for JDR Cable Systems. It will include a 100,000 sq ft factory and is located on the deepwater berth at the Hartlepool Dock. Specialising in the production of heavy cables, up to 2200 tonnes, for larger energy transport ports, the expansion will provide employment for up to 80 new staff members."
Highlighting additional developments, Peter goes on: "Despite the state of the economy, we anticipate our larger markets will remain stable in the next two years. However, we need to focus on the smaller areas as well, for instance, the recovery of raw materials or renewable energy. Currently we are looking at innovation projects as well, for renewable energy power cables for the offshore industry. Renewable energy is something we want to investigate more in the coming years. As the government is investing in wind energy and power stations for tidal and wave energy, it is a field that is under discussion worldwide."
Attention spent on this issue is underlined through a new contract for JDR Cable Systems, awarded by Fluor Ltd. JDR is supplying inter-array cables for Greater Gabbard, an offshore wind farm, which upon completion in 2011, will be the world's largest. Under development by Airtricity, the renewable energy development division of Scottish and Southern Energy Plc, Greater Gabbard will be the first UK offshore wind farm to be built outside territorial waters and will provide carbon neutral, renewable electricity for more than 415,000 homes. JDR's scope consists of over 200 km of 33 kV 3-phase power cables, which include fibre optics and terminations, providing the essential link between the 3.6 MW turbine generators and the Gabbard and Galloper offshore sub-stations. The cables will be supplied during 2009 and 2010 from JDR's facilities at Littleport and Hartlepool Dock.
Peter concludes by outlining the company's objectives for the coming years and the work that will be crucial to its continued success: "Our key strengths, besides high quality, lay in working together with the customer, trying to really understand what their needs are by building the relationship as well as the design. Everything is custom built, so customers come to us with specifications and we design something together with their requirements.
"We have now set up a new R&D team, which I will be extending into several projects. We are constantly seeking new R&D projects to which we incorporate a design and engineering force that enables us to provide added project value while forging close relationships with our clients. Looking towards the future and moving our position forwards, we would like to sustain the good flow of business for umbilical systems, yet at the same time, encourage the market for renewable and wind energy. As market expenditures have recently been growing rapidly, we will endeavour to keep up with that." Forward thinking is imperative in a competitive niche market, this is the company's main competency and what sets it apart in the industry. JDR's clients gain from the relentless search for innovative technologies, creating imaginative solutions for any kind of challenge.
JDR Cables
Industry Seismic, defence and speciality cables