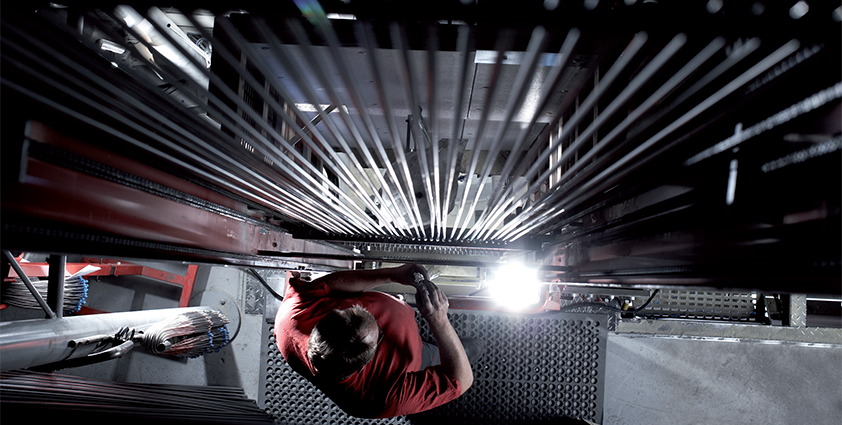 Current affairs
Founded in 1942 by engineer Tage Christensen, JEVI's first range of products were heating elements used in the repair of smoothing irons.
Over the next 50 years JEVI grew into a company that produced and delivered heating elements to a host of customers operating within the Danish manufacturing industry. Acquired by NIBE Industrier AB in 1998, JEVI remains to this day a part of this expansive and financially solid corporation.
In the years since, JEVI has continued to invest in modern production facilities, product development and skilled, motivated employees, in turn developing into one of Europe's leading suppliers of electric heating solutions, shipping its products to customers around the world. In the summer of 2009 the company expanded by purchasing a further 3000 square metres of office space and production facilities as part of its plans for future growth. As of May 2011 JEVI employs 90 people at its headquarters in Vejle, Denmark as well as 25 at its facility in Holland.
With the objective of becoming the preferred supplier of electric heating solutions for the manufacturing industry, JEVI has always strived to make the necessary investment in modern production equipment, product development and motivated employees. Existing hand in hand with this trait is the company's promise to maintain the highest possible quality standards through the development and production of solutions that comply with applicable laws and regulations. Paramount to JEVI's daily operations is the use of quality management systems that guarantee the quality of its goods and services are so consistent that its clients consider their dealings with JEVI to be a significant asset.
In its work within the offshore and marine industry, JEVI produces electrical heating solutions for air and liquids, specialising in customised solutions within ventilation systems. For offshore applications the company produces air and water based brake resistors for drilling systems and cable installation ships. Additionally JEVI offers a range of process heaters for land-based plants, production platforms and similar applications.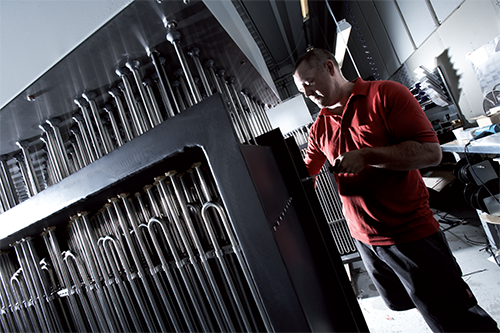 JEVI's HVAC duct heaters are used for air conditioning, heat recovery and ventilations systems as well as in process plants that require the heating of specific air types or gases. Designed to be ATEX approved for explosion proof areas, JEVI's designs can be modified for specialist use within the offshore and marine sectors.
Among the other products JEVI offer to the oil and gas industry are its VLE fan heaters. These applications are used in areas in which strong durability, quality materials and high performance are in particular demand. Able to resist aggressive impact in areas such as ships, offshore, warehouses and large production floors, the fan heaters are made from either a heat-galvanised plate or stainless steel. The company's immersion heaters, crafted in stainless steel, are designed for the heating of oil and JEVI also offers complete control systems for duct heaters including tyristor control, incremental contactor control, PLC control and production test and quality control systems.
Over the years JEVI has accumulated expert know-how on a wide range of products within the field of electrical heating, meaning its products are manufactured to various standards including ATEX, CE, Demko, PED, UL andVDE. Additionally the company often takes special requirements into account regarding product approvals for individual projects in the form of gaining third-party approval, if requested by the customer. JEVI is therefore well versed in working on projects that require structure and high quality in the documentation stage as well as in the manufacturing of the physical product.
With a business strategy to provide innovative, high quality products to the electric heating market, JEVI conducts its business in close co-operating with its customers, always focusing on creating the best value solutions. JEVI's overall objective is to combine solid growth with increased earnings, something that can only beachieved by remaining an attractive employer of the industry's finest talent and retaining satisfied customers. Looking ahead JEVI will continue to conduct its operations with three key financial objectives in mind. The first is that organic growth should increase by an average of ten per cent annually. The second is that operating profit should account for at least ten per cent of revenue on average and finally the equity ratio should remain at least 30 per cent at all times. By sticking to these targets, and continuing its investment in modern production facilities and product development, JEVI will surely remain one of Europe's preferred providers of electric heating solutions.
JEVI AS
Products: Electrical heating for offshore, marine and ventilation systems