Strength and reliability
Jian Feng Sling is a leading manufacturer and supplier of a wide range of lifting and rigging products such as wire rope, wire rope slings, chain slings, sling fittings, lifting equipment, synthetic slings, tie downs and accessories.
"Jian Feng is a manufacturer and supplier of an integrated range of lifting and rigging products," says Clarence Cui, director of overseas sales at Jian Feng Sling. "We are also a solutions provider for many difficult tasks in lifting operations. Our 30 years in the industry has given us enormous experience and knowledge in supplying different fields with the right products and technical services. Our objective is to continuously improve in providing the industry with better services and higher levels of safety.
"Our products are not only used in the offshore oil and gas industry, but also in a range of other sectors such as shipbuilding, ports, transportation, construction and mining," he adds. "Jian Feng is a well renowned brand in China that has a reputation for the high quality that we inject into the industry here. Alongside that presence in our home market we are also stretching ourselves to a growing extent internationally by looking to gain recognition for our reliable and quality products."
As Clarence explains, the company has considerable experience in the industry, which means that it is able to meet the most demanding quality requirements of its customers. "Culturally, the commitment to product quality management from everyone here in Jian Feng has been the key to our competitiveness throughout the years,"
he comments.
"When it comes to that quality, our slogan is 'Our Service, Your Safety'. In the industries that we are dealing with, safety is always the first priority. You have to fully recognise this fact and the needs of your customer, and build your image through strong and consistent product quality and reliability. Trust is something that has to be built through time, and this is what we do on a day-to-day basis."
In order to maintain such high standards in its products Jian Feng employs skilled technical experts and engineers, many of whom are situated at its state-of-the-art testing facility. "Technically we have the most advanced in-house testing centre in China, facilitated with both hardware and software to perform a series of quality tests including tensile strength, break load, elongation, fatigue and hardness etc.," says Clarence. "This ensures that all products supplied by Jian Feng are not only manufactured according to the relevant standards but have also gone through the necessary tests to prove their safety level. Third party certification testing from DNV, ABS, Lloyds can also be easily performed here as well."
Jian Feng carries out a great deal of work in the offshore sectors, providing a range of handling and rigging solutions to clients such as CNOOC (China National Offshore Oil Corporation), COSL (China Oilfield Services Limited), Saipem Singapore, CIMC (China International Marine Container), and CIMC Raffles.
"We have undertaken a range of projects with these clients," Clarence explains. "For example, in November 2012, Jian Feng designed and provided a testing solution for CACT operators group on eight pieces of FPSO mooring wire rope slings. CACT is a joint venture company by CNOOC, ENI, Chevron and Texaco, and we performed a series of tests including making the test samples, bending, fatigue and breaking. We were the only organisation able to perform these tests with our in-house 1000t tensile test bed and 1000t fatigue test bed. The good feedback from CACT led to two more similar testing projects with CNOOC, which we are currently working on.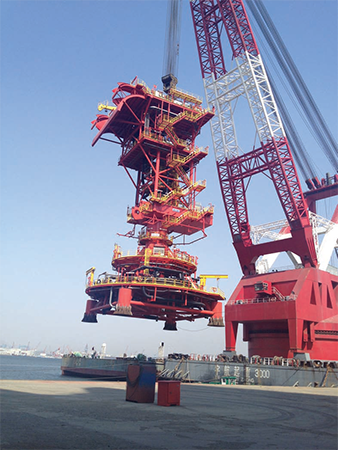 "Elsewhere, we are the qualified contract supplier for COSL and its deepwater semi-submersible platform 981, for which we supply a full and complete range of lifting slings and components. We have also worked closely with COOEC since 2004, and in 2013 we supplied them with a lifting solution that consisted of four pieces of O156mm endless wire rope grommets equipped with four pieces of WLL 500T wide body shackles for the BoHai LD10-1 oilfield platform installation projects."
Alongside these more local companies the business also exports around 40 per cent of its products and solutions to overseas markets, including Europe, the Americas, the Middle East and Southeast Asia. "The Middle East and Australasia are two regions with stronger growth at present," highlights Clarence. "We would also like to see more business activities in Africa in the near future, and we are looking to expand our product range further into the Americas in the coming years."
Growth and expansion is very much at the core of Jian Feng's vision for the future, as Clarence says. "The offshore oil and gas industry is definitely what Jian Feng is focusing on this year. We have launched two particular products, which are leading our overseas expansion – JF brand Wide Body Shackles ranging from working load limit 200T–1500T that are CE certified by DNV, and offshore container lifting sets, for which Jian Feng is the first and only DNV2.7-1 Type Approved provider in China.
"Building a brand is a long process, but I believe Jian Feng and its products will start to receive more international recognition in the near future. We have very good partnerships with distributors worldwide and I believe that over the next three to five years, the international industry will really see more of what we can bring to the global market," he concludes.
Jian Feng Sling
Services: Lifting and rigging equipment