JWF – The Instrumentalists
An instrumental figure
From its operational offices in Glasgow and Teesside, family owned business, JWF Process Solutions Ltd (formerly JW Fairbairn Ltd) has remained a prominent supplier of instrumentation solutions to various industry sectors since 1962.
Now celebrating its 50th anniversary as a business, JWF Process Solutions has rebranded itself as JWF – The Instrumentalists, a name which reflects its expertise in process instrumentation and customer service, traits backed up by its supply of proven, world-class products.
"The company's main business is the supply of process instrumentation, with the supply of this to the oil and gas industry primarily coming in the form of top-side instrumentation," instrumentalstates Martin Kerlin, Sales Director of JWF. "The company's operations encompass the supply of pressure, temperature, flow, level and analytical instrumentation and its solutions can be found in operation on offshore platforms, FPSO's and in conjunction with bulk storage systems."
Founded by Jimmy Fairbairn in 1962, the company was originally known as JW Fairbairn Ltd.; a name which they carried until 2000 when Jimmy's son, Kenneth, was appointed Managing Director. The company's name changed from JW Fairbairn to JWF Process Solutions, a name Kenneth felt better reflected its capabilities. Twelve years on, and celebrating their 50th anniversary as JWF – The Instrumentalists, the company is rightly proud of its long, distinguished history: "There are many reasons for JWF's continued success over the years and one of these has been its ability to forge strong, stable relationships with some of the world's leading instrumentation companies," Martin continues.
JWF has maintained close ties with the company ABB since 1962, with pressure and temperature measurement solutions experts WIKA in Scotland since 1972 and, more recently, with FLEXIM, whom JWF offers non-intrusive flow measurement and inline process analysis.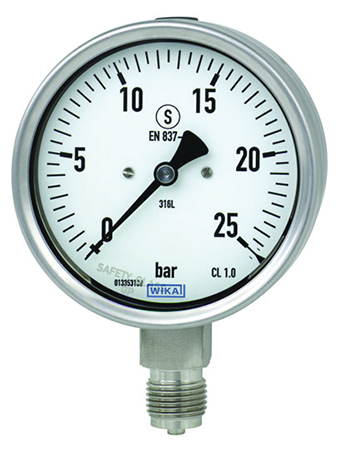 "As is the case in any walk of life, a successful relationship has to come with a high degree of commitment from both parties," Martin enthuses. "JWF and its partners have always extended a great deal of support to one another, with all parties driven to maximise customer value by harnessing the skills and knowledge that each party possesses. As instrumentalists it is vital that JWF, and its partners for that matter, is able to showcase its experience and expertise to existing and potential customers and these relationships allow this to happen. Likewise it is imperative that JWF always remains focused on achieving the highest level of performance at all time."
The last 12 months have seen JWF continue its trend of taking on new customers, undertaking new projects and bringing innovative products to market. Amongst its recent achievements the company successfully tendered a large contract in conjunction with FLEXIM to supply instrumentation to a large gas storage facility. Another success in recent times is the supply of a series of state-of-the-art gas analysers, a project undertaken with ABB and the first of its kind for the company and the first seen in the UK based oil and gas market. In the months ahead JWF will also continue its investigation into energy harvesting and how untapped energy around plants or platforms might be used to power various instruments.
While the majority of the company's business has traditionally been based in Scotland and the North of the country, JWF has been making a much more concerted effort of late to extend its operations across the whole of the UK. However, as Martin says, the years ahead may see JWF reach out even further afield: "As overseas opportunities become more prevalent it is natural that a greater percentage of JWF's business will come from outside the UK, from countries where it will no doubt successfully transport the skills and qualities that have served it so well over the last five decades."
The company's passions have always been centered on its products, the companies it represents and its ability to solve its customer's problems and offer them the right solutions. Its devotion to customer service can be seen in its most recent online survey, which produced a result that shows client satisfaction levels of 97 per cent: "To further emphasize the company's devotion to its customers it has also renamed its administration services department as its customer services department. These may be small cosmetic changes, but what they do is reinforce JWF's mission to create added value through the service it provides, service that is designed to provide the highest level of satisfaction, each and every time," Martin concludes.
JWF – The Instrumentalists
Services: Process instrumentation