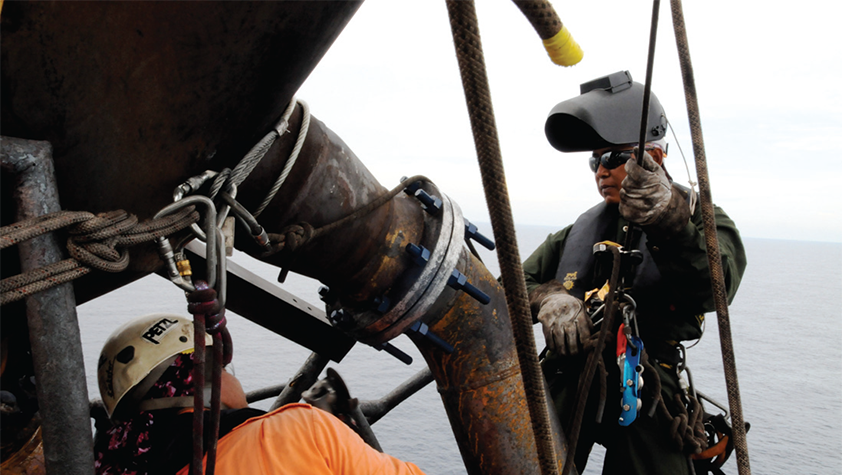 K2 Specialist Services Pte Ltd
The specialists
Working across the oil and gas value chain into drilling, upstream production, and downstream processing, K2 Specialist Services Pte Ltd (K2) delivers a comprehensive service offering.
This portfolio is subdivided into four main categories: engineering and construction, inspection and surveys, repairs and maintenance, and training. The company was founded over a decade ago in Singapore, where it's headquarters remains, but is today supported by strategic offices in Brazil, South Korea, and the US.
"We are a company that specialises in inspection, repair and maintenance (IRM) mostly on offshore drilling facilities, but also for FPSOs as well," elaborates Daniel Rogers, managing director of K2. "As such we do a lot of periodic inspection of lifting equipment and drilling structures, non destructive testing (NDT), and dropped object surveys on the inspection side, and then into repair and maintenance work specialistswhich is mainly focused on the derrick itself.
"There's quite a few companies that do periodic inspection, but we are different in that we can do all the inspection and surveying, and then we also have an engineering capability as well. If for example a customer wanted to increase the strength of the derrick in order to drill deeper, we could survey and analyse it, produce a design for the modifications, fabricate the extra steelwork required, and then install it – so we offer a complete package. A lot of the inspection work feeds into this because if the structure is found to be in a state of disrepair it then needs to be addressed," he continues.
On top of this, a proportion of K2's work is construction based with the company building drilling structures and assembling them for new build rigs in shipyards. "This is a big market in South East Asia," notes Daniel. "Singapore is a world leader in terms of building offshore drilling rigs, and we also have an office in Korea, which is another main centre for the new generation of drill ships and semi-submersibles. We've also expanded our safety and technical training capability so that as well as our own people we are also providing training services to our customers."
Since 2007 K2 has been a member of the Velosi Group, which has helped the business to provide services on a truly global level. As Daniel explains though, further changes to K2's parent structure has brought with it even more opportunities: "Velosi has since been bought by another company, Applus+, so we're part of that Group as well now. This potentially brings more synergies for us because Applus+ also owns a Dutch advanced NDT company called Applus+ RTD. We don't offer those services ourselves at the moment so there's a nice partnership available to us where we can work with them to bring some of those to the production side and FPSOs."
As well as fulfilling his role at K2, Daniel is also the chairman of the Industrial Rope Access Trade Association (IRATA) until October this year. With K2 having been a member of IRATA for over ten years, and in fact the first in Singapore, these interests are closely linked given much of K2's work is still driven by difficult access.
"Drilling is a challenging market to work in as it's not easy to deliver consistently in the face of client demands," comments Daniel. "For K2 though the outlook is very good. The company has grown between 20 and 30 per cent year-on-year for the last eight years, and we expect to see the same for 2013. It's nice as customers are responding to the plans that we put in place, and can see that we take quality and certification very seriously. We have verified quality and safety management systems in place, and we work to train our people to minimum standards to maintain consistency."
This is reflected in some of the recent contracts that K2 has secured, which includes three new wins with Seadrill. The first is for the periodic inspection of around 20 jack-up rigs in the Asia-Pacific, which includes twice yearly visits to inspect lifting equipment and the derrick. A second contract is for seven new drill ships being built in Singapore and Korea, which will see K2 carry out baseline surveys for equipment and building up the registers for when the vessels leave the yard.
"You don't often get a lot of time to plan in the drilling industry so it's good to be working with a customer that sees the value in consolidating everything with the right vendor. It makes it much easier to give them a consistent survey as we can work with them to plan what is coming, which enables us to identify the resources required and where they are needed in advance," comments Daniel.
Whilst the future sees K2 working to strengthen its current offering on the one hand, the company also hopes to become more widely recognised as a market leader not just in inspection services, but for its structural engineering as well. "Training is another important part of the business," describes Daniel. "We've moved from just training our own staff into competence management and setting of our own standards, and are now developing courses to also sell to the customer.
"It's a good business sector for us because it raises the profile of the company and puts us in a positive light, and our customers are seeing the value in what we're are doing and are looking to tap into that for their own personnel as well. There aren't many of our competitors who offer this because it's an expensive line of work, but we see this as a long-term commitment with a lot of growth in the future," he concludes.
K2 Specialist Services Pte Ltd
Services: Inspection, repair and maintenance