Industry sepcialists
With a mission to be the global market leader in the provision of inspection, repair and maintenance (IRM) services to the oil and gas industry, K2 Specialist Services Pte Ltd (K2) has evolved into a leading supplier of inspection, repair and maintenance services throughout the sector.
The company was incorporated in 1997 and a decade later in 2007 became part of the Velosi group of companies. Today K2 operates from its headquarters in Singapore and several support offices in key locations such as the UAE, Korea, Africa, Brazil and the US, employing some 450 members of staff. Presently its service portfolio is divided into four targeted categories comprised of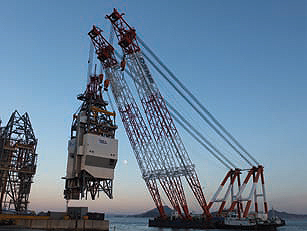 engineering and construction; inspection and survey; repairs and maintenance and training, from where the company delivers premier solutions to its clients. Commenting on its current operations K2 managing director, David Griffin says: "We describe ourselves as being a provider of lifecycle services. We work with a number of regional shipyards in Singapore, China and Korea partnering in newbuilds construction and the conversion of assets, particularly drilling rigs. We also establish baseline surveys, which are important in getting the inspection and survey criteria for the rigs as they enter the operating phase of their lifecycle."
K2 differentiates itself from other companies by also providing periodic inspection services. K2 delivers inspection and maintenance services for the full lifecycle of its customers' assets supported by an in-house engineering capacity that generates further added value to its overall service package. As such, the company is able to remain strong through the shifting nature of the oil and gas market. "Most of our revenue comes from drilling and what we are seeing this year compared to last year is a drop off in what I would call 'voluntary spending' by the drilling companies," David says.
"Projects for repairs and upgrades seem to have been suspended or postponed and we get the impression that this is in response to the perception of the softening of day-rates for rigs. This is something that we feel will hold until we see the stabilisation of these rates." However, while the demand for drill-related repair and maintenance may presently appear on hold, the diverse service portfolio of K2 has allowed the company to expand in other areas in response to the overall demand of the market. "In particular we have seen a lot of growth in our electrical sectors and in fact last year our electrical services sector saw growth of 400 per cent," David elaborates. "Today there is a lot more emphasis on ensuring that the right, explosion-proof equipment is installed on rigs and tested on a regular basis, so there has been an increase in demand for this kind of equipment on both new and old rigs as well as an increase in inspection duties."
A further vital component in the company's make up is its dedicated training division, which K2 uses to train its own personnel and third party staff, as David explains: "Since we were incorporated we have provided training services and this was certainly partly to meet our own training requirements for personnel to ensure that we had internal competency and certification to send our staff out to do the work we want them to do. All of that training has always been internationally certified and we have now extended that into a commercial endeavour as well. In 2013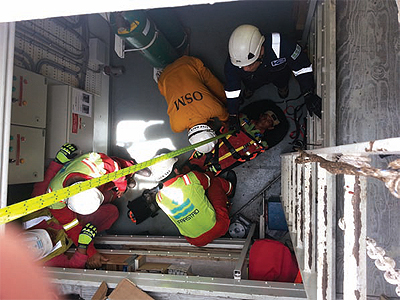 alone, over 5500 people were trained at K2's fixed and mobile training centres."
An interesting area of development within this market for K2 has been the development of its DROPS Training Simulator, representing an industry first in training solutions. The DROPS Training Simulator is a self-contained training container that gives trainees hands-on experience in the expertly designed equipment that they will encounter during their duties. As such DROPS represents an effective way to deliver training at a client's base or offshore, removing the need for clients to travel to a traditional training centre. "The DROPS initiative is a response by the offshore industry to address issues with falling objects, particularly in drilling where there is a lot of vibration and movement contributing to high number of HSE accidents and incidents. As a response the industry got together and developed offshore DROPS survey and inspection standards. Subsequently, training and awareness has been required by the industry for both people working on the assets and those carrying out inspection. This is where e use our new system to provide on-site training."
As part of the Velosi Group, which is itself owned by Applus, K2 benefits from a strong global presence as well as the added efficiencies and financial support that might not otherwise be afforded to an independent organisation. A vital part of the company's strategy over the coming years will be to increase its market presence in the Americas and Africa, while retaining its focus within the oil and gas market, as David concludes: "We are looking outside Europe which we view as a more mature market, but we will be remaining within the oil and gas industry. Many of our European competitors have diversified into wind and alternative services, but given our geographic footprint, there is less opportunity there so I do not see us diversifying outside of the oil and gas sector, but rather moving into new areas within the industry."
K2 Specialist Services
Services: Inspection, repair and maintenance