Pressing ahead
In today's business world, companies are often seen competing with each other over who is going to offer the most efficient bespoke solution to its customers. PAAL Group, however, has gone in the opposite direction and has proven rather resoundingly that the creation of a standard range with multiple options can be a more successful proposition than any tailor-made solution.
PAAL was established as a printing house in Germany in 1854, before it focused on its core business of manufacturing balers from 1906 onwards. In 2002, the PAAL Group was formed of four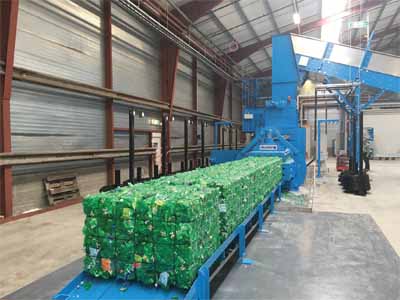 businesses from four different countries – PAAL (Germany), Comdec (France), Faes (Spain), and Dicom (UK) – giving a true international flavour to the company. The most recent history saw the creation of Kadant PAAL following the PAAL Group's acquisition in 2016 by Kadant Inc, a company who are listed on the New York Stock Exchange.
"The creation of the Kadant PAAL has certainly enabled PAAL to become the European market leader in the supply of high performance, high quality auto tie balers. Our key advantage in the marketplace is that we provide the lowest Total Cost of Ownership (TCO) product offering," CEO, Craig Heley points out. "To achieve the lowest TCO, we have to do a lot of things better than our competitors. The cost and disruption for our customers during a baler's downtime can be enormous, which means that we need to be very precise in providing the right quality product combined with the best service backup."
Craig attributes the popularity of PAAL's machines with clients to the fact that the manufacturer has developed standard equipment that can be upgraded with a number of add-ons. "We do not provide customised, bespoke solutions, but in 99 per cent of cases we can supply a machine that genuinely suits our customers' needs, because of the extensive list of options that can be integrated with the baler," he explains. "This approach gives us a certainty that what we offer will work as promised, because it has already been pre-designed and pre-tested. It also guarantees that we will keep our delivery dates, because we know what we need to do and how long it will take. Another advantage it gives us is that we can use our technical and design resource in the most optimal way, as our design engineers can spend their time developing the next generation of balers, rather than adapting existing designs to fit a specific request."
Following its strategy to launch new product ranges every two to three years, Kadant PAAL recently unveiled its latest KONTI i-series at the IFAT exhibition in Munich. "The range features a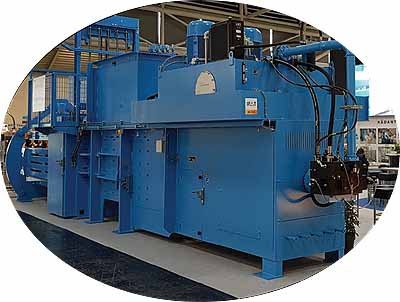 number of improvements over the H-series with a particular focus on information technology and data capture developments. It is offered with a redesigned, more user-friendly control panel and a new Remote Service System (RSS), which provides greatly enhanced functionality both from data capture and remote service perspectives," Craig reveals.
Kadant PAAL has stayed true to its philosophy to centralise its manufacturing operations in Germany, as opposed to having smaller factories scattered in several countries. "Our factory in Osnabrück is capable of producing four balers per week," Craig remarks. "To achieve this manufacturing capacity, we have concentrated on those activities we can perform better than anybody else. For example, we purchase steel that has already been cut and bent, because other companies are more skilled in performing these basic fabrication processes than we are. In turn, we focus on mechanical assembly and final electrical assembly. Inevitably, the assembly operations are quite labour-intensive, but we have invested in welding jigs to improve quality and efficiency, and we have a very large and very impressive welding robot that welds the baler channels and press boxes."
Not long ago, the company passed 31,000 machines in circulation throughout the world. It has built a reputation in the traditional European markets, which will remain the main target for the future, but Kadant PAAL is showing aspirations to explore new geographical regions, too. "The challenge for any market leader is how to grow and develop further. We are very optimistic about our growth prospects in the USA, where we have already obtained several large machine orders. We have also identified Mexico and South America as areas that hold a significant long-term potential, so we have created a network of distributors there. Furthermore, we are continually monitoring the situation in the Far East where we hope to use Kadant's strong market position in the Chinese paper mill sector to break into the Chinese market," Craig reveals his company's export intentions.
"Going forward into the second half of 2018 and early 2019, we are going to pay increased attention to our spare parts business. We are determined to make it much easier and quicker for our customers to identify and order any spare parts they require. To facilitate this, we are currently investing both in personnel and IT to develop a system, which will allow users to drill down through a series of exploded drawings to discover the precise parts needed. This will be combined with an online shop that will enable the automatic purchase of the selected components. These orders will then be received, acted upon, and dispatched by Kadant PAAL with minimal delay," he concludes by sharing the organisation's near-future plans.
Kadant PAAL
Products: Auto tie balers