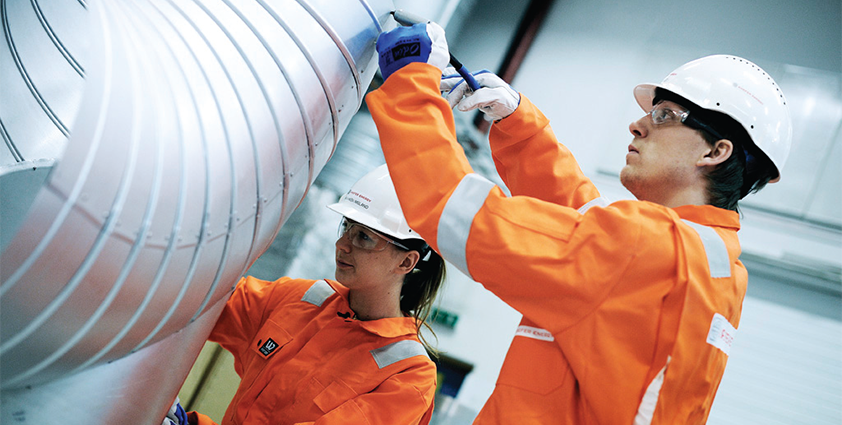 Feeling energetic
In 1918, KAEFER Group was founded by Carl Kaefer in Germany as a company specialising in the supply of insulation materials and services to the shipbuilding industry.
Recognising the buoyant economic climate, the company rapidly grew as new markets developed, and offices were later established across the world. Today KAEFER Group's daily operations take place in 52 countries worldwide.
In 1977, KAEFER ENERGY was established in Norway to service the country's growing oil and gas market. A multidiscipline enterprise has been developed over the years in the business areas of insulation, access, surface protection, passive fire protection, interior outfitting, HVAC and engineering. KAEFER ENERGY offers services in the fields of maintenance, modification and new building projects, both offshore and onshore. Significant growth, particularly through the last seven years, has allowed the company to expand to approximately 1000 employees, including 90 engineers, and a budgeted turn over of 164 millions for 2011.
"The company moved to a new headquarters in Stavanger in May 2010 containing 130 offices and an insulation prefabrication facility," reveals Bard Bjorshol, executive vice president of KAEFER ENERGY: "In addition we have a separate facility ten kilometres from our head office for prefabrication of interior outfitting components. We have also established branches in Bergen, Verdal, Namsos and Hammerfest."
Being a part of the KAEFER Group gives the company a number of advantages over its competitors. Primarily there is the link to a company with a global presence, extensive market knowledge and a long list of contacts. There is added technical expertise and support that comes from the innovative research and development division in Germany, and of course the financial capacity and strength the group possesses that allows for investment in personnel and equipment. KAEFER Group is keen to take advantage of its global presence and gives its subsidiary companies a platform to enter new markets, proven by the fact that KAEFER ENERGY is a major stakeholder in KAEFER's operation in Kazakhstan and Russia.
"People enjoy being part of our company," Bard says, explaining the key strengths of the company: "The result of this is a positive external and internal atmosphere where openness and honesty are solid pillars that support our way of doing business. This leads to good HSE statistics, creativity and fruitful discussions that go into creating new solutions."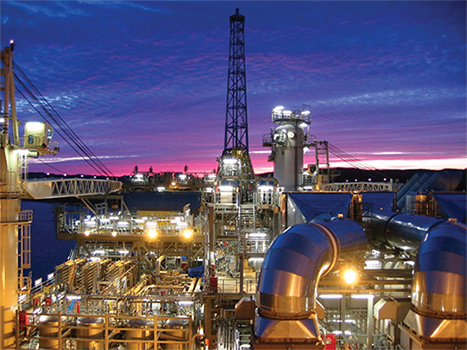 KAEFER ENERGY's long experience and broad expertise offers clients efficient energy production through maintenance and modification work. These solutions are dedicated to extending the lifespan of installations while avoiding unnecessary disruptions to operations. Alongside this service, KAEFER ENERGY can also provide interior outfitting, HVAC solutions and has a state-of-the-art workshop for prefabrication of sheet metal in Stavanger. Whether here or in its specialist surface protection workshop in Verdal, clients are offered the best and most efficient systems for safe, efficient fabrication.
Further to these elements of KAEFER ENERGY's business, it also offers services in all phases of new building projects, from preliminary studies to planning, implementation, commissioning and hand over. Working on the belief that early integration and partnership is most beneficial, the company makes sure to offer the services of its planners and engineers right from the outset of the detailed engineering design.
In the summer of 2010, Kaefer Energy was awarded a number of Insulation, Scaffolding and Surface Protection (ISS) contracts from Statoil that included work on nine offshore installations: "This is a maintenance and modification contract for insulation, surface protection and scaffolding," Bard highlights: "The contract includes traditional maintenance as well as executing the same disciplines, in relation to modification work executed by Statoil's present contractors, at the respective on- and offshore sites."
The offshore contract employs 500 people over four years, with an option for two times two-year extension. Such a lengthy agreement allows KAEFER ENERGY to intelligently plan for future rotations, offering excellent prospects for its employees. The onshore ISS contract on the Statoil Mongstad Terminal has provided a further 200 jobs over the same time period. In February 2011 it was announced that the project management systems had begun bedding down comfortably, fixed rotations had been established and local project organisations had been set up in conjunction with the Stavanger, Bergen and Stjørdal branch offices. Furthermore regular meetings have since been arranged with other maintenance and modification suppliers performing work at the same installations, to co-ordinate and schedule all ISS activities.
KAEFER ENERGY has been very successful even to recently, even with 2010 seeing the vast majority of new build project being put on hold: "Now, with the increases in oil prices and improved consumer optimism, the market outlook is very exciting. We have seen several new build contracts awarded to the market recently and we will continue hunting for the ISO scope in this respect, as well as for the interior outfitting and HVAC related work," Bard concludes: "We will endeavour to develop positively, look to maintain our position as the largest specialist within our discipline for new builds and aim to increase our maintenance and modification portfolio."
KAEFER ENERGY AS
Products: Insulation, surface protection, passive fire protection, access, interior outfitting, HVAC and engineering