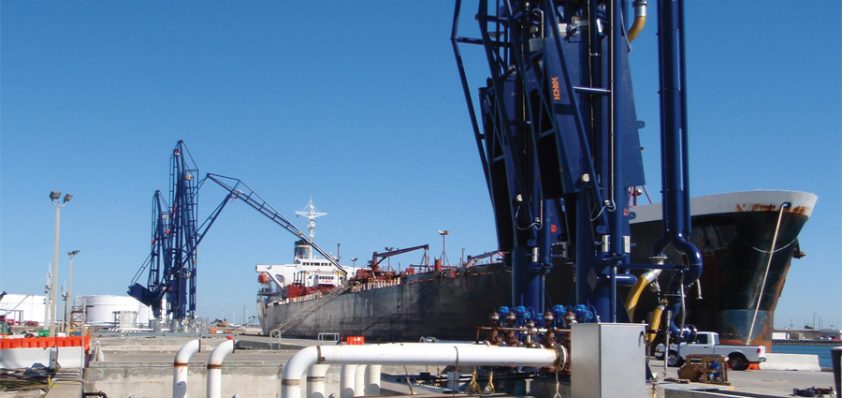 Well armed
Kanon Loading Equipment is a world leader in the supply of marine, rail and road liquid transfer systems.
The Netherlands-based company is globally renowned for its marine loading arm systems, which are manufactured in accordance with the latest OCIMF requirements. In addition to the manufacture and supply of this equipment through its own sales and distribution network, Kanon also provides customers with extensive aftercare services that include maintenance, engineering, product management and technical support.
The company works with a wide range of customers, ranging from the global oil majors to smaller, localised businesses. For over 30 years, Kanon has been providing loading arm installation, commissioning, supervision, periodical inspection, surveying, maintenance, repair and modification to the likes of Akzo, DSM, Shell Totalfina, BP, Vopak, Cargill and ExxonMobil. It also offers operator training to these clients, and its location in Zeewolde, in the centre of the Netherlands, makes it ideally situated for working with companies both locally and in neighbouring Germany and Belgium.
Robin Boot, sales and marketing manager at Kanon, elaborates on some of his company's key strengths: "We differ from our competitors in the market in that we try to design our loading arms from the perspective of the operator – meaning that we strive to make it as easy to operate and low maintenance as we possibly can. It may sound basic, but this is a very innovative approach in an industry where many companies tend to stick with tried-and-trusted designs from long ago."
The critical parts of each loading arm are the swivelling joints, allowing the loading arm to follow the ships movement during the loading sequence. Kanon swivel joints are all machined in one piece with ultra-high precision, no after treatment and no replaceable parts other than balls, seals and o-rings are needed.
Robin reveals why this design is important to Kanon's customers: "In the harsh ocean conditions that many of our clients operate, it is vital that the loading arms and critical components need as little maintenance as possible. Our swivel joints are stronger than the piping itself, and so our basic arms can be made fully self-supporting which provides a simple and efficient design. Only for the transfer of highly corrosive fluids and cryogenic fluids like LNG do we accompany these arms with a supporting structure."
As the only marine loading arm manufacturer in the world to comply with the stringent measures of European Standard EN1474-1:2009 for LNG transfer, Kanon recently further developed its
existing cryogenic swivel joint to completely meet the latest standard's requirements. Especially for this LNG application, the swivel joints were designed to perform entirely free of grease, graphite or other lubrication, while the allowable loads on the LNG swivel joints are high – the tests were made with different test load combinations with values of up to 240 tons. In all cases no leakage or damage was found. The strength and simplicity of these joints provide the company's loading arms with a reliable and secure solution for LNG handling, coming close to the ideal situation of connecting the pipeline directly to the ship.
Another feature of Kanon's loading arms that separates them from the competition is their symmetrical design, according to Robin: "With conventional marine loading arms, there remains imbalance resulting in a high permanent dead weight moment on the surface they are mounted on. We, on the other hand, use two inboard arms that improve the structural integrity of the product. This also provides the added advantage of an efficient and slim design, so the loading arm is both lighter and more cost-effective. The symmetrical design has proven to be extremely reliable and we have had our products last for more than ten years without needing any significant maintenance. Symmetry is applied both to self-supporting arms as well as the LNG loading arms with separate support frame."
It is partly thanks to the increased popularity of these designs that Kanon has been able to increase its market share roughly five times to an estimated twenty five per cent in just about five years. There are, however, other reasons too – and Robin explains how this massive growth has been achieved: "Our customers are really starting to appreciate our approach and our attitude towards aftercare. We want them to be happy with the products we provide them with and if there is a problem that needs to be solved we go out and fix it immediately, before working out every detail about the reason it occurred and the costs that it will incur."
The company is looking to continually build upon this client network too, and has recently completed a project in Port Canaveral, in the US. Robin highlights some of the specifics involved: "This contract required us to supply and install seven extremely large marine loading arms, all of them based around our unique symmetrical design. The project construction has already been hugely successful and we expect it to further enhance our credentials as a leading marine loading arm developer."
Kanon is already gearing itself for the future, as Robin concludes: "Whilst we do not have any plans for major expansion yet, we feel that our current manner of operating is ideal for sustainability. When we expanded the number of our employees by approx fifty per cent during the last five years, we managed to take up our turnover with almost five hundred per cent, and so we know that we can achieve profits without having to take on significant risk. By operating in this way, expanding gradually and only when necessary, I believe that we will continue to build upon our vast offerings as a business."
Kanon Loading Equipment
Products: Marine loading arms