A view to a drill
As one of the leading, and most recognised names in its field, KCA Deutag has more than 100 years of experience in drilling and engineering activities across the globe, and today is responsible for over 30 managed offshore platforms in the North Sea, Caspian Sea, Angola, and Sakhalin.
The company operates as a wholly owned subsidiary of Abbot Group, which was acquired by First Reserve, a US based private equity firm, in March 2008. This exciting acquisition sees First Reserve committing itself to further developing KCA Deutag in the coming years.
In its present form, the company is one of the world's leading providers of drilling rigs, together with rig management services and rig design and engineering solutions, for major clients in the international oil and gas market. In this role, the business operates as a drilling contractor – managing all aspects of platform drilling rigs, and owning a fleet of innovative jack-up, self-erect tender, and land rigs across the globe. The company prides itself on offering the most complete service to its clients – a portfolio that together with the aforementioned rigs, includes rig refurbishment and upgrade, performance services, snubbing services, and conceptual and front end studies, and detailed design operations.
Over the years, the company's reputation for providing high performing, safe drilling operations has seen it win major contracts across the globe – only serving to reinforce its position in many of the key strategic growth areas and strengthening its relationship with major players the world over.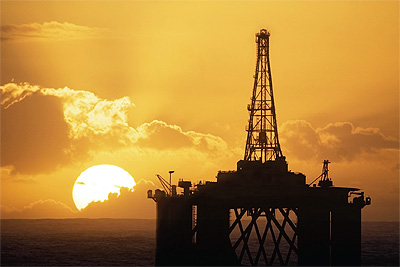 Most recently, in August 2008, StatoilHydro reviewed and extended the company's contract for the provision of drilling services on the Kvitebjorn platform in the Norwegian North Sea, a platform that KCA Deutag has been successfully drilling on since its installation in the summer of 2003. This extension represents the third of three options exercised by StatoilHydro, and means that KCA Deutag now has large drilling contracts on seven of the organisations' drilling rigs until 2010. The Kvitebjorn platform itself represents a unique operation for KCA Deutag in that since its installation the company has worked closely with StatoilHydro in the development and use of managed pressure drilling (MPD).
In this development KCA Deutag used a fully automated MPD package in order to successfully drill two severely depleted high-pressure high-temperature (HPHT) reservoir sections. This operation was the first time ever that MPD technology was used on the Norwegian North Sea, and serves to strengthen KCA Deutag's reputation for pioneering drilling technology and operations in all conditions. In order to best serve its clients when implementing such technology, KCA Deutag runs and operates DART – its Drilling and Advanced Rig Training scheme. This represents the latest in offshore training technology, and allows customers to have concentrated MPD training in a safe, flexible and very realistic interactive environment.
The StatoilHydro contract represents just one of many awarded to the company in the last year alone. For example, in May 2008, KCA Deutag announced that it had been awarded in excess of $100 million worth of new land drilling contracts and extensions from oil and gas operators in Europe and Russia. Such success is due to a number of factors, but none more so important than the company's ability to consistently develop new and innovative drilling solutions.
For example, the business has specifically developed a number of rig designs suited to specific markets or operating environments. Most recent among these include the HR-5000 land drilling rig, and the superbly mobile Nomad Class of rigs. The former has been specifically developed for operations in extremely harsh environments, and can comfortably operate in temperatures as low as minus 45 degrees Celsius. The HR-5000 is a mobile land-drilling rig that can easily move on a specially constructed rail system and is ideally suited to field development projects in Siberia.
The Nomad Class rigs, known as the T-211 and T-2122 respectively, are intended specifically for use in the deserts of North Africa and the Middle East. In these conditions the emphasis is on short rig move times between wells, and environment specific safety features. To meet these requirements the Nomad rigs are fitted with custom-designed bogey carriages, which enable the derrick and drill floor substructure to be moved as complete assemblies over flat terrain conditions. Such is the success of the design that the entire rig can easily be moved from well to well in under a week.
Looking ahead, the future looks extremely promising for KCA Deutag. The recent acquisition of Abbot Group by First Reserve – the world's largest and most experienced energy industry focused private equity company – means that in the coming years KCA Deutag will receive considerable investment to grow in its key markets worldwide. This will allow the company to expand its fleet of rigs, and enhance performance improvement systems.
To support this, the state of the market looks set to offer considerable opportunities. For example, during 2006 and 2007 alone it was estimated that around 500 new land and offshore rigs entered the industry, a rise driven by the continued demand for exploration. In this atmosphere KCA Deutag hopes to become an even more prominent and successful player in the coming years. During the last five years the company more than doubled its business in the on and offshore markets, and with further growth and innovative technology assured, the business looks set to become one of the foremost names in the contract drilling market.
KCA Deutag
Services Drilling contractor