Drilled to perfection
KCA DEUTAG is one of the industry's leading suppliers of drilling services, and rig design and engineering solutions, for on and offshore clients in the international oil and gas sector.
Together with the company's headquarters in Aberdeen, it operates through two global business units, and has centres of excellence in Aberdeen, Dubai, and Bad Bentheim in Germany.
"KCA DEUTAG, a member of the Abbot Group, is the largest offshore drilling contractor in the North Sea, UK and Norway, and one of the largest international drilling contractors in the world," Says Claus Chur, director technical and procurement at KCA DEUTAG. "We operate more than 100 on and offshore drilling rigs in over 20 locations worldwide, and provide engineering services for rig design and construction, primarily focusing on offshore rig packages through our team of around 500 experienced engineers.
"Quality is the key factor to the company – our vision remains to be the preferred drilling contractor through measurable performance improvements to our clients' operations," Claus continues.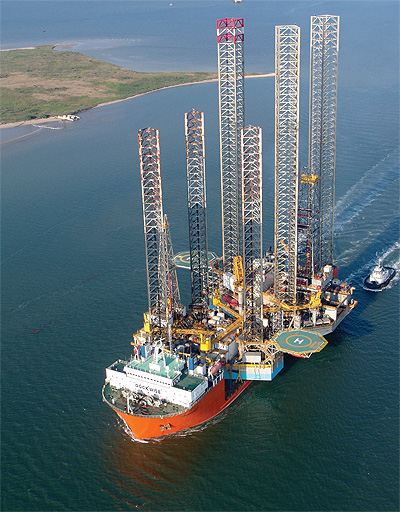 "This really differentiates our approach from many of our competitors. We have a very highly skilled and motivated workforce throughout the business, and we aim to provide our customers with the highest levels of performance. We are skilled in carrying out operations in some of the harshest, most demanding conditions, including the jungles in West Africa, the deserts in North Africa, the Middle East, and the Tundra regions of Siberia."
Claus also believes that operating as part of the Abbot Group aids the business considerably: "The benefits that Abbot Group have brought to KCA DEUTAG are clear to see. Over the last three years Abbot has invested over $500 million in land rigs, and over $500 million in barges and jack-ups. This is an enormous investment that has really improved our business, and has ultimately made KCA DEUTAG one of the major international drilling contractors."
KCA supplies many of the industry's leading companies: "We work for all of the major national and international oil companies," says Claus. "At KCA DEUTAG, developing a close relationship with all of our clients is essential to our operations. We have an internal concept that we call 'Close to Client', which emphasises the importance of remaining close to our customer throughout each of our operations, as well as the best functional support to our operations."
KCA DEUTAG primarily operates as a drilling contractor, with a fleet of jack-up, tender assist, land and platform rigs in operation around the world. The company has a great deal of experience in offshore drilling operations, and is presently responsible for 39 managed offshore platforms in the North Sea, the Caspian Sea, Angola, and Sakhalin. Furthermore, the company owns and operates the only North Sea modular drilling and well workover rig.
Its catalogue of offshore drilling services includes jack-up rig and tender assist rig provision, platform drilling services, facilities engineering, well engineering, conceptual engineering, and associated services. On land the company operates more than 60 rigs, primarily in Europe, West Africa, North Africa, the Middle East, and Russia.
In addition to its established services, KCA DEUTAG looks to continually develop new, innovative drilling solutions: "We have a number of recent rig designs for specific markets or operating environments," says Claus. "For example, we have designed a new rig, the HR5000, that is specially designed for operations in the harsh conditions of Siberia, which often includes temperatures that reach minus 40 degrees Celsius and less.
"The rig is suited to the direct requirements of field development in Siberia and Russia, where you often drill up to 50 wells on the same site," he continues. "To simplify this, the entire rig moves easily on a specially built rail system, meaning that as it finishes a valve it simply moves onto the next area and is ready for drilling quickly and efficiently."
The company has also recently developed a new concept for rig mobilisations: "We have been working on a special design for fast moving land rigs designed for use in the desert conditions of North Africa and the Middle East," Claus explains. "The whole rig is connected with a wheel system – the wheels have a diameter of three metres – and it can be picked up and quickly towed from one location to another to significantly reduce the mobilisation time between wells. In most instances the rig can be moved in under a week from well to well."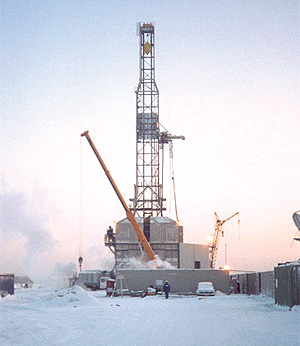 As with any business, operating in the demanding oil and gas sector, health, safety and environmental concerns are paramount to KCA DEUTAG: "Our aim is to provide an environment that is incident and accident free 24 hours a day, 365 days per year, and to consistently perform better than the industry average standard," says Claus. "We have a stringent safety management system in place, which encourages all of our employees to become a safety leader in the area and to create a safety conscious culture within the business. Alongside this we have developed our 'Safe to Lead' safety programme, which implements continuous training of our senior and middle management, and supervisors. We spend more than $2 million per year implementing this programme."
Claus reflects on the current market conditions: "The industry as a whole is very good at the moment, having seen enormous growth over the last few years. I would estimate that during 2006 and 2007 at least 500 new on and offshore rigs have entered the market, and this development has been very much driven by increasing demands for exploration. At the same time we are witnessing a decrease in the production at existing fields, which will need to be filled, creating a demand for our drilling capabilities certainly for the coming decade.
"Despite the overall picture looking good, there are still a number of challenges that remain in moving forwards," he explains. "Together with the issues of cost and continuous development, the key challenge the industry faces is recruiting enough people. The addition of around 500 new rigs to the market means that there will be around 30,000 or more people required to operate them, and they will have to be trained to the highest industry standards.
"Despite this I am certain that KCA DEUTAG will become an even more prominent and successful player in the industry, and will continue to grow considerably – over the last five years we have doubled our business in every sector. With further growth in all of our business sectors, and improving our results each year, I believe that we will achieve our vision of becoming the preferred drilling contractor through measurable performance improvements," Claus concludes.
KCA DEUTAG
Industry: Drilling contractor