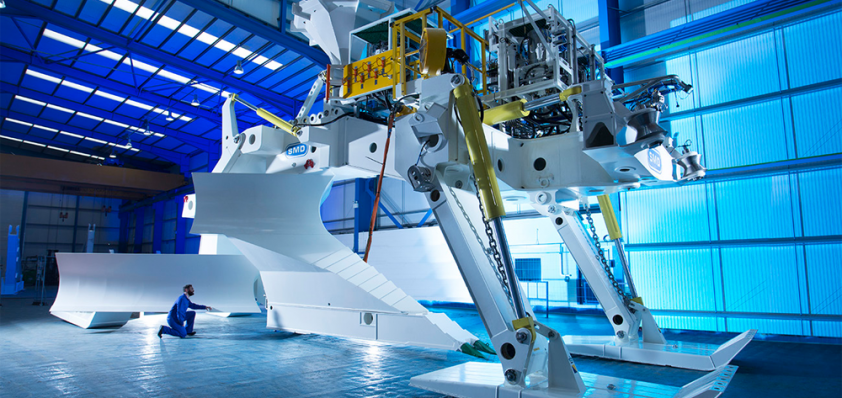 North Shields based manufacturer, Soil Machine Dynamics Ltd (SMD) recently handed over a purpose built pre lay plough to marine service providers Boskalis, for use at Ørsted's offshore wind farm Hornsea Two.
The multi-functional pre lay plough will be used by Ørsted contractor, Boskalis to install 380km of export cables, which will ultimately connect Hornsea Two's offshore substation to the site's onshore substation in Killingholme, Lincolnshire.
Paul Davison, Managing Director of SMD said: "This is our third pre-lay plough delivered to date. Together with the Boskalis Innovation team we have developed innovations for this plough, which reduce seabed impact and reduce vessel fuel consumption whilst burying to protect the crucial offshore wind infrastructure that is the export cable."
Named Megalodon, the plough can operate in water at a depth of up to 500m and will be used in collaboration with Boskalis' offshore support vessel, the BOKA Falcon. With offshore works due to commence in May for Hornsea Two's offshore construction, Boskalis are working alongside Ørsted to complete cable-laying campaigns for 2020 within six months.
Steve Marshall, Boskalis Project Director for Hornsea Two said: "Boskalis wants to stimulate the local supply chain, not only by purchasing locally but also innovating and collaborating towards achieving the best possible end result."
Expected to be complete in 2022, Hornsea Two's wind farm array is dispersed across an area of 462km2, which is equivalent to a larger surface area than the island of Barbados.
Audit launch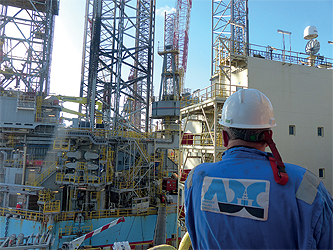 Aberdeen Drilling Consultants (ADC) has combined guidance from the world's leading advisory, regulatory and legislative bodies, including the Health & Safety Executive (HSE) and Oil & Gas UK, with its 35 years of global operator and drilling contractor experience to produce a Covid-19 Resilience Audit.
The audit, which was developed in collaboration with ADC's operator clients, is a one-stop-shop to offer the industry the opportunity to adapt successfully to the new working environment, protect its workforce and maintain successful operations.
The audit provides a holistic review of life offshore, from best practices in serving food and social distancing during helicopter transfers to team communications and the safe management of toolbox talks. The audit is included within ADC's TRAMS digital rig audit management system but is also available separately and has been used with a number of clients so far.
As ADC Director, Austin Hay noted: "Our Audit gives clients the assurance that operations can continue, maintenance can be managed and risks reduced. This will allow them to safely carry on delivering successful operations on time and on budget."
Profit and performance
Clariant's CATOFIN catalysts have been selected by Advanced Global Investment Co. (AGIC), a joint venture between Advanced Petrochemical Company (APC) and SK Group, to build a PDH facility in the Middle East. Clariant's CATOFIN catalysts were selected due to the excellent performance and reliability of APC's existing propylene plant in Saudi Arabia.The plant will operate using McDermott's Lummus Technology process together with Clariant's CATOFIN catalysts to deliver over 840 kilotons of propylene annually.
Data delivery
Neptune Energy has successfully acquired the 3D broadband seismic survey of the extensive Petrel field located in the Bonaparte basin of Australia. The 2900 km2 survey significantly expanded the area of seismic data Neptune holds and increased the quality and breadth of data. Initial findings from the survey have been received, with the remaining processed data due to be delivered later this year. Internal analysis and interpretation of the acquired data will allow Neptune and its partners to plan for the future. The Polarcus Asima carried out the survey, which began towards the end of 2019.
Free Covid-19 guidance
Libryo, the cloud-based legal compliance software company, is offering oil & gas professionals worldwide with free access to its Covid-19 regulatory tracking platform. Malcolm Gray, CFO and co-founder of Libryo, commented: "Just four months following the first reported case of Covid-19, we've already seen hundreds of new regulations relating to the virus and associated hygiene management passed worldwide. Libryo effectively tracks, filters and configures your businesses applicable regulations." If you think Libryo could help, visit: https://libryo.com
Ready to go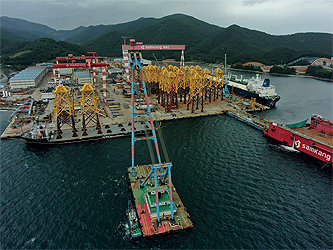 The Jan De Nul Group has announced that the first jacket foundations for the Taiwan Power Company Offshore Windfarm Phase 1 Project – Demonstration are ready to leave the South Korean fabrication yard of Samkang.
Jan De Nul Group will transport 21 four-legged jackets from South Korea to the Taiwan offshore site in the coming weeks [at time of writing]. The jackets will be shipped in five batches of three to five units on a self-propelled semi-submersible transport vessel. For this overseas transport, Jan De Nul Group has signed a contract with Taiwan based Hung Hua Construction Co., Ltd.
During the load-out operations at the yard of Samkang, the crew on board of the transport vessel remained isolated from all activities near and on shore in order to avoid all risk of contamination with Covid-19.
Upon arrival in Taiwan, the 21 jackets will be custom cleared before travelling to their final destination approximately 8 km off the coast of Fangyuan in Central Western Taiwan, where Jan De Nul Group is responsible for their installation. Each jacket will be anchored to the seabed by four pin piles of 3.1 m diameter each.
Significant support
PD&MS Group has been awarded a new three-year contract with options for a further three-year extension with Spirit Energy. The deal, worth an undisclosed multimillion-pound sum, will see the Aberdeen-headquartered firm deliver complex modifications for the E&P business.
The engineering, procurement, construction and commissioning firm has worked with the operator since 2018, providing decommissioning support in the Morecambe Bay area. Building on this existing relationship, the new contract will see PD&MS carrying out campaigns both onshore and offshore in the execution of Spirit Energy's complex modifications delivery strategy.
PD&MS vice president of operations and projects, Liam O'Neil said: "We're delighted to have secured this contract with a key strategic and forward-thinking client. We've had a number of significant successes as a collective team over the last two years, and we're looking forward to supporting Spirit Energy to achieve their overarching objectives.
"We have the business stability, skill sets and innovation required to deliver more complex projects such as the unique opportunities presented within this three-year campaign which includes onshore and offshore scopes."
Donald Martin, contract owner for Spirit Energy said: "Complex modification projects have the potential to generate significant value through maximising the life of our assets. Together with PD&MS we are working to develop credible and predictable investment opportunities which will enhance recovery, lower operating costs and optimise our project execution model."
Agreements signed
NextPower III, NextEnergy Capital's (NEC) third institutional solar fund, has announced the signing of two Power Purchase Agreement (PPA) contracts with Shell Energy North America (NA), L.P. (Shell Energy). The sale includes c.62GWh p.a. (approximately 90 per cent of energy generation) for a period of ten years and an equivalent amount of Renewable Energy Certificates for a period of five years."
The execution of these long-term contracts is a landmark for NextPower III and is all the more significant for having been achieved against the backdrop of Covid-19 and the associated oil shocks," commented Lorena Ciciriello, Managing Director and Head of Debt Financing at NextEnergy Capital.
The Portfolio of 45MW is comprised of two projects, Briel Farm and Gardy's Mill, located in Henrico and Westmoreland Counties respectively, in the State of Virginia. These projects are part of NextPower III's 250MW portfolio in the US and are connected to Dominion's distribution network.
"Virginia has historically been a coal-centric state and we are delighted that these solar projects will support Dominion Energy Virginia's 16GW IRP target over the next 15 years," added Lorena.
"At Shell Energy, we are dedicated to delivering more and cleaner energy solutions to our customers in a responsible way," said Glenn Wright, President of Shell Energy North America. "We're proud to be working with NextEnergy Capital to enable further development of renewable energy assets that provide the kind of energy solutions that society demands."