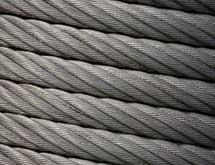 Kennedy Wire Rope and Sling Co
A chain is only as strong as its weakest link. That's true of any kind of chain, whether you're talking about an actual chain or the chain of equipment that makes up a complex operation such as an oil rig. For customers in the oil and gas industry, Kennedy Wire Rope and Sling Co. provides the peace of mind that comes with knowing the company's products will never be the weakest link in their operations, and that the safety of their employees and equipment is always at the top of the company's priorities.
Based in Corpus Christi, Texas, Kennedy Wire Rope and Sling Co. supplies a range of rigging products to the oil and gas industry, among others. The company's products include wire ropes for use in cranes and other oilfield applications, as well as chains, chain slings, hoists and other rigging hardware. The company says it has enjoyed steady growth over the years, and it expects to be an important part of its customers' operations for the foreseeable future.
"[Customers] will see the same quality and service [they've] come to expect from Kennedy Wire Rope and Sling as the company continues to expand," the company says. "Kennedy Wire Rope and Sling will be supplying wire rope, rigging hardware, slings and other oilfield and lifting products for many years to come."
The company began in 1979 with eight employees working out of a 500-square-foot space. Despite the company's humble beginnings, however, the experience of its original employees in supplying wire rope to the industrial and oil and gas markets helped it grow.
In 1981, Kennedy Wire Rope and Sling moved to an 18,000-square-foot building, which gave it room for more employees as well as equipment upgrades and in-house product testing.
The company expanded its facilities in the 1990s, and opened a second location in San Antonio to better serve customers in the central Texas region. "As the markets and production increased, further growth to our facilities was necessary, with a new 12,000-square-foot coiling and reeling facility as well as an expanded testing/inspection department including new, greater-capacity equipment," the company says.
Full Service
In addition to the rigging products Kennedy Wire Rope and Sling provides for its customers, the company also provides a number of related services. It says these services are backed by the extensive expertise and experience it has in its work force. "Kennedy Wire Rope and Sling offers over 30 years of experience and a wide array of professional services to fit nearly any application in our industry," the company says. "We qualify our work through the application of necessary industry standards – developed by ASME, API, OSHA and WSTA, just to name a few – in order to assure customers that our services and products will meet their exact qualifications."
The company provides proof testing on many different types of products, including slings up to 300 tons, as well as inspection and repair services. "In order to maximize safety, companies should have their equipment properly maintained and inspected on a regular basis," the company says. "Kennedy Wire Rope and Sling offers repair and maintenance work for all types of rigging, lifting and fall-protection equipment. Our staff regularly inspects each product through a strict set of criteria and tests."
Along with these services, Kennedy Wire Rope and Sling's on-site services department is available to customers 24 hours a day, seven days a week to assist with delivery, installation, inspection and repair for rigging and lifting applications.
Safety is one of the most important things in the oil and gas industry, and that's why Kennedy Wire Rope and Sling also provides customers with safety training programs. "What we at Kennedy Wire Rope and Sling often think about is the difference all of us make, and the difference our company makes in the markets we serve," the company says. "It's important to let the people you work with know they do make a difference. That's why we're available at any time to introduce and train [customers'] personnel regarding rigging safety.
"We do these things with safety in the forefront and don't compromise that position," the company adds. "Our expertise at Kennedy Wire Rope does make a difference in the field of rigging and will continue to make a difference throughout our market."