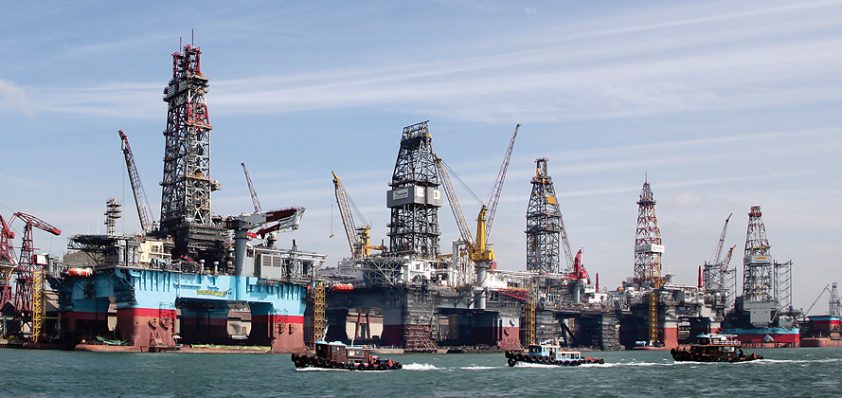 Grand designs
Keppel FELS, the offshore division of one of the world's largest offshore and marine groups, draws on the rich heritage and collective strengths of its parent company to be the leading designer, builder and repairer of mobile offshore units.
The parent company, Keppel Offshore & Marine is headquartered in Singapore and has a strategic global network of shipyards serving key oil and gas markets in the regions such as the Asia Pacific, the Gulf of Mexico, Brazil, the Caspian Sea, the North Sea and the Middle East. Backed by over 40 years' experience in the field, Keppel FELS has successfully delivered more than 50 per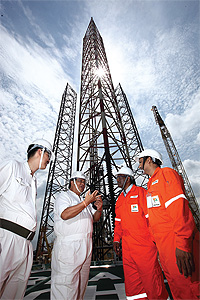 cent of jackups in the market, and a third of the world's semi-submersibles over the last five years.
Keppel FELS's shipyards in Singapore span more than 50 hectares, with a total wharf length of more than 1,150 metres, a dry dock with a capacity of 400,000 dwt and a 500-tonne gantry crane. This capacity, combined with the company's expertise in project management and lean manufacturing concepts, enables it to carry out a wide scope of work for many vessels of various sizes. In 2009 alone, Keppel FELS delivered a record total of 13 newbuild rigs, on top of several other repair and upgrade projects.
Mr. Wong Kok Seng, executive director of Keppel FELS, elaborates upon the key strengths of the company: "As the leading designer and builder of mobile offshore rig solutions, we offer a seamless integration of cutting-edge design and engineering capabilities with strong construction expertise. We seek to develop products that are commercially viable and relevant to the market's needs. For this reason, our solutions are always developed in close partnership with trendsetting customers and industry specialists and, as a result of shipyard involvement at an early phase, our rig designs are made easily constructed, cost effective and readily customisable to suit various operating requirements."
This is further supported by the company's expertise in the design of offshore rigs, as Kok Seng continues: "Furthermore, Keppel is today the only global offshore and marine group with its own suite of established deepwater rig designs. Many of our rig designs have been affirmed with the market's acceptance, enabling us secure repeat contracts from our customers worldwide. Through stringent standards of project execution and management we have garnered the market's confidence in our ability to deliver projects promptly, within budget and without incidents, each and every time."
Throughout its history, Keppel FELS has worked with many key clients in the oil and gas sector, consisting largely of global drillers and operators as well as both national and international oil companies. This includes the likes of Ensco International, Maersk Drilling, Seadrill, Petrobras, China Oilfield Services Limited, PV Drilling, Aban Offshore, Transocean, Skeie Drilling & Production, Diamond Offshore, Noble Corporation and many others.
Kok Seng explains how Keppel FELS has been able to secure contracts with such established names in the industry: "Close customer co-operation is one of the most critical factors of a project's success and it forms the basis of our customer strategy. Our rig designs are also refined constantly with our customers' input to suit the specific operating conditions. In all our projects, we work hand-in-hand with our customers to meet their needs and expectations, and our global presence sharpens our responsiveness to the changing needs of our industry."
In December 2009, Keppel FELS secured a contract to build Vietnam's first semisubmersible drilling tender for PV Drilling, which is worth approximately $200 million. Developed by Keppel's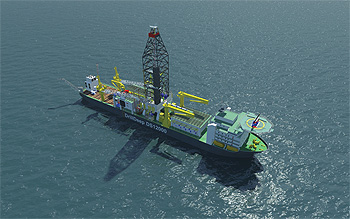 Deepwater Technology Group (DTG), the groundbreaking design known as the KFELS SSDT 3600, allows the drilling tender to be deployed next to deepwater floating platforms for the first time. This makes it highly suitable for operations in challenging environments, and such is its success that Keppel FELS has delivered six such units since 1994, which have been deployed in a mixture of both deep and shallow waters around the world. Testament to the design's operability and high standards of safety to personnel and the environment, the Keppel FELS-designed and built SSDT for Seadrill, West Pelaut has won the 'Shell Global Rig of the Year Award 2009' for the third time in five years.
The company is now looking to further expand its product portfolio by delving into the drillship market, and Kok Seng highlights some of the reasons why: "This presents an opportunity for the Keppel O&M Group, which has the capability to design and build drillships, having built its first in the 1970s. With E&P activities moving into deeper waters, the use of drillships as a solution has been gaining momentum. In response to this active segment of the market, Keppel FELS has developed its own drillship design, which combines the best of the company's years of expertise and experience to provide a highly viable and compact solution for the market.
Keppel FELS has been working closely with DTG in the design and engineering of such drillships. Kok Seng believes that DTG's rich design expertise and extensive rig building and project management experience provides a viable, safe, and fit-for-purpose deepwater solution for drillship owners and operators. He reveals: "We have already garnered success in this area after having recently secured contracts from Noble Corporation to upgrade and repair three of Noble's Brazil-based drillships. Our sister company Keppel Shipyard, is currently undertaking the completion of two drillships, Bully I and Bully II for Frontier Shell. We are confident that this new design will give us the necessary competitive edge and redefine the way drillships are constructed."
Kok Seng believes that this is just one of many areas with growth potential for Keppel FELS, as he outlines the company's strategy for the future: "We are also exploring opportunities to leverage our proven design capabilities and construction expertise, to offer innovative solutions for new business segments within the offshore industry. The European Union has been propelling the case for renewable energy and there has been credible market indication of growing long-term demand for offshore wind energy. For instance, the European Wind Energy Association (EWEA) predicts that 120 GW offshore wind energy for EU is attainable by 2030. In response to this emerging market segment, we have customised jackup solutions for installation and maintenance vessels to support offshore wind farms. Designed for year-round operations in the North Sea, our vessel is able to offer a wider installation window throughout the year under harsh climatic conditions."
As long as Keppel FELS continues to pursue such opportunities, it has an exciting future ahead, as Kok Seng concludes: "Given our strong financial standing as part of the Keppel O&M Group, we are prepared to either acquire or co-invest with like-minded partners in shipyards and new capabilities to add value to our business. With a clear product focus in our chosen areas of the offshore industry, we will continue to expand our technology base to develop products that are commercially viable and relevant to the market's needs."
Keppel FELS
Services: Rig and drillship design