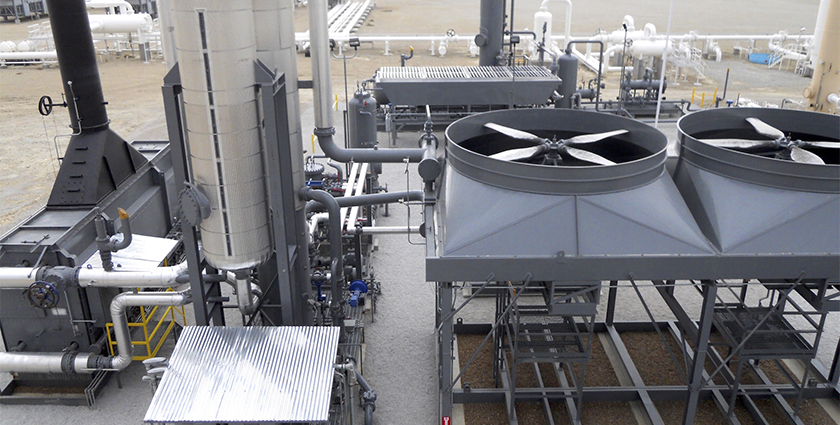 Kinder Morgan has become the largest energy infrastructure company in the United States, and Kinder Morgan Treating is a unique part of the multi-faceted corporation.
Everyone in the energy industry is well aware of the juggernaut that is Kinder Morgan. The largest energy infrastructure company in the United States, Kinder Morgan owns an interest in or operates approximately 84,000 miles of pipelines and approximately 180 terminals. Its pipelines transport natural gas, gasoline, crude oil, carbon dioxide (CO2) and more. The company's terminals store and handle petroleum products, chemicals and other products.
Kinder Morgan Inc. (KMI) is a publicly traded C-Corp and does not have any master limited partnerships. In August 2014, KMI announced that it would acquire all of the publicly held shares/units of Kinder Morgan Energy Partners (KMP), Kinder Morgan Management (KMR) and El Paso Pipeline Partners (EPB) in an approximately $76 billion transaction. The transaction closed in November 2014. Kinder Morgan is now one publicly traded company with a ticker on the New York Stock Exchange of KMI.
Treatment Specialists
One business under the Kinder Morgan Inc. umbrella is Kinder Morgan Treating, a leading manufacturer and the largest provider of contract-operated natural gas treating and gas-processing equipment in the nation. Kinder Morgan Treating is a part of Kinder Morgan Midstream, which falls under the Kinder Morgan Natural Gas Pipelines business unit.
"We are experts in gas treating and gas-processing equipment," says Jack Mechem, director of business development. "One of our biggest strengths is our operations team. We provide full-service operations for about 50 percent of the plants we lease. We have a team of operators, mechanics, engineers and I&E technicians responsible for keeping our equipment running. Our fleet average run-time for KM Treating operated plants is better than 98 percent, which is excellent."
Over the last few years, the organization has taken a number of steps to enhance its operations. Kinder Morgan Energy Partners acquired Crosstex Energy's gas treating division in 2009, making it the largest provider of contract-operated treating plants in the United States. Customers lease its equipment to remove CO2 and H2S from their natural gas stream to meet pipeline quality specifications.
"We offer a large selection of plant sizes in inventory which are ready-to-go, allowing customers to bring on new production quickly," Mechem says. "We can provide full service operations or simply lease the equipment."
In 2010, Kinder Morgan Treating purchased a fabricator of skid mounted mechanical refrigeration units (MRUs) for natural gas liquids recovery. The company made significant design modifications to the equipment and added new product lines, and the business has taken off.
"Customers lease this equipment to meet pipeline hydrocarbon dew point specifications or reduce emissions from flared gas," Mechem says. "When the frac spread allows, our MRUs are a cost effective way to enhance revenue from producing NGLs."
Kinder Morgan Treating in 2011 acquired SouthTex Treaters, which, designs and fabricates amine treating plants, dehydration units and condensate stabilizers. The purchase of SouthTex allows the company to build new, large-scale equipment that it can sell to customers that prefer to own rather than lease. "We have standardized designs or we can build custom," Mechem says. "Our 80-acre facility is located in Odessa, Texas."
Always Improving
Among the most important things the company has invested in recently is the design of its amine plants. The company has spent countless hours ensuring that its plants are designed with the environment and personnel safety at the forefront.
"We ensure that the layout of the treating plants are ergonomically friendly, which allows employees to perform maintenance tasks in a manner that prevents strains and other injuries," says Steve Jewell, director of operations. "We have also designed and built our facilities with 100 percent containment to ensure any fluids that may escape the process are collected and can be pumped back into the facility. Our skid mounted modular facilities are also faster to install, which allows the customer to get their gas to market quicker than previous methods of installation."
One occasional misconception Kinder Morgan Treating is working to dispel is that it only provides equipment for Kinder Morgan entities. Nothing could be further from the truth; in fact, the company offers its equipment and services to anyone who needs it.
"In fact, Kinder Morgan entities make up only a small part of our business," Mechem says. "We have contracts with small E&P companies as well as major integrated oil companies. We deal with small gathering pipelines and large interstate pipelines. We have no geographic boundaries. We've also done business internationally."
As for the major trends the company has experienced recently, there has been a shift of drilling activity from the dry gas plays to the rich shale plays. As a result, Kinder Morgan Treating experienced decreased demand for small wellhead amine plants and an increase in demand for large centralized plants upstream of processing facilities.
"We also saw increased demand for our MRUs, which were used to bridge the gap until large centralized processing plants could be installed," Mechem says. "Most recently, the biggest trend we've seen is the declining rig count and lack of drilling activity."
As Kinder Morgan Treating looks forward, it is staying on top of its biggest challenges and priorities so it can achieve its growth goals in the coming years. While the biggest challenge for the company recently has been the decline in drilling activity, the company is determined to push on with confidence and find ways to succeed.
"It has been a difficult time for the oil and gas industry as a whole," Mechem says. "Right now, our business development efforts are focused in areas where there is still good drilling activity such as the Permian Basin, and it doesn't hurt that our manufacturing facility is located in the Midland Odessa area. Overall, we are focused on driving our costs down and providing competitive pricing to our customers."
www.kindermorgan.com
Headquarters: Houston
Employees: 12,000
Specialty: Energy infrastructure