Growing from the core
With extensive experience in the field of international core handling services, Kirk Petrophysics recognises the industry wide focus on quality core handling for the critical retention of core integrity and quality processes.
The company has a history dating back to 1992 when core stabilisation using the Lithotarge injection process was first undertaken, since then the business has been through a number of ownership changes including Corpro Group and now Reservoir Group. Last year Kirk Petrophysics relocated its headquarters to London, maintaining an operations unit in Aberdeen. As part of a multifaceted organisation the company is able to offer a full range of services from rig to storage with a full range of geological services available on request.
With a great deal of global investment going towards the acquisition of quality core, Kirk Petrophysics offers its customers a safe and reliable service that safeguards core from any unnecessary damage. By utilising the latest technological developments the company is able to track core throughout its journey from well surface to arrival at one of its state-of-the-art storage and laboratory facilities, whilst highly trained and knowledgeable employees offer the assurance that quality is at the forefront of the methods used for core stabilisation and core handling processes.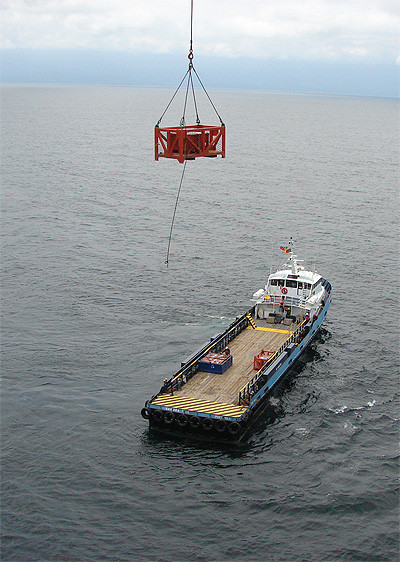 The company's senior staff have accumulated over 20 years of experience, offering unique and unconventional solutions for wellsite procurement. This is a mainstay of the business, with innovation at its heart the product range has been developed to meet a range of diverse core handling needs without harming or altering original material. Furthermore, Lithotarge, Lithofreeze, Lithoseal, Lithopink, Lithotrack, Lithostore and Lithocore provide the oil and gas industry with a plethora of options for core handling, stabilisation, plugging, packaging, photography, slabbing, analysis and storage.
Jean-Valery Garcia, managing director of Kirk Petrophysics, highlights its key differentiators in the saturated market of core analysis: "We offer an unconventional service to the industry that is unlike anyone else, by offering all of our superior services at the well site we bring added value to the client, taking an old and traditional business into a period of change. Our multi-skilled capability means customers only need to come to us for a complete package deal that includes aspects like analysis, storage and packing – we can provide a solution for literally any aspect of coring. This has proven to be attractive to all the major oil operators worldwide."
Indeed, most recently Kirk Petrophysics secured a challenging contract with Total for the provision of an integrated package of support to an oilfield development in Madagascar. The project will include well site coring support activities, core handling and off-site core analysis and storage services. Worth over £5 million, the contract started in July and will cover three phases of work that encompass the cutting of over 16,000 metres of core, from the Bemolanga bitumen sandstone field, to be recovered and analysed. Kirk Petrophysics' sister company Storecore will also obtain a great deal of involvement and collaboration with the project. The organisation is setting up a facility, which will include a laboratory, in Antananarivo, creating ten new jobs there and two more at the London office, while six new engineers will need to be recruited to address the additional work. Such a prestigious contract underlines the industry's confidence in Kirk Petrophysics' methods and also provides the company with an opportunity to increase the analysis side of the business, while growing its international influence.
Furthermore, the company is hoping to develop in South America by installing a dedicated sales department for the American market. David Dourel, business development for this zone outlines: "This is an emerging market where we plan to have our share through determination and innovative solutions, which has been the essence of our success to date." Contracts have already been won in Columbia, Venezuela and Brazil, exporting the company's Litho brand services and gaining recognition from new customers for the revised and approved procedures Kirk Petrophysics can provide. The business has secured a project in Peru for work in Block 37, located in the Maranon basin, a very harsh and challenging environment near the border of Ecuador, where its Lithotarge, Lithoseal, Lithotrack and Lithocore products will be put into operation.
It seems that, despite the current economic climate, Kirk Petrophysics is still experiencing a great deal of success and growth throughout the market, as Jean-Valery outlines: "We still have a lot of projects lined up and in progress in the offshore side of the business, though throughout the company there has been a slight but noticeable drop in activity. We are lucky that we have not had to make any redundancies or physical restructuring – indeed we are just about to move to a new £250,000 facility that has new equipment and laboratory features to assist in increasing our capacity. The main challenge that we face at the moment is merging the two fields of well site work, which we have a long history in, and laboratory analysis that we are relatively new to. However, I am confident of our success as our popularity and recognition in the industry grows."
Kirk Petrophysics
Services Core handling