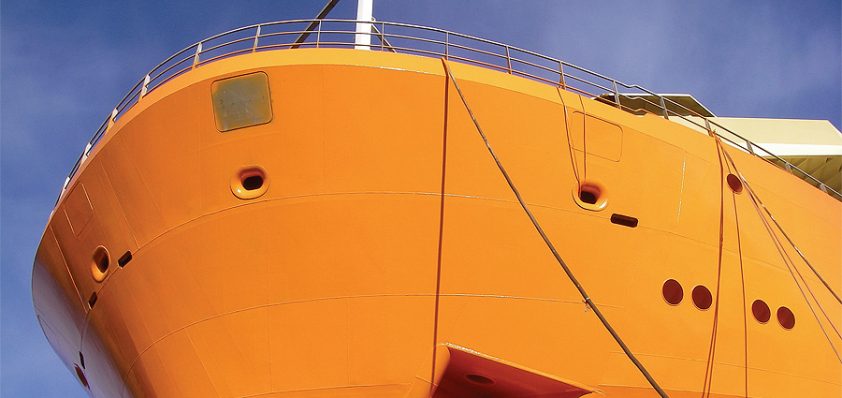 Being strong together
When Marius Kleven established his smith business in 1939, his ambition was to support his family by offering repair services to the fishing fleet in the region – a fleet that had become motorised and technologically developed and in need of someone to carry out quick and efficient repairs.
This was to be the start of a long and illustrious career for the Kleven family in the shipbuilding and repairing industry.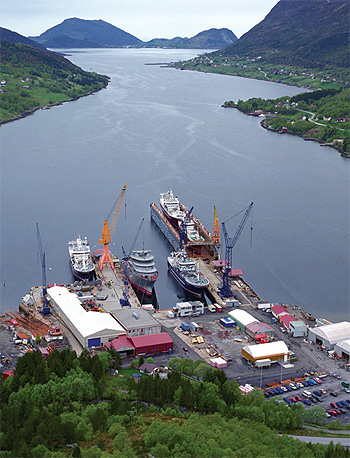 The company developed a range of capabilities over the following decades and then in 2001, it underwent some changes, when the owners of Kleven Verft AS, Kleven Florø AS and Myklebust Mekaniske Verksted AS formed a group of companies, with Kleven Maritime AS as the parent company. This merger was designed to reduce risks for owners, investors, and banks, as together the yards comprised a more competitive partner for customers and suppliers. Then in August 2006 Kleven Florø and Kleven Design were sold to Aker Yards. At the time of the transaction, Kjersti Kleven, chairman of Kleven Maritime commented: "I am very pleased that Kleven Florø and Kleven Design have become a part of Aker Yards, and will have owners that can capitalise on the unique competence and potential that has been developed over decades in Florø."
Today Kleven Maritime AS has 340 employees, with 210 of them employed at the Kleven Verft yard in Ulsteinvik and 130 at the Myklebust Verft yard in Gursken. Furthermore, the business has a third yard at Forde, with 40 employees at present. In total the three yards in Kleven Maritime have an order book of 25 vessels at a value of NOK 11.2 billion. At present, all ships are due to be delivered by 2010.
Following its years of development, Kleven Maritime has evolved into a leading supplier of highly specialised ships of different sizes and designs, including offshore vessels, coastguard vessels, special tugs, fishing vessels and other workboats. Kleven's yards have long experience in building offshore vessels distinguished by clever and future-oriented solutions with high levels of operational reliability and low maintenance costs. It has extensive abilities in constructing PSV, AHTS and multi-purpose vessels to designs from all the major design companies.
Geographically, Kleven Maritime is situated in one of the world's most important deep-sea fishing environments. Being surrounded by ship owners, fishermen, equipment vendors and research societies means that the yards have established a unique competence that meets these demands. New demands for efficiency, flexibility, quality and food safety regulations makes the world's deep-sea fishing fleet prioritise other values and qualities than previously.
Kleven Maritime also has years of experience in delivering reliable vessels for the coastguard, plus the yards offer the capability to build specialised ships, and offers repair works, with its experienced employees able to perform advanced conversions. The Myklebust yard in particular offers a favourable location, swift docking and launching, and a very high quality of work, which makes it an attractive partner in this field.
The three yards at Kleven Maritime also have the facilities needed for effective project execution. On the slipway at Kleven, large hull blocks can be assembled, and when complete hulls are delivered from subcontractors, they can be docked at Myklebust Verft for mounting of propellers and rudders.
Now a technology-focused company, Kleven Maritime's yards and facilities are located centrally in one of the world's most important marine industry clusters, which gives the benefit of close contact with important suppliers and a base of exchange for skills and knowledge within the group.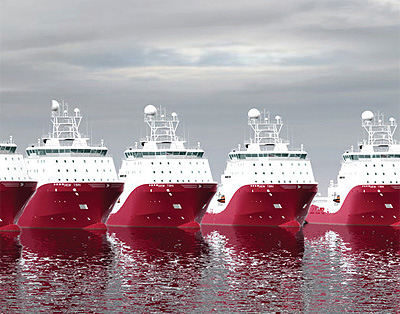 Building the ships of the future demands an organisation willing to think differently, consciously combining the customer's, supplier's and its own experience and knowledge to overcome challenges. Kleven Maritime's objective is to combine creativity and innovation with quality and punctuality.
Kleven acknowledges that its employees with their know-how and experience are the key to achieving its ambitions. Building a complex offshore vessel or a workboat demands an organisation that masters all the activities, and creates a successful result. Human knowledge and skills interact in a complementary manner to create its powerful shipbuilding team.
The company highly values its shipbuilding culture, which has been polished and perfected over decades of achieved success in a demanding market. The shipbuilding organisation is a complex system tailor-made with one special purpose; building advanced offshore service vessels and other workboats.
Kleven Maritime promises customers a high level of knowledge-based innovation, openness in relation to their own experiences and targets, honesty, a strong motivational element and pure enthusiasm. This approach has proved very popular and Kleven now builds vessels for leading ship-owners.
In fact, Kleven's experience and expertise is reflected in the significant contracts it has been awarded, with a prime example occurring in October 2006, when Siem Offshore Inc signed the contracts for 12 vessels with Kleven Maritime. The contract – with a total value of nearly NOK seven billion – is for the delivery of large and environmentally friendly anchorhandling vessels.
The vessels are sophisticated anchor handling vessels with supply capacity (AHTS) by the VS 491 CD design. The vessels are 91m of length overall, with a beam of 22m. Installed power is 20.640 kW (28.000 Hp), capacity on the winch is 500t. Bollard pull is calculated at 300t. The combination of environmentally friendly design and large capacities make the vessels especially suitable for operations in the North Sea. The accommodation gives space for 60 people. Furthermore, the vessels are prepared for a number of optional features, like a high capacity offshore crane, A-frame, and deck crane for safe anchor handling. Siem Offshore already has ten identical vessels under construction with Kleven Verft and Myklebust Verft and Siem Offshore now has in total 15 contracts with Kleven. The vessels will be delivered in October and December 2010.
To fulfil contracts such as this, Kleven has to ensure that it remains at the peak of its performance. The company ethos that was developed in the early 1960s is still valid and a driving force within Kleven. As it states on its website www.klevenmaritime.no: "We are focused on our customer's needs and requirements. Satisfied customers are our motivation." Indeed, one of the most important legacies from the early days of the company is Marius Kleven's simple business philosophy – be reliable and do a good job.
Kleven Maritime
Services: Ship supplier