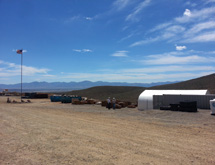 Klondex Mines is no newcomer to the industry, and after many years of putting in all the work needed to get a healthy, productive mine, the company is finally seeing the action it has been looking for. And President and CEO Paul Huet couldn't be happier or more optimistic about the Fire Creek Gold property's and company's overall prospects.
"The company itself is at least 30 years old, and we've owned the Fire Creek site since the 1980s," Huet explains. "We leased out the land several times for drilling, but in the early 2000s, we made the decision to mine based on positive results from the exploration program. In 2010, we put a ramp in place. Always before, we were raising money and drilling holes. This year, we are self-sustaining, using money from our own gold to further the operation. Approximately 93 percent of our land package is untested, and there is the potential to grow the resource by two to three times easily. There is a lot to be excited about."
Located in north central Nevada, the Fire Creek gold property is Klondex Mines' primary concern. Fire Creek is strategically located between the past-producing Mule Canyon Mine to the north and the world-class Pipeline and Cortez gold deposits to the south, the company says. The property covers 11,208 acres – 17.5 square miles – and is accessible via federal and state roads with close access to the electrical power grid. Klondex Mines' secondary focus is on acquiring, exploring and developing other gold and silver properties in Nevada; it currently has three other gold exploration properties – Reef, Hot Springs Point and Maggie Creek.
At Fire Creek, Klondex Mines has discovered an NI 43-101 compliant indicated mineral resource exceeding 1.6 million ounces of gold equivalent, as well as an inferred mineral resource of .46 million ounces of gold. The company 100 percent owns this property.
"We are evolving into a production company," Huet says. "In early 2013, we announced production, and by May we were generating revenue. Right now, we are testing our resource at the Newmont facility in Nevada, and we continue to generate, month-on-month."
Revenue Generation
Fire Creek is located in Lander County, Nev., near the center of the Battle Mountain gold belt in Crescent Valley, which is approximately 10 miles northwest of the massive Pipeline deposit of Barrick and five miles southeast of the Mule Canyon deposits of Newmont. Klondex explains all of this mineralization exists in volcanics within the trend in Crescent Valley that runs south as far as Buckhorn.
Klondex began underground development of Fire Creek in April 2011 with the driving of a 1,113-meter decline to efficiently access underground mineralization, while at the same time it continued it productive surface exploration programs. The underground program has a two-fold objective of exploration and in-fill drilling, the company explains. By going underground, Klondex will substantially shorten the length of drill holes, reducing both the cost and time required for exploration activity. Klondex aims to better define its mineral resource with in-fill drilling.
"Our key project this year has been the construction of the power line," Huet says. "Our ventilation rays will be done at the end of September and we recently paid off $11 million in debt with Waterton. We re-logged all of the data for the last resource, so we will have a new resource estimate sometime in September. Additionally, our infiltration basin is well ahead of schedule.
"Most importantly, we are actually generating revenue," he continues. "We are shipping the initial material to Newmont because it's of such high grade, and we estimate that we will treat up to 9,000 tons this year."
Timely Progress
Klondex Mines began the initial shipment of 1,000 tons of Fire Creek material to Newmont Mining Corp. on Aug. 5, and processing began soon after. A major milestone, as Huet explains, this was the company's first shipment of mineralized material delivered to Newmont for processing.
Under its agreement, Newmont is responsible for the handling, milling and refining of minerals, as well as tailings disposal, while Klondex is responsible for delivering the material. Shipments will be in lots of 1,000 tons up to 9,000 tons in 2013, and the shipments may continue as needed through the end of 2014 as high-grade material is generated.
"Testing this high-grade material not only gives us the much-needed metallurgical information on Fire Creek mineralization, but it allows us the opportunity to monetize mineralized material generated from the trial exploration drifting from the Joyce and Vonnie structures," Huet says. "Proceeds from the processing of this material will be used toward funding our own waste development and a second drill to follow up on recent discoveries.
"Newmont's Terms to process the Fire Creek material provide great opportunity and support for both parties based on the process costs, improved recoveries and resulting payables," he continues. "All near-term shipments of mineralized material will be sent for processing to Newmont, including May's material previously slated for direct-smelter processing. The agreement with Newmont continues our ongoing focus of de-risking Fire Creek and building Klondex into a profitable and strong mining company."
Early August also marked the company's milestone of converting Fire Creek to electrical grid power from generator power. The power line is now fully connected and energized by way of the Klondex-owned substation built in 2012, and the substation was connected to the NV Energy electrical grid earlier this year. By being connected to the electrical grid, Klondex expects increased efficiencies in its development work, as well as a significant reduction in unit cost for electricity.
"We're extremely pleased with the timely progress the team is making during this pivotal year for Klondex," Fire Creek General Manager Mike Doolin says. "Processing the Fire Creek material through Newmont's milling facility allows us the opportunity to monetize the mineralized material from the underground development program.
"Energizing Fire Creek with grid power allows greater flexibility and support for our increasing power needs as we continue to develop Fire Creek," he adds. "We expect to realize a savings of approximately 25 percent of the current power costs."
Important Assets
Huet stresses his excitement about the progress Klondex is making at Fire Creek, and credits the strength of the company's team with its ability to continue moving forward.
"This is a very strong, very experienced team, and they are instrumental to all we are doing," Huet says. "Additionally, we have one of the greatest assets in Nevada and the world, which gives us a huge advantage of extremely high grade. We have a great team and great asset, as well as a great location – northern Nevada has no political risk and phenomenal infrastructure. Our current resource is on such a small land package, which just means there is so much room for our growth."
Klondex Mines has encountered some challenges along the way and expects others will crop up, he notes, but nothing that the team won't be able to overcome.
"We're not going to come across anything we haven't encountered before," Huet says. "We will overcome each challenge, one at a time, and that is the advantage of the team we've assembled.
"Nobody panics – nine out of 10 times, the problems are anticipated and we have a plan in place to address them."
He describes this as "a pivotal year" for Klondex Mines, and notes that it will continue its transition to production. "We've done very well with our shareholder price and we have a strong equity position inside the company," he says. "We put in our own money because we really believe in what we are doing. With that, we managed to de-risk the asset and increase the shareholder price.
"Most companies have hit a 52-week low in the past year, while we've had a 52-month high," he adds. "We expect to be producing 3.1 million ounces per year. Our current resource is in 7 percent of our property, so that shows potential for growth, as well as the potential we have for more good discoveries."