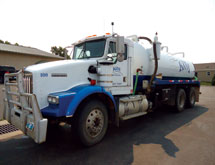 When people think of the oil industry, their minds usually focus on the black crude workers spend so much time trying to unearth and less on water. But water plays a crucial part and is the very focus of K&M Energy Services Inc.'s business, owner Brian Mensing says.
The Gillette, Wyo.-based firm specializes in water hauling for oilfield drilling and fracturing in Wyoming, Montana and North Dakota. Mensing founded the firm in 1999, and initially, it focused on renting generators to clients in the Coal Bed Methane fields.
In 2007, Mensing decided to change the company's focus to water hauling. At the time, he explains, there was a lack of water-hauling services in the market, which he chose to fill.
Although the economy suffered in Wyoming in 2009, the company survived by serving clients in North Dakota. "We did have some wells that kept us going in Wyoming," he recalls. "Now, we're moving same amount of equipment in Wyoming as we are in North Dakota due to the Niobrara Oil shale play."
Additionally, in 2013, K&M Energy will move into the aggregate business, hauling limestone from its own pit. Currently, the firm is in negotiations with several major energy companies, Mensing says.
"That aggregate will be used for lease roads, locations, and tank batteries," according to Business Development Manager B.J. Clark. "It's widely used in the oilfield."
Doing It Right
K&M Energy earns loyalty from its clients through its level of service, Clark says. "[We provide] outstanding customer service at a fair price, and foster and garner those relationships," he says.
But to earn repeat clients, dependability is key. Not only does K&M Energy arrive on its clients' sites on time, it makes sure it is available 24/7 to answer its clients' calls. "They know they can depend on us," he says.
K&M Energy also carries more expertise, Mensing adds. "When we get out to the fields, we know what we're doing," he declares. "Our equipment is set up right."
He notes, however, that many of its competitors in North Dakota do not share such competency. "There has been a lot of fly-by-night companies that want to get in on the boom," he says. "K&M has newer equipment that has been tried and proven in the oil and gas industry. Our efficiency on locations makes us shine compared to some of our competitors."
The decline in natural gas prices, Clark notes, has increased the company's amount of competition. "The rates have dropped substantially, guys were willing to work for less than what our operating costs were," he recalls. "If natural gas prices come back up, you'll see that change."
Experienced Leaders
Mensing and Clark have strong industry experience. When Mensing moved to Wyoming in 1981, he started working in oilfields and specialized in enhanced oil recovery. "I did that for 13 years with petroleum engineers," he recalls. "They gave me a great understanding of the oil industry."
In 1995, Mensing worked in coal mining, but founded K&M Energy Services Inc. four years later. He notes that he did both for a while before leaving the coal mining business in 2007.
Clark joined K&M Energy Services Inc. earlier this year, but after working for a firm that serviced the oil, gas and mining industries. "I saw this great opportunity [to work in] another venue of the industry that haven't been involved with," he says.
Both see a strong future for K&M Energy. "It's endless," Mensing says, adding that he believes the aggregate business will give the firm a major boost. "I can see this company doubling [in size]."
Clark also predicts K&M Energy will grow on the services side. "[Our customers] want one-stop shopping," he says. "I see this company diversifying more so and offering more services."