Handling the pressure
One of Europe's leading pressure vessel manufacturers, KN Products Polska also specialises in the construction of process towers, storage vessels, ladders, platforms, steel structures and CNC machining.
Focused on providing its customers with quality products, coupled with on-time delivery and attractive prices, the company also has experience manufacturing finished skids with piping and vessels for these clients.
The company's history dates back to 1997 when managing director Kjeld Nikolajsen established KN Consult Polska (KNC-PL), a company with the primary mission to perform quality control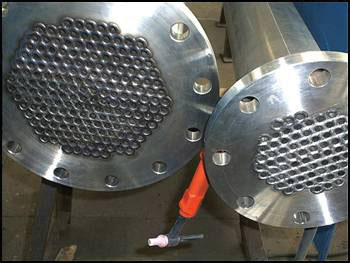 inspections and provide expedition services to those Western companies wanting to purchase goods in Poland. During this time Kjeld gained a great deal of knowledge about the way business in the country worked and this would prove crucial as the nature of KNC-PL's operations evolved in the subsequent years.
Initially this change came as a result of more customers wanting to purchase goods directly from the company after it had acquired them from known suppliers. Despite this process being a success for some time it was eventually decided, in order to maintain a consistently high level of quality, that KNC-PL would begin producing products in its own workshop.
Today, KN Products Polska is focused on its role as an independent subcontractor and on developing its skills and capacity within steel works to meet the growing demand for outsourcing to low-cost countries such as Poland. Manufacturing for projects and mass production programmes according to its customers' specific needs, the company is also more than capable of stepping into larger undertakings such as erection works.
"The vast majority of the company's clients come from the oil and gas, food, chemical or general industries," Kjeld explains. "These businesses are typically from countries such as Norway, Sweden and Denmark, to which KN Products Polska carries out weekly transports involving a fleet of ten trucks with trailers. This is co-ordinated through the company's in-house transportation department, a key area of the business that allows it to extend its reach outside of Poland in a way that minimises costs. In addition to this, the company works together with a number of prominent engineering companies that use KN Product Polska as their own manufacturing department."
As a leading subcontractor, the company is well aware of the importance of manufacturing products that meet its customers' strict quality requirements. To meet these demands it utilises a practical quality control system, which in most cases runs parallel to a customer's own procedures and checklists to ensure optimal product effectiveness and efficiency. KN Products Polska's quality engineers are present to monitor all work on a daily basis and execute internal audits to check that all procedures are being followed. Similarly, all raw materials used in the production process are subject to strict quality control checks.
"Over the last few years the company has been working incredibly hard to improve the quality of its products and processes," Kjeld continues. "This work has been reflected in KN Products Polska being officially certified as a supplier of pressure equipment for the likes of TUV, PED, Lloyds Register, BV, DNV, Germanisher Lloyds and UDT. It is also the proud owner of a DIN-18800-7 certification for the manufacturing of steel construction for the German market, an EN-ISO.3834-3 quality certification and of ISO-9001 accreditation."
In recent months the company has continued to make further strides in order to expand its capabilities and product offering, including the purchasing of a DMU-200 machining centre with five axes. This comes in addition to the acquisition of a 3D CNC pipe plasma and flame cutter that has the ability to cut pipes up to a diameter of 2000 millimeters and a length of 12,000 millimeters. Plans for the months ahead should also see KN Products Polska adding a new CNC laser cutter and CNC pipe-bending centre to its inventory.
One vital element to its continued success is the relationships KN Products Polska has built up with other like minded companies, one being Sleipner Mechanical in Denmark (SM-DK): "SM-DK is an engineering company that is focused on providing its clients with the type of excellent solutions and service that can assist them in solving complex problems," Kjeld says. "Of course, in order to carry out its work Sleipner requires the necessary components to be produced. Therefore, in order to provide its clients with the best possible solution and a reasonable price, it decided to enter into a manufacturing partnership with KN Products Polska.
"KN Products Polska itself does not provide engineering services to its customers, apart from some simple design work and the calculating of construction approvals for the pressure vessels it produces. Therefore the relationship it has with a company like SM-DK is equally as beneficial to itself, with the two parties working to create the possibility of offering a full manufacturing and engineering package at a good, compatible price."
As a rule, KN Products Polska is always looking to better itself and in order to maintain its advantage over the competition it is planning to further improve the productivity of its workshop by implementing advanced production planning: "By implementing such initiatives the company foresees that it will be able to maintain its track record of offering competitive prices in what is a rapidly changing period of economic uncertainty," Kjeld states. "At the same time it will continue to invest considerable amounts of capital into the latest technologies. This will help ensure that the company not only stays true to its value of manufacturing only the very highest quality products and systems, but that it remains on the cutting edge of the sector for many years to come."
KN Products
Services: Component manufacturer