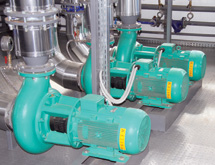 Established in 1969, Knighten Industries says it can furnish customers with all their pump needs. The company's capabilities include a full-service machine shop and a state-of-the-art fabrication department to build and manufacture turnkey pump packages. The company also has a vapor-recovery unit department for all gas recovery applications, and it maintains a large inventory of replacement parts.
"Knighten, through decades of experience, has excelled within the oilfield industry and has proven to be a top-tier performer for the services [it offers]," the company says.
Knighten Industries partners with a number of manufacturers to serve as a distributor partner in Texas. One such partner is Weatherford, a leading supplier of pumps to the energy and mining industries. Weatherford offers a variety of services and technologies to support a range of applications.
Another partner is Tarby, which offers a dedicated service staff and available delivery of replacement parts at distributors throughout North America. "Tarby PC pumps and pump replacement parts are designed and engineered to fit many brands of PC pumps," Tarby states.
Knighten also is an authorized product supplier for MP Pumps Inc. "Knighten relies on 70 years of experience from MP Pumps Inc. for oil and gas customers," the company says. "Knighten supplies high-quality field-approved pumps for rigid operations that demand long-lasting and productive equipment."
As an authorized Corken Inc. product supplier, Knighten says it supplies compressors, pumps and accessories from this globally recognized leader in industrial pumps and accessories.
"Through Knighten's extensive background in Corken Inc. product knowledge and product implementation, Knighten has become the provider of choice for such components within the oil and gas industry," Knighten says. "Corken continues to remain as one of the esteemed choices for Knighten Industries."
Knighten Industries also is a distributor of products manufactured by Bruin Instruments Corp. This Edmonton-based company provides chemical metering pumps and injection systems for the global oil and gas market.
"Bruin Pumps' complete engineering and manufacturing facility designs, manufactures and markets the most reliable chemical injection pumps and pump packages on the market," Bruin says.For its end suction, split case, vertical, ANSI, self-priming and gear pumps, Knighten Industries relies on the American-Marsh Pump Group for its needs. American-Marsh Pump Group is a manufacturer of centrifugal and positive displacement pumps, electrical motors, mechanical seals and fire protection fittings, couplings and pumping equipment.
The company has been in operation for more than 135 years and is one of the oldest pump manufacturers in the world. Collectively, its four division –Joline, Delta Pump, Corcoran Piping Systems and Novo – cover the industrial, municipal, commercial, irrigation and fire protection markets.
For utility, centrifugal, gear and engine-driven pumps, Knighten Industries turns to AMT Pumps. AMT has sold under its own name and under distributor-branded names for more than 70 years to the largest industrial distributors in the United States and globally.
AMT's product line consists of a range of electric and engine-driven centrifugal and diaphragm pumps in cast iron, bronze, stainless steel and aluminum, in addition to a broad array of hand and barrel pumps for industry, the company says.
Knighten Industries' couplings come from Lovejoy, a manufacturer with roots in the power transmission marketplace since the 1920s. The Lovejoy brand is recognized around the world, it says.