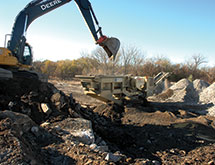 Kolberg-Pioneer, Inc. distinguishes itself from many of its peers in the aggregate-processing equipment industry by actually manufacturing its products.
"Unlike a lot of our competitors, who just assemble machines, we manufacture from the ground up," says Jeff May, president of the Yankton, S.D.-based company. "This allows us to control the process and control the quality; we're atypical in that respect."
Kolberg-Pioneer, Inc. is one of three manufacturing facilities that make up KPI-JCI and Astec Mobile Screens, a premier worldwide manufacturer of heavy equipment for the aggregate, recycling and construction industries. KPI-JCI and Astec Mobile Screens are a part of parent corporation's Astec Industries' aggregate and mining group. Astec is one of the country's leading manufacturers of asphalt road building, aggregate processing, pipeline and utility trenching and wood-processing equipment.
Kolberg-Pioneer, Inc.'s roots can be traced back to 1928, when it started as the Pioneer Gravel Equipment Manufacturing Company in Minnesota. Kolberg Manufacturing began operations in 1965 in South Dakota, and in the 1980s the two were combined under one roof in Yankton, S.D. Astec Industries purchased the combined assets in 1997 and renamed the new company Kolberg-Pioneer, Inc. after its original namesakes.
The company uses a variety of manufacturing processes and equipment to produce its machines, including a CNC machining center where milling, turning and cutting of raw materials is performed. Kolberg-Pioneer, Inc. also processes raw steel, welds parts together into subassemblies, then assembles and paints finished machines. The company's manufacturing facility in Yankton also includes bays dedicated to manufacturing replacement parts for its machines.
Products flow through one of four main assembly lines, each of which is dedicated to one of Kolberg-Pioneer, Inc.'s main equipment lines. The company's South Dakota location manufactures four primary equipment types, including:
Material handling equipment such as conveyors, feed systems and unloaders;
Crushing equipment;
Washing and classifying equipment including log washers, fine material washers, coarse material washers and blademills;
Track-mounted equipment.
Lean manufacturing practices including 5S, kaizen, and safety initiatives heavily influence Kolberg-Pioneer, Inc.'s processes. The company maintains a strong QA department that ensures standard practices are followed, and Kolberg-Pioneer, Inc. also dedicates cross-functional teams to each project.
"We work to achieve cost-reduction targets, improve our products and make them more functional and easier to use," May says.
Prospective manufacturing employees spend time on Kolberg-Pioneer, Inc.'s production floor before being hired. "They see where they would be working and see what they will be doing, and our supervisors and employees have a chance to determine if we are a good fit for each other," May says.
Once hired, employees are given weekly job training progress reports. Kolberg-Pioneer, Inc. partners with a local technical education center to offer certification programs in welding and other disciplines. Training is also offered for salespeople, customers and dealers about the features, benefits and applications of the company's equipment.
A Total Solution
Kolberg-Pioneer, Inc. serves customers in a variety of industries including mining, recycling and aggregate products. "You can find our equipment in a rock quarry, gold mine, as well as on the interstate recycling existing asphalt and concrete from the old road to be used again," May says.
The company's diversity across several industries gives it an advantage over many of its competitors, which may produce equipment for only one particular sector. "A lot of folks come to us because we can offer them a total solution and have both standard product offerings as well as engineered solutions," he adds. "We have 42 people in our design engineering group, as well as additional engineers in sales application roles working with dealers and customers talking about the products they want to make out of aggregate, the kind of machinery they have now and the sort of tonnage they want to produce.
"We think of ourselves as solution providers," May says. "Our main focus is helping our customers become more profitable."
Kolberg-Pioneer, Inc. emphasizes the reliability, durability, productivity, ease of maintenance and safety of its products to potential customers. The availability of replacement parts is another strong selling point. "Because of the violent nature of equipment like jaw crushers, the need for repair and parts is absolutely critical," he adds.
The company prides itself on its ability to support and adapt its machines. Kolberg-Pioneer, Inc. supports its customers with quality after-market parts, not only for its own line of equipment but for competitive machines as well. One recent example is Butler Brothers Supplies, a Canadian ready-mix and aggregate producer that tasked the company with retrofitting its old log washer with Kolberg-Pioneer, Inc. wear parts. Over the lifetime of the unit, that could provide more than $40,000 in savings to the customer, all while producing a cleaner product than is possible with competitive units.
Equipment manufactured at Kolberg-Pioneer, Inc. can also be found in a variety of situations including near the edge of the 200-foot Niagara Gorge, where a $32 million construction job was completed to build storage facilities for the renowned Maid of the Mist tour boat enterprise. Construction contractor Mark Cerrone Inc. recently placed an 83,000-pound FT2640 track-mounted jaw crusher manufactured at Kolberg-Pioneer, Inc. on a small piece of land at the gorge to process materials used in a power station revamp project, according to the company.
May credits Kolberg-Pioneer, Inc.'s employees with the company's success at engineering solutions for customers, and cites Astec Industries' five core values as the guiding compass for the company.
"I think our associates have a great deal of pride in what they do, and that gives me a lot of satisfaction," he says. "Our No. 1 core value is continuous devotion to meeting the needs of our customers. We take a lot of people through our manufacturing facility, and I think they marvel at the dedication of our associates and what they're doing. Our associates, in turn, are gratified that the work they're doing is noticed.
"I'm proud of the way our employees go about the jobs, and proud of the work ethic they have to continue to make their jobs better."
Going Global
One of the newest products manufactured at Kolberg-Pioneer, Inc. is a horizontal shaft impactor crusher designed for the global market. The crusher, which can be shipped overseas economically, is one of the company's efforts to expand its business beyond its domestic market for aggregate-handling products.
"Our strategy is to find a way to grow the business and find new markets while continuing to support our current customers as best as we can," May says.
"We want to grow 10 percent each year, which is a pretty lofty goal when the market itself isn't growing," May continues.