Built on tradition
This year Kongsberg, one of the world's leading providers of systems for merchant marine, subsea and offshore, is celebrating a milestone anniversary.
For two centuries the business has been at the forefront of technology and innovation, transforming from a manufacturer of small arms to a leader in many technological fronts including marine, oil and gas, space and defence. "The company was originally founded in 1814 and is one of the oldest industrial concerns in Norway," says Dave Shand, general manager offshore at Kongsberg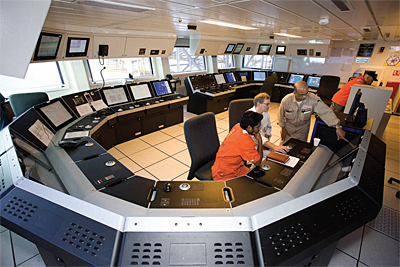 Maritime in the UK. "This year we celebrated our 200th birthday, and we have reached this milestone by constantly developing through innovation." Indeed, the history of Kongsberg is steeped in innovation, success and a strong vision for development, dating back to 20th March 1814 when Poul Steenstrup established Norway's first factory – Kongsberg Vapenfabrikk. Poul was a visionary who believed in industrial progress and technical understanding, combined with national pride and strong determination.
Innovation remained key to Kongsberg as the business continued to develop into the 20th century, being involved in a range of industries and technological developments, from manufacturing world-class rifles to the ground breaking dynamic positioning systems that the Kongsberg Maritime business division is world-renowned for today.
Kongsberg Maritime itself was established in 1992 to capitalise on Kongsberg's growing international business within the maritime dynamic positioning sector. Today the business is a globally respected organisation serving key markets in the offshore, shipyard, and the energy exploration and production industries. Kongsberg Maritime provides a plethora of services and solutions to these sectors; for example in field development it supports construction and offshore vessels with innovative solutions for operation and specialist applications, in production it offers automation systems and software to enhance output and minimise downtime, whereas for maritime transport and offshore vessel clients it offers a complete package of solutions such as navigation, automation, training and safety systems.
"We have several divisions which address the oil and gas industry, including Subsea and Offshore Divisions," says Dave. "In general we address all phases from exploration through production to transportation. One of our specific focuses is integrated control and safety systems for oil and gas floating fixed production installations. In conjunction with this activity we established a subsidiary, Kongsberg Maritime Engineering, which undertakes EPC contracts to deliver complete packages. We are one of the leading global providers of marine systems in the oil and gas industry, encompassing drill ships and rigs, LNG vessels, offshore support vessels, offshore survey and ROV support vessels."
Indeed, for the offshore sector the business provides a vast catalogue of products and services that encompasses bridge systems, camera systems, deck systems, engine room and automation systems, engineering, safety systems, simulators, sensors and transmitters, tank gauging and measurements. On a wider scale Kongsberg is even active in other areas of offshore energy through its Kongsberg Oil & Gas Technologies division, such as drilling operations support, integrated operations, process simulation, and riser management.
"One of our main strengths is the 'Full Picture'," Dave highlights. "For example, in floating production we can utilise our strengths in marine with our experience in topside to realise a common solution for all control aspects of a production installation. In conjunction with our colleagues in Kongsberg Oil & Gas Technologies we can deliver a solution that includes dynamic process simulation and operator training systems. We have built up a strong customer focused MMO support team in the UK as part of our global support team, which works proactively with the customer to maximise the operation and productivity of their assets."
The company is globally renowned for its range of dynamic positioning systems, which have been developed to minimise fuel consumption and wear and tear on the propulsion equipment of a vessel. These can be used across a wide range of vessels such as drill ships, cable laying vessels, crane vessels, FPSOs, diving support vessels, floatels, and various other ships and vessels for a wide array of applications. Kongsberg's system can be provided as a standalone system or can be offered as part of an integrated system that communicates with other Kongsberg systems on board the vessel including the K-Chief (marine automation system) and the K-Thrust (thruster control system).
Kongsberg Maritime is also a leader in the development and production of subsea systems covering a broad scope of applications and technologies. This can range from acoustic communication and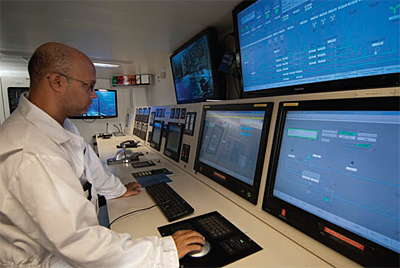 control, autonomous underwater vehicles (AUVs) through to environmental monitoring solutions, seabed mapping and underwater positioning systems.
The ability of Kongsberg to provide an entire suite of products for offshore, subsea and maritime operations ensures the company continually secures major contracts and significant projects. For example, since the business was last featured in European Oil & Gas Magazine in August 2013 it has been selected to supply safety, automation and lifecycle simulation technology for the Johan Sverdrup field development by Statoil. The business was awarded a Project Specific Agreement, including FEED, for the delivery of its safety and automation (SAS) systems in May 2014, and the deliveries will include Kongsberg Maritime's industry-proven SAS technology, which is applicable for process control, power distribution control, process shutdown, emergency shutdown and fire and gas systems. Ultimate delivery will also include the company's latest systems and technology for production, integration, presentation, simulation, training and operation.
The company has already installed a range of similar systems before on ten Statoil production platforms, illustrating the high levels of regard that Statoil holds the Kongsberg name, and this particular project will further strengthen Kongsberg's position as a leading supplier of automation and safety systems to the global offshore production market.
Also, more recently the business has won a significant contract from BW Offshore to provide all control systems for its new Premier Oil Catcher Field FPSO, which will operate in the UKCS. "This is a significant project for the Kongsberg Maritime business and for the UK business in particular as it builds on the current portfolio of ICSS installations, including Statoil Mariner," Dave highlights. "It continues our strong relationship with BW, which includes the BW Athena FPSO in the UK sector, and builds on Kongsberg's strengths in the FPSO market, including Bluewater Aoka Mizu, Hawene Brim and Maersk Gryphon Alpha in the UK sector with many more operating globally."
With such a strong history and an equally high reputation, there is little doubt that Kongsberg Maritime will remain the leading name in automation systems into the future, as Dave points out: "We are encouraged with the amount and quality of enquiries for our solutions given the current market, but we have technological differentiators that make our solutions attractive in a sector that looks to reduce lifecycle costs.
"We will continue to focus on the oil and gas market, encompassing production control systems and the subsea IRM market, where we have key technologies such as AUV and environmental monitoring systems. Our vision is to be a key provider of ICSS systems in the UK sector, building on our success in the Norwegian sector and what we have achieved to date in the UKCS," he concludes.
Kongsberg Maritime
Services: Automation Systems