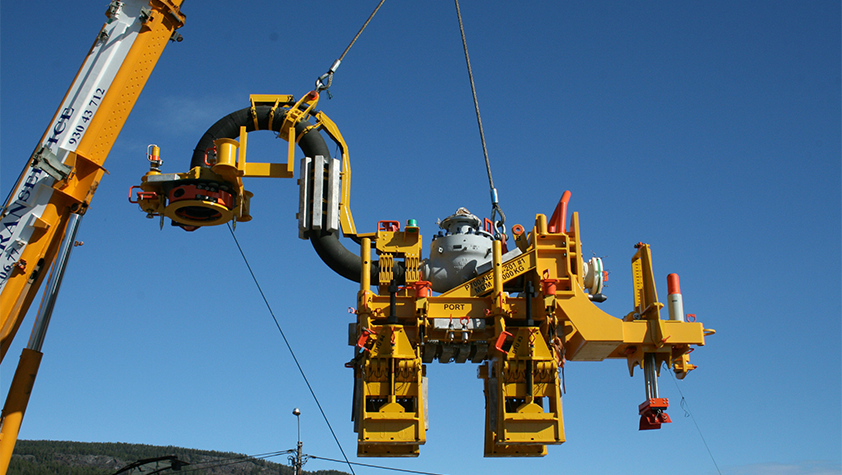 Finding new opportunities
At the close of 2012 Kongsberg Oil & Gas Technologies (KOGT), a wholly owned subsidiary of Kongsberg Gruppen ASA (KONGSBERG), carried out the acquisition of the Norwegian subsea company Apply Nemo. The acquisition has seen Nemo adopt the new name of Kongsberg Nemo AS.
Making up part of the subsea division of KOGT, Kongsberg Nemo has a number of business units of its own focused specifically on the subsea sector. These are pipeline products, pipeline engineering, subsea process, and special solutions.
Business area director for pipeline products Per Lillejordet elaborates on the changes this acquisition will cause in the business: "KONGSBERG is a major company in Norway with over 7000 employees, so becoming part of this means we can meet the growing market in a much better way. Oil and gas is currently the smallest division of KONGSBERG but it is also the one they expect to grow the fastest. We also see that we will have much greater opportunities to access new markets and grow in our existing ones with KONGSBERG behind us."
Over the years Kongsberg Nemo has developed a series of specialist products for the subsea industry, and continues to refine and add to these for tomorrow's requirements. These products may either be delivered as an integrated part of a subsea system package, or as a standalone item. Likewise the company can implement complete solutions by drawing upon its pipeline engineering capacity, and series of subsea process equipment and modules. This can even be carried through for the lifetime of the asset with a range of aftermarket services in repair, modification, extension, intervention and handling.
For the time being though Kongsberg Nemo is heavily involved in subsea tie-ins and connections where it has created systems for both horizontal and vertical applications. This includes the recently developed Thor tie-in system, which is intended to be utilised in typical horizontal tie-in applications. As such its main features include accommodation of high external bending moments, use of standard size plates and tubes, clear and defined mechanical interfaces towards other subsea structures, and offshore tie-in operations based on one WROV.
"We have secured the first two contracts for the Thor system," notes Mr. Lillejordet. "The first is in Canada, and the second is in the North Sea on the Ivar Aasen project for Det Norske. This is a very important contract for us with the first tie-in expected to be installed this summer. We're also tendering the Thor system in Australia and Africa, as well as deeper into Canada and the North Sea, so we expect other projects to come online soon."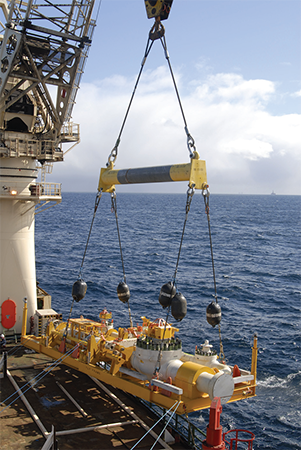 Although buoyed by its new parent organisation, Kongsberg Nemo has traditionally been a smaller player in its market. This has enabled it to use its substantial in-house competencies to focus on some of the smaller but more complex projects that require additional expertise. The company works with many of the major oil companies such as Statoil, Chevron, Total and Shell, as well as subsea umbilical riser and flowline installation (SURF) contractors like Technip, Ocean Installer and Subsea7.
Another particularly promising development is KONGSBERG's new Subsea Storage Unit (SSU) technology, which is being utilised as part of a Demo 2000 programme together with Statoil, Lundin, Det Norske, and the Norwegian Research Council. "This technology can be used to store oil or chemicals," begins Astrid Rusås Kristoffersen of KOGT. "When storing stabilised crude oil, it can replace a Floating Storage Unit (FSU) as a cost effective alternative. In addition to the CAPEX reduction, there is insignificant OPEX as there is no extra personal involvement during daily operation.
"There is no risk of creating an emulsion layer in the storage unit, as there is a physical barrier between oil and water. The product introduces a double leakage barrier and has an integrated leak detection system. It also reduces emissions to the environment and is not dependent on helicopter traffic. The SSU capacity is flexible as it contains several units in a cluster, which can be added to as oil production rate increases with time," she continues.
Whilst from a commercial point of view the opportunities are almost unlimited for subsea at the moment, Kongsberg Nemo is taking its time to focus on the best possible openings for its products, which bring with it an acceptable margin. "The only limiting factor is capacity," notes Mr. Lillejordet. "At present it's very difficult to get the capacity in Norway even though we do have quite extensive in-house capacity at our various sites. We also try to distribute work to our branch offices in Stockholm, Sweden and Perth, Australia."
In particular Kongsberg Nemo is making in-roads into Australia with a number of new contracts including the supply of hot tap tees for the Ichthys project. These products enable tie-in of new fields to existing pipelines without the cost of a full connection point, and as such Kongsberg Nemo's contribution will form the future connection points for this project. The company is also providing detailed design services on structures for the Wheatstone development. Both projects are being run in joint effort between Kongsberg Nemo's office in Oslo and the Australian office where delivery will take place.
"In the wake of our recent merger, one of the main focuses is the reorganisation of the company in order to be able to deliver our products more effectively to the market. As a result we hope to expand our current position to deliver tie-in systems on a wider scale to the global market," concludes Mr. Lillejordet.
Kongsberg Nemo AS
Services: Subsea services