The integrated edge
Kongsberg Oil & Gas is a wholly owned subsidiary of Kongsberg Gruppen (KONGSBERG), and is the fastest growing business area within the company. KONGSBERG celebrates its 200 years anniversary this year, with a proud history going back to the establishment of Kongsberg Weapons Factory in 1814.
Kongsberg Oil & Gas has grown due to both acquisitions and organic growth. Established in 2010, the business area reached revenues of over NOK one billion in 2013. The recent acquisition of Apply Nemo in January 2013 added
significant expertise and experience to its Subsea Division, with a reorganisation performed in 2013 that resulted in full integration of previous acquisitions, such as Nemo, Seaflex, Seagear and Havtroll. Today, the company represents a broad range of technical services with more than 20 years' experience in delivering solutions for the subsea field. Solving problems and overcoming challenges in close co-operation with clients and finding the optimal solutions for a field is key to ensuring safe and reliable operations. The company is dedicated to helping customers move into deeper, colder and more extreme seas.
Kongsberg Oil & Gas recognises that field development is a considerable challenge for both operators and contractors. With its strong subsea background and capabilities, the company supports its customers with the services they need to optimise performance in all phases of the field development process.
Whether clients are planning a new field development, lifetime extension or a brownfield upgrade, they are able to offer a full suite of products, equipment and solutions. With its in-depth knowledge of multiphase flow and process simulation, combined with subsea product experience, it can design a field with all clients' requirements in mind. The proven ability to deliver subsea products from the flange of the tree to the hang-off topside riser base enables the company to solve challenges at any stage of subsea production operations.
The suite of solutions provides a knowledge base with the benefit of simplifying tie-back field developments meeting the challenges of riser limitations, topside weight challenges and flexibility to add in future tie-backs to an existing host. With the customer in mind, collaboration with other suppliers to integrate products and solutions ensuring that the end goal of the optimal solution is achieved is vital.
A full range of repair solutions for operations is offered, including services for defining the appropriate repair method, providing procedures and delivering the subsequent repair solutions for equipment, components and tools. Offshore management and technical supervision are also parts of the service.
When it comes to riser technology, the company has detailed knowledge of the structural design of rigid and flexible risers and umbilicals, which is instrumental to ensuring safe and efficient operation. Careful and comprehensive analysis of riser and/or umbilical systems can reveal whether they are optimised and consequently determine if there are improvements that can increase clients' return on investment.
In field development, the company's engineering studies can reveal a system's current level of operation as well as ways to improve its cost-efficiency. Its engineering services include route selection and field layout of pipelines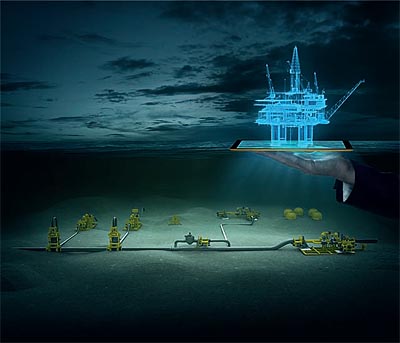 and cables, material evaluation, design analysis, cost estimations, installation analysis and more.
Furthermore, as offshore field developments are now taking place further from land, in deeper waters and in harsher environments, flowlines are becoming longer and larger. In order to gain both real-time and offline analysis of these, Kongsberg Oil & Gas uses virtual flow metering systems and multi Flow Simulations.
When it comes to manifolds and structures, production wells are typically connected into a manifold that commingles the wellstream from multiple wells into a single flowline. The manifold design can accommodate any tie-in and connection system and is particularly suited for the field proven horizontal Thor Tie-In system. This system is easily installed and provides the optimal mix of reliability, robustness and safety. It uses a unique and patented method of transferring parts of the external moments into the supporting structure, reducing loads on connectors, piping and adjacent valves. During the tie-in installation, the system is operated by a number of WROV tools, available for rent or purchase, that require only one supervisor per shift.
For pipeline components Kongsberg Oil & Gas delivers in-line tees, hot-tap tees, wyes, subsea isolation valve (SSIV) and pipeline supports, and it can also offer pipeline weak links, which are incorporated into subsea pipeline systems and are designed to separate the pipeline in the event of accidental loads such as iceberg impact or dragged anchors.
A dedicated department is focusing on special products for the subsea market with an excellent track record of delivering hundreds of solutions to challenges that can't be solved with standard products.
It is clear that Kongsberg Oil & Gas is no stranger to innovation, and this continues with its subsea storage unit and pig launcher technology. Also, the company is presently finalising the qualification of an active subsea cooler. The cooler is based on forced convection and offers a compact, light and cost efficient cooler with well-controlled cooling performance. The key element of the cooler is an adjustable subsea pump purpose-made for this application.
Finally, Kongsberg Oil & Gas is dedicated to helping its customers to understand the integrity of their products. As a result it offers integrity monitoring systems to give its clients the ability to make the right decisions during operations. The riser monitoring system and wellhead fatigue monitoring solutions support clients at every stage.
Kongsberg Oil & Gas is regarded by its customers as a trusted advisor for intelligent improvements. It works in partnership with clients within drilling, production and subsea to make operations safer and more efficient. With an international footprint, Kongsberg Oil & Gas is proud to help its blue chip clientele solve problems and increase efficiency worldwide, on land and at sea.
Kongsberg Oil & Gas
Services: Solutions for subsea field development, production optimisation and operational support