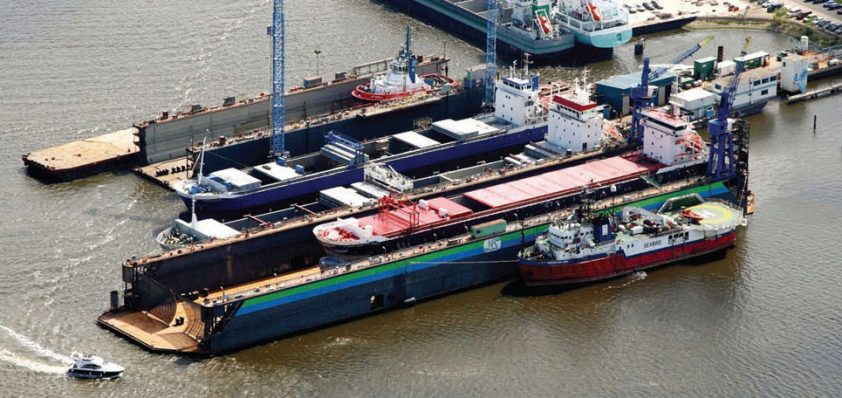 Koninklijke Niestern Sander
Pooling expertise
Located in the northern part of Holland, the port of Delfzijl accommodates one of the most modern and versatile shipyards in the Netherlands – Koninklijke Niestern Sander.
As it stands today the company is a merger between three north Holland shipyards, the first of which, Niestern, was founded at the port in 1901. Twenty years later, the Sander yard also began shipbuilding activities in Delfzijl, and after that the Appingedam shipyard was established in Wirdum.
As these yards continued to grow a merger was formed between Appingedam and Niestern in 1970, before finally becoming known as Niestern Sander BV a decade later with the incorporation of the Sander yard. Each of these three yards brought their own specialisation with them to the merger and from this arose a powerful modern company with new build and repair departments. In May 2001, the company was honoured with a royal title in recognition of its century anniversary and respect for its achievements during this time. From this point onwards, the yard has been known as Koninklijke Niestern Sander.
During its lifetime, Koninklijke Niestern Sander has gained a name as a trendsetter for innovation in shipbuilding, and as a designer and builder of ships for a variety of advanced and specific purposes. To this end, the company maintains a number of facilities within the port of Delfzijl including an inner dike construction area with several large production halls, and an outer dike construction area for the assembly of vessels up to 160 metres in length. Outside the harbour, Koninklijke Niestern Sander also operates repair facilities such as an internal slipway of 147 metres length, and with a capacity of 1500 tonnes. The outer dike repair site consists of two floating docks, the first for ships of up to 10,000 deadweight tonnage (dwt) and the second with a capacity of 20,000 dwt. Completing this set-up, at the nearby harbour of Eemshaven, the company maintains a workshop and service facility.
In terms of new vessel projects, Koninklijke Niestern Sander is well established in the field of inland and merchant shipping, having delivered vessels from chemical tankers, offshore vessels and ice breaking multipurpose support vessels (IMSV) to research vessels, tug boats, and dry cargo carriers. Likewise, the company has a wide and multi-specialist experience in ship repairs, as well as conversions, lengthening and accommodation modules. Given its location the majority of Koninklijke Niestern Sander's customers are European, predominately from within Holland itself, but also Germany, the UK, and Scandinavia.
Reflecting upon Koninklijke Niestern Sander's structure, and the competencies that come with this pooling of expertise, managing director of the repairs department Bart A.Volgers comments on the company's combined strengths: "The most important core quality is that we manage a high volume of work, in both newbuildings and repairs, and both departments are supported by a well equipped engineering division and design team. Because we have everything under one roof, our reaction time is shorter than most other yards. There is no need for us to call on third parties for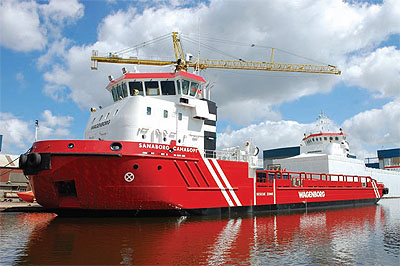 engineering, design or carpentry, we can do it ourselves, which gives us greater flexibility as well." In fact Koninklijke Niestern Sander is the only shipyard in the north of Holland that has its own ship carpentry department for construction and interior work.
In terms of recent work in the oil and gas sector, Koninklijke Niestern Sander has been busy with the construction of two ice breaker vessels bound for the Caspian Sea, as well as the conversion of an Arctic supply vessel. The company has also mobilised the m.v. 'Rem Star' for Nederlandse Aardolie Maatschappij BV, which is a 50/50 joint venture between Shell and ExxonMobil. This work was completed in just 56 hours, despite encompassing the installation of an Ampelmann offshore access system and fast rescue crafts davits and containers.
"Recently we have carried out a rebuild of the passenger vessel m.v. 'Rottum', which visits the small islands in the North Sea. We completely stripped the vessel, and built three new double bottom sections, as well as completely rebuilding the engine room and renewing all equipment and systems. This project was carried out entirely in our own yards, with our personnel, for delivery on time to the client. Earlier in the year we also placed a helideck on board the jack-up barge 'JB-117' as part of another project. As a company that serves all kinds of vessels, we are pleased to hear that Eemshaven is being strongly developed as a main port for the larger offshore wind farm projects, which we may be able to capitalise on," describes Bart.
The market's general economic difficulties have cast a shadow over this workload though, and therefore Koninklijke Niestern Sander sees more need than ever to be inventive, flexible, and efficient. "The major challenge at the moment is quite a simple one in trying to keep our rates as low as possible," reveals Bart. "Naturally work still needs to be completed in a highly efficient way at a high level of quality, and therefore we need clear pricing agreements with clients. At the same times our rates and thinking need to reflect the marketplace, and therefore we strive to always offer good value, even if it means working around the clock on a project."
Having to some extent seen a refocusing of the business over the last two years towards the offshore and wind sectors, it would appear that Koninklijke Niestern Sander still views this as a growth industry. Looking at what is the next step in this yard's impressive legacy, Bart notes: "In terms of the repairs department, we will look to extend our work field not only geographically with regards to the growth at Eemshaven, but also to bring greater solutions to our clients. We aim to work as a reliable partner to customers, and to relieve them of their repair and conversion problems. In addition, as a company with a complete in-house newbuild and repair team we believe we can always be one step ahead of what the market is looking for."
Koninklijke Niestern Sander
Services Ship building and repair