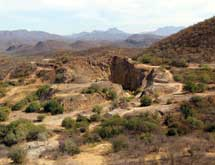 McDonald observes that during prolonged downturns, exploration budgets are the first to go in the mining industry. But that doesn't mean there are a lack of opportunities or people qualified to spearhead projects. From the 1980s to 2003, McDonald says the industry was in a slow and steady decline, with little fresh blood entering the business. And because mining companies were slashing exploration programs, it opened up a pool of valuable experts who were available for new projects.
"We formed Kootenay Gold in 2003, and there was an opportunity to capture under one corporate umbrella some very top-level grassroots people I've worked with over the years," McDonald says. "We were able to attract this expertise to our company. The idea was to start as a new project generator, and with these early-stage projects seek joint ventures on different properties. In the early stages, the risk profile is higher, and we want to share the risk by bringing in partners to build value into the company and get into more advanced projects."
The company is in the early stages on eight different projects split between British Columbia and Sonora, Mexico. The 18,000-hectare Jumping Josephine property in British Columbia – of which Kootenay owns 40 percent and Astral the remainder – underwent a 900-meter drill program. Interceptions have shown 7.01 grams per ton of gold over 19 meters and 12.44 grams per ton of gold over 8 meters.
At Santa Lucia in Sonora, Kootenay partnered with Copper Creek Gold Corp., which owns 60 percent. The nearly 5,000-hectare property sits in the Sierra Madre Occidental gold-silver belt.
As Kootenay leverages its experience to develop these joint-venture programs without assuming all the costs, it also progresses on its flagship project – the Promontorio silver property in Sonora.
Kootenay began drilling in 2007, and on May 31, 2011, the company announced the completion of its 10,000-meter drilling program. McDonald reports it hit "excellent grades of silver mineralization in widely spaced holes over the property's entire 1-kilometer long mineralized corridor," which he says is exciting news considering Kootenay has already established an impressive silver resource on a small portion of the property already.
A reported NI 43-101 independent resource calculation conducted by AGP Consultants last year shows there are 8.9 million ounces of silver indicated and 1.17 million ounces inferred. The resource is also estimated to contain 99.3 million pounds of indicated lead and 13.4 million pounds inferred, while zinc measures at 110.8 million pounds indicated and 14.3 million pounds inferred
"The indication for potential expansion is really good," McDonald says. "This drilling program considerably reduced the risk of the project, and now we're following up with a 25,000-meter drilling program with step-out drilling from hits that we hit along the same trend. We will be drilling steadily for the next eight to 10 months.
"What we're looking for is a target size that can get us into 50 to 100 million ounces of silver," McDonald relates. "This drill program will get us a long way into knowing what we have."