Filling up
Celebrating its 60th anniversary this year, the name Kosan Crisplant has a long legacy in the world of liquefied petroleum gas (LPG).
Founded on the principle of the design, manufacture and installation of systems for filling and maintenance of all kinds of LPG cylinders Kosan Crisplant has developed this into a comprehensive range of services and solutions from a single filling machine with a 50 cylinder per hour capacity, to complete filling plants capable of filling 12000 cylinders per hour.
Many of Kosan Crisplant's customers are major and national oil companies, but equally the company works with smaller private industrial businesses across the world. Today Kosan Crisplant's systems are present in more than 125 countries, supported by 17 global sales offices and service centres – including its headquarters in Denmark – and a worldwide agent network.
In terms of how the company is planning to mark 60 years of operation, Christian Fredberg, tools and communication manager, comments: "We are celebrating our 60th anniversary by setting new standards for the industry – that's what we've been known for doing over the years. Most of the firsts in the industry came from us and, as we have done since 1951, we want to maintain and expand our technological lead."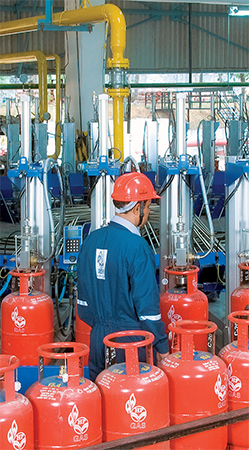 A clear example of this is the development of Kosan Crisplant's revolutionary FLEXSPEED filling system. Marketing co-ordinator Pontus Wolke elaborates: "For many years the standard filling capacity for any major filling plant was 1200 cylinders per hour on one production line. In 2008 we launched FLEXSPEED, a new system that challenges this accepted volume with the capability to increase capacity to anything between 1200 and 5000 cylinders per hour on one single production line. But already now we are working on taking the capacity up to 8000 cylinders per hour."
FLEXSPEED achieves this impressive figure by moving away from the traditional method of stopping the cylinders before each process, to a high-speed non-stop movement commonly seen in the beverage filling industry. "It's really a quantum leap, and a new way of looking at the whole process of filling LPG cylinders. The stop and go process has various implications on production capacity, whereas keeping the cylinder moving means everything is much faster," adds Christian.
Lars Sall, onsite service manager, describes the reaction so far to the system: "We already have five systems in operation, and are in the process of installing a further four, with several other orders in the book. In fact, the total FLEXSPEED capacity sold to date can cover the whole gas consumption in cylinders in both Germany and Poland. As a new development we were curious to see how the industry would perceive it, and have been fortunate to see such a positive uptake. What has been surprising is the amount of interest from countries such as India and Brazil, where economy is usually a bigger driver than technology. However, these markets have a large demand to increase filling capacity, but without building new plants – something that FLEXSPEED offers."
Over the last ten years, products like FLEXSPEED have seen Kosan Crisplant's role change in the eyes of its customers from purely an equipment manufacturer and supplier, to a full service company that offers everything from spare parts to comprehensive EPC (Engineering Procurement Construction) turnkey services, and facility management contracts for the running of the filling plants themselves. In particular, market indicators have suggested that these services may become more common in the future, freeing up the customer to concentrate on marketing and distribution.
Research and development (R&D) is not restricted to just new product developments though – in 2011 alone Kosan Crisplant has made ten major improvements to its existing processes, which in the long term makes a major difference. "R&D is a fully integrated part of our organisation," says Lars. "Every time we get a new enquiry or request for a particular function we take this and adjust our technology to find a solution. Recently we made a major improvement to our cylinder leak detection process, which may not have been announced with lots of fanfare, but makes a huge difference to our customers."
Another area Kosan Crisplant is currently working on, in conjunction with its external partner Sudco, is the further development of self-service vending machines. "We expect vending machines to be one of the new ways of distributing LPG cylinders, and an area that we would like to apply our expertise in filling and distribution. Based in the south of France, our partner Sudco has many years of experience in distribution solutions, so together we can offer a much greater value added product," describes Christian. He continues: "There are already around 1300 vending machines in North America at present, and although the concept is not so greatly used in Europe we see potential for this in the future."
As Kosan Crisplant begins to look ahead to its next major milestone, Pontus concludes with his thoughts on what the future holds for the business: "Over the last few years we have pursued a strategy of being as close as possible to our customers, and therefore have opened a number of subsidiaries in this time. Our aim is for customers to see us more as a partner than just a supplier, which takes us in two directions. One is products like FLEXSPEED, where we help customers to improve production efficiency, and reduce the cost per cylinder filled, but equally to assist them in other areas such as EPC services, maintenance and operational services, and facility management."
Kosan Crisplant
Products: LPG cylinder filling equipment and services