Part of the process
Based in Voronezh in Russia, KOSMOS-NEFT-GAS (KNG) provides an entire range of services, extending from project development to the manufacture and delivery of equipment for the oil and gas, chemical and nuclear power industries.
From the moment it was established, KNG has acquired many reliable partners, with one of the most significant being Gazprom. Indeed, the company has been designing and delivering equipment for the structural divisions of the Gazprom JSC since 1994. This relationship is based on a 'general agreement on co-operation in the sphere of manufacturing high performance equipment for exploration, production and transportation purposes.'
Nowadays, KNG delivers its products to the following customers: Gazprom Dobycha Astrakhan (flares, gas heaters, dehydration units, etc.), Gazprom Dobycha Nadym, Gazprom dobycha Yamburg, Gazprom Dobycha Urengoy (flares, well control panels, skids for automated well completion), Sibur (design and upgrading various facilities for organic synthesis production, rubbers, plastics and other polymer materials, liquefied hydrocarbon gases), Rosneft, LUKOIL, Russneft (flares, burners, separators, hydraulic fracturing equipment, air heaters), Gazprom Neft Shelf for the first Russian stationary ice-resistant platform 'Prirazlomnaya' (flares, thermally controlled containers, samplers), and more companies from CIS and beyond.
The equipment these customers purchase from KNG is manufactured, certified and developed in strict accordance with the highest technical specifications; it undergoes a complete cycle of tests and is supported by Permits of the Federal Environmental, Engineering and Nuclear Supervision Agency of Russia. In addition, most products are RF patent protected, and the materials have domestic or foreign origin conforming to the required quality of the final products. It is clear from KNG's relationship with Gazprom that it prides itself on creating close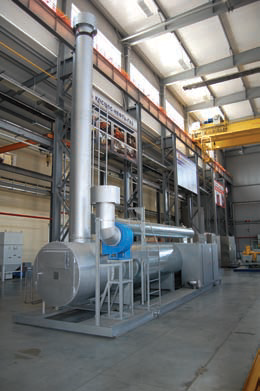 working partnerships in order to foster a collaborative environment. As a result of this strategy, in addition to Gazprom, KNG has also developed associations with well-known foreign companies, such as FMC (loading terminals), Weatherford (well control panels), Cegelec (automation facilities and systems), SchneiderElectric (power units), Caloperm (plate heat exchangers), Aker Solutions (subsea equipment for offshore production) and Newpoint Gas (equipment for gas treatment, purification and dehydration). This makes it possible to manufacture products of the level comparable to the leading world manufacturers of the equipment to be used at on- and offshore fields.
The company is very dedicated to these longterm and mutually beneficial co-operations with partners. This is extended by offering clients training services for their engineering staff regarding specific features of product operation, as well as by proposing post-warranty maintenance – through these services, KNG can support its clients in solving production issues.
The organisation also prides itself on continuously upgrading its equipment, applying the latest design and manufacturing technologies. All of these activities are designed to fulfil KNG's main ambition of providing constant quality improvement, alongside the expansion of its services and range of equipment.
Underpinning all of KNG's growth and success are its employees. The company maintains high requirements for education, skills and work experience, and emphasises the value of training and learning for staff. To put this in practice, all employees of KNG attend exhibitions in Russia and abroad, undergo refresher training and participate in round table discussions and seminars.
This dedication to learning also spreads wider than the walls of the organisation, in that KNG holds an active position in creating a technological and innovation environment in the Voronezh region, as well as participating in all federal and regional programmes of modernisation and technical development, and takes part in unions, associations, and partnerships of industrial and scientific organisations.
An event that illustrates not only KNG's dedication to the area where it is located, butalso its deep relationship with Gazprom, is a recent exhibition that was organised by KNG. On November 8, 2013 more than 20 oil and gas enterprises from the region participated at the Voronezh Industrial Cluster exhibition. The Voronezh regional oil and gas cluster was established in 2009 and comprises 36 companies of the region – it is directly managed by KNG.
Officials from the regional department of industry and transportation attended the event, as did Gazprom delegates, headed by the chairman of the board Mr. Vitaly Markelov. Visitors familiarised themselves with the equipment on display and its potential contribution into the oil industry development. Later that day the regional government conducted a meeting to negotiate the roadmap for development of technologies, products and services of the Voronezh region enterprises for the needs of Gazprom. That roadmap will be approved in the soonest possible time to promote successful setup and implementation of new technologies for the gas industry.
Other developments in 2013 include KNG concluding a Joint Manufacturing and Technology Agreement for oil and gas solutions with Siemens Oil & Gas (Erlangen, Germany). This was completed in June and was widely acknowledged as one of the significant achievements of the year for the company.
Since the business was founded in the early 1990s it has developed into a leading service provider and innovative manufacturer. As it enters its 20th year, it looks set to remain dedicated to both innovation and the success of its customers, a combination that should lead to even further growth.
KOSMOS-NEFT-GAS
Services: Designs and manufactures equipment for production, transportation and processing